Elon Musk Has Created A Valuation Premium.
Can Elon Musk do no wrong? In the past few months two noteworthy companies have taken off in such a manner that investors must question if the day-trading mentality has overtaken the principles of sound financial investments. A look at the two charts below show a clear correlation between two companies that have very quickly become the poster child of an exuberant market. Clearly not a coincidence, the tie-in between the two appears to be the leadership found in one Mr. Elon Musk. He now serves as the CEO, Chairman, and co-founder of Tesla Motors (TSLA). He also sits on the board as the Chairman of SolarCity (SCTY) and as the largest shareholder in the company.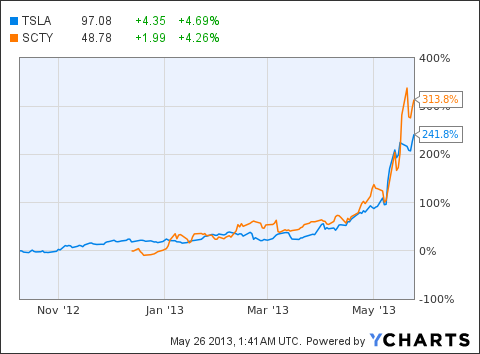 Investors like following success, and Elon Musk has truly shown his ability to develop companies into corporate empires. Initially co-founding online payments company PayPal in 1998, the company was quickly snagged up by online retail giant eBay Inc. (EBAY) in 2002 for $1.5 billion. Musk went on to establish private company SpaceX in 2002 which was awarded a whopping $1.6 billion NASA contract in December 2008. Musk also co-founded Tesla Motors in 2003 and assumed the role as CEO in late 2008 during the Great Recession. His leadership and continued financial support played a pivotal role in navigating the company throughout the crisis. Musk also seeded the concept of SolarCity thereby landing the role of Chairman for the company which was co-founded by his cousins Peter and Lyndon Rive in 2006.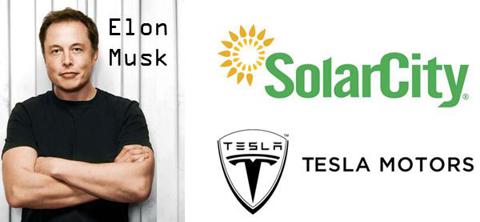 While both Tesla and SolarCity have begun to take off as green technology companies have once again becomes ideal investments, their correlation to each other is clearly stronger than to the industries they track. A look at the chart below for instance shows that SolarCity has far outpaced its peer group within the last 3 months. SolarCity now trades at a market capitalization of $3.68 billion, a price-to-book ratio of 18.78, and with analysts earnings expectations of a $1.48/share loss in 2014. In a similar fashion, Tesla Motors now trades with a market capitalization of $11.22 billion, a price-to-book ratio of 63.34, and a forward price-to-earnings ratio of 99.06. Clearly, each of these companies trade at impressive premiums to their current and future performance.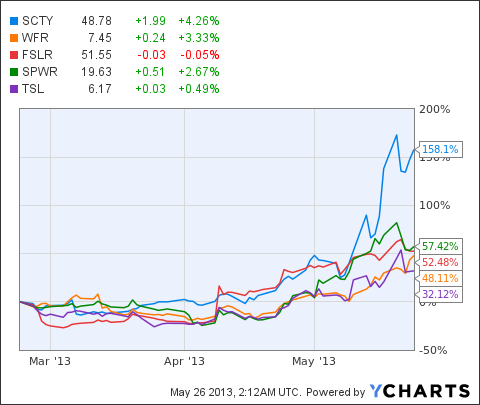 The Inability To Take A Long Or Short Position.
In light of these premiums it remains inevitably difficult to take a position in either company, either long or short. A shareholder with a long position carries the risk of an unjustified market valuation. On the other hand, a shareholder with a short position carries the ongoing risk of a persistently irrational market. After all, Tesla Motors still had 44% of its float held by shorts as of April 30, 2013. The strong short squeeze that has since occurred has only provided a stronger base for the company at elevated levels.
Additionally, Musk has taken the opportunity to fortify the balance sheet of Tesla. On May 15, Tesla announced the offering of 2.7 million shares of common stock and $450 million in convertible senior notes due 2018. Musk himself announced the intent to purchase $100 million worth of common stock in the same offering. His insider purchase decision helped to fortify investor confidence as the stock actually rose 8.7% on the news despite the dilutive measure being announced. This also helps destabilize the thesis of a short position. If Musk's influence is able to sustain such premiums then it would also appear likely that the same can be stated about SolarCity's current valuation as well.
The Safest Way To Invest In Tesla and SolarCity.
Since neither buying nor shorting shares realistically remain sound investment strategies, investors should consider a neutral options strategy that is bearish on volatility. An Iron Condor strategy for instance is the buying and selling of calls and puts that allows investors to invest into the approximate range of a company over a given amount of time. Essentially it is the pairing of both a bull put spread and a bear call spread. It works as follows:
Sell 1 out-of-the-money put.
Buy 1 out-of-the-money put (lower strike).
Sell 1 out-of-the-money call.
Buy 1 out-of-the money call (higher strike).
For an example of how this looks on Tesla Motors, consider the below scenario. All values were taken by utilizing the options table found at Yahoo! Finance on May 25, 2013. To be conservative, all buys were taken at the asking price and all sells were taken at the bid. Commissions are neglected in this example, but can play an important role in determining prices. The current share price of Tesla is $97.08.
Sell 1 Put June 21, 2013 $75 strike for $1.05/sh.
Buy 1 Put June 21, 2013 $70 strike for $0.70/sh.
Sell 1 Call June 21, 2013 $125 strike for $1.35/sh.
Buy 1 Call June 21, 2013 $130 strike for $1.10/sh.
Remember that all amounts are multiplied by 100 as is the nature of options. Under these conditions, the investor gains an upfront payment of $60 (0.35 + 0.25). The maximum loss potential is either $465 (5.00 - 0.35) or $475 (5.00 - 0.25) depending on the ending share price of TSLA. As long as Tesla's share price stays between $75 and $125 by June 21, all of the options will expire out-of-the-money and the investor keeps the $60.
Essentially, the investor has gained a 12.77% return on the average risk of $470 over the course of just one month. Additionally, the investor protects himself by widening the target range of the stock over that time period with a spread that covers $22.08 lower than the current share price and $27.92 higher than the current share price. The maximum loss isn't even achieved until the levels of $27.08 lower than the current share price or $32.92 higher than the share price is breached.
Conclusion.
When the market becomes irrational or begins to place premiums on factors external to standard valuation principles, having a strategy that protects the investor from a rising or falling share price remains the ideal approach. Elon Musk's growing popularity has presented such a situation that remains opportunistic as the stock's volatility has stretched the premiums of its underlying options. With his influence on the investors of Telsa Motors and SolarCity, no shareholder can feel comfortable with their current position. Yet sometimes, it may just be best to play the market from a neutral standpoint unhindered by whether the stock itself goes up or down.
Disclosure: I have no positions in any stocks mentioned, and no plans to initiate any positions within the next 72 hours. I wrote this article myself, and it expresses my own opinions. I am not receiving compensation for it (other than from Seeking Alpha). I have no business relationship with any company whose stock is mentioned in this article.