Here, I talk about the future of Cisco (NASDAQ:CSCO), the pioneer company that led the race in selling commercially successful routers supporting multiple networks in the 80s, survived the rocky road of the dot-com bubble in the early 2000s and once triumphed as the most valuable company (US$500Bn) in 2000. Let's take a look at its expected stock price movement for the remainder of this year and the following year, its future plans, and ultimately answer the question if it's still worth investing in. Is Cisco really the start of tomorrow?

Source: Google Finance
Company Analysis
As a Leader of the High-tech Industry
Cisco Systems is no doubt one of the most integral companies in the IT industry today. Its business has a wide variety of products and services that made the company responsible for forming the identity of the modern world. Their products are installed at business enterprises, public institutions, telecommunication companies, service providers, commercial businesses and personal residences. At a glance, Cisco still looks like the giant that once ruled the capitalist era. The reputation of the company builds a strong psychological foundation, which investors can stand on.
As a Market Player
The company's stock price recently surged after profits exceeded analysts' estimates closing at $24.4 per share last Monday, May 20, 2013. The company is now trading near its 52-week high of $24.25 compared to its 52-week low of $14.96.This serves as a big psychological rebound from the company's media blow last 2011. As of the end of fiscal year 2011, the company delivered lower-than-expected profits from Wall Street estimates, which forced the company to reduce annual expenses by $1b, lay off 3,000 employees and abandon less-profitable businesses. I believe that this growth is likely to continue as Cisco continues to benefit from the demand to accommodate data traffic networks brought about by the increased usage of smartphones and tablets due to readily available Internet surfing.
Cisco's Global Presence
As of the end of fiscal year 2012, the company reported that it has 72,360 employees and a global network of field officers in 93 countries. This network is still a major determinant of the company's revenue generation capabilities, which is more likely to grow steadily in the future. In addition, Cisco provided network infrastructure for The London 2012 Olympics that enabled 1,800 WiFi hot spots and 80,000 data connections and had a capacity four times larger than the network infrastructure in any previous Olympic games. This kind of aggressive advertising differentiates Cisco from its competitors. Cisco, as a company, has a deep understanding of global connection, which they continue to showcase by sponsoring big global events.
Technological Risk
Though the company looks very stable, it is still vulnerable to the highest risk of a technology company. It is very dependent upon the development of new products and if they fail to predict and respond to the emerging technological trends and consumers' changing needs, their highly sensitive operation results and market share might significantly suffer in a heartbeat.
Fundamental Analysis
EPS

P/E X

Ticker

Company name

Stock Price

Market Cap

YTD Return %

2012

2013E

2012

2013E

CSCO

Cisco Systems Inc

24.24

127.7B

23.11%

1.646

2.009

14.54

11.918

source: Bloomberg
Profitability and Growth Projections
In terms of profitability, the company's return on assets and return on equity stand strong at 7.29% and 17.80%, respectively. The growth percentage of ROA and ROE will remain robust for FY 2013 because of the company's efficient use of their resources in generating income via their global network. The $1.53b jump in net income last 2012 helped Cisco regain its stance from last year's net income of $6.49b. Its uptrend growth is supported by management's commitment to controlling expenses. Total revenue grew by 5% year-on-year and, in my opinion, will continue to do so.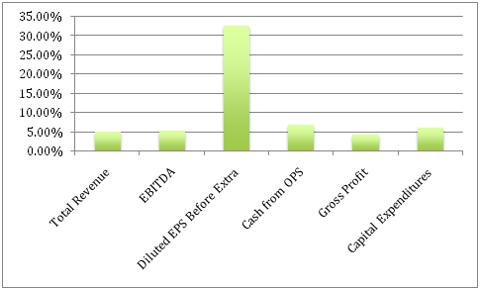 In this year's 1Q earnings announcement (see transcript), Cisco managed to get 63% year-to-date gross profit margin on an adjusted basis, beating analysts' projection of 61.9%. Should Cisco manage to maintain an acceptable profit margin while expanding into areas such as computer servers that are less lucrative than routers and switches, it is off to a more profitable year. Also, EBITDA is 4.06% better from the same period last year (1Q 2012), which will continue to grow due to management's expense control.
Cisco's sustainable income is more likely to continue because of its sustainable profitable core business products (routing, switching, and services); data center; collaboration; video; and architectures for business - all of which, Cisco is the leader. I expect the total revenue to grow within 5-6% at the end of fiscal 2013, seeing no immediate threat to its leadership position in these core recurring sustainable products.
Liquidity and Solvency
Cisco's current ratio is 2.9x with a D/E ratio of 28.6x. The company maintains a healthy level of liquidity and solvency hence, allowing the company to keep a favorable credit score. As Cisco prepares for another global network expansion, they still have an option of debt funding without any significant disturbance in the capital structure.
Price Movement and Dividend Yield
Cisco's price movement shows a 23.1% year-to-date growth and has been in tandem with the movement of the tech index, NASDAQ, which has also moved to an impressive 18.1% year-to-date growth. With a P/E multiple of 13.3x, the company may still be considered undervalued and up for grabs compared to the industry (Technology Hardware & Equipment) PE of 13.9x.

source: Ycharts
Moreover, Cisco's dividend yield percent change of 29.51% makes it a very attractive stock to invest in for the future compared to the industry's 12.75%. Cisco solidified its reputation as a growth stock.
Conclusion
Overall, the company's core business fundamentals remain sturdy: they have consistently generated robust cash flow from operations; they boast of a healthy balance sheet, they have initiated the quarterly cash dividend that gives more value to their shareholders, they have maintained a strong global network and field officers, and kept a leadership position in growing markets. All these will most certainly drive the future profits of Cisco. Fundamentally speaking, I recommend a Buy position in Cisco.
Disclosure: I have no positions in any stocks mentioned, and no plans to initiate any positions within the next 72 hours. I wrote this article myself, and it expresses my own opinions. I am not receiving compensation for it (other than from Seeking Alpha). I have no business relationship with any company whose stock is mentioned in this article.