The European Commission is investigating whether Apple, Inc (NASDAQ:AAPL) is using anti-competitive iPhone sales tactics and technical restrictions to squeeze out rival smartphone makers from the European market, according to documents seen by the Financial Times.
After examining statements by Joaquin Almunia, EU Competition Commissioner and research on the subject of price effects of antitrust cases, my conclusion is that the effect on Apple's share price is likely to be limited.
According to a questionnaire received by European mobile network operators, the commission is focused on distribution terms that favored Apple.
Apple told the FT its contracts comply with EU laws.
The inquiry has been started after private complains from mobile operators. There is currently no formal probe and the commission would have to be convinced Apple was dominant in the EU smartphone market before starting one.
The spokesman for the competition commissioner told the FT:
"The commission is currently looking at this situation and, more generally, is actively monitoring market developments. We will intervene if there are indications of anti-competitive behavior to the detriment of consumers."
In addition the spokesman said:
"The markets for smartphones and tablets are very dynamic, innovative and fast growing. Samsung's (OTC:SSNLF) growing market position and the success of Google's (NASDAQ:GOOG) Android platform are good reasons to believe that competition is strong in the markets for smartphones and tablets."
It appears the commission is for the most part concerned with current developments. In February Bloomberg reported market share for Samsung tablets doubled and market share for Apple decreased by 8%.
Smartphone sales by OS collected by Kantar Worldpanel show iOS losing or gaining a few % in three large EU markets Q1 2012 to Q1 2013. U.S sales were down over the same period.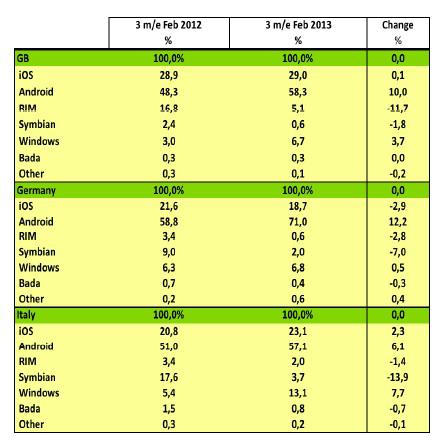 Earlier Joaquin Almunia (EU Competition Commissioner) said regarding the e-books price-fixing probe in the antitrust investigation where Apple was involved he preferred: "a settlement to fines and a lengthy antitrust probe" because e-books were "a nascent and fast-moving market."
In the EU, companies face fines as high as 10 percent of annual sales (last year's) if they break the terms of these settlements.
Apple previously settled an EU antitrust case in 2009 by agreeing to reduce prices for U.K. iTunes music downloads and was probed over restrictions on iPhone applications in a case the EU closed last year.
Effect on the Share Price
Although determining the effect on Apple's share price is certainly no exact science, I'd like to introduce a source that might help determine possible effects. This paper by Gregor Langus, Massimo Motat and Luca Aguzzoni, indicates a surprise antitrust inspection by the European Commission has a negative effect of between 1.9% and 4.8%. Most of the loss being the result of the company ceasing the investigated activity in the future or amending their practices.
Going by the words of the spokesperson for the EU Competition Commissioner and earlier statements by Joaquin Almunia regarding other antitrust probes, in addition to strong market share numbers for Samsung, negative effects on Apple's share price because of this new European Commission investigation will likely remain below negative 2%. It does not appear to be a threat for the long term investor in Apple by itself.
Disclosure: I have no positions in any stocks mentioned, and no plans to initiate any positions within the next 72 hours. I wrote this article myself, and it expresses my own opinions. I am not receiving compensation for it (other than from Seeking Alpha). I have no business relationship with any company whose stock is mentioned in this article.