Following on the heels of the US financial collapse in 2008, stagnation in Europe and slowing growth in China have taken a bite out of commodity and base metals prices. Aluminum, zinc, lead and nickel are all at prices below where they were trading five years ago. The one metal which seems to be holding its price better than all of the others is copper. In spite of some significant fluctuations, the long term trend for copper seems to be upwards, as shown in the chart below: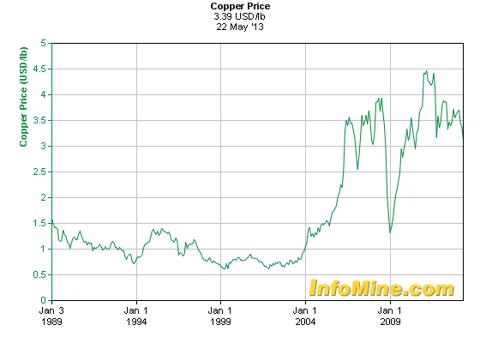 In the developed world, the amount of copper in a typical house is significantly higher than it was twenty years ago. Take a look around a modern house, you will find that there are more power outlets, more appliances and more electronics than ever. Similarly, the copper content in vehicles has increased and will jump significantly if electric vehicles ever become popular. As the developing world catches up, per capita use of copper is increasing, creating a healthy demand for the metal.
Substitution of plastics for copper pipe has happened, and will continue to happen as copper prices stay high. However, electrical uses account for 70% of copper demand, and many of these uses have no viable substitute for copper at any price.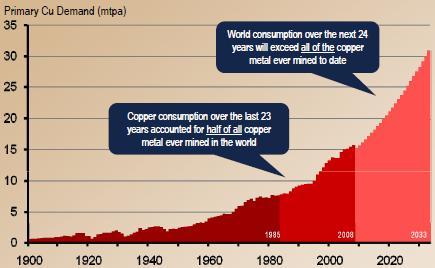 While demand is rising, production is falling at many of the world's biggest copper mines as high grade ore is depleted and lower grades are mined.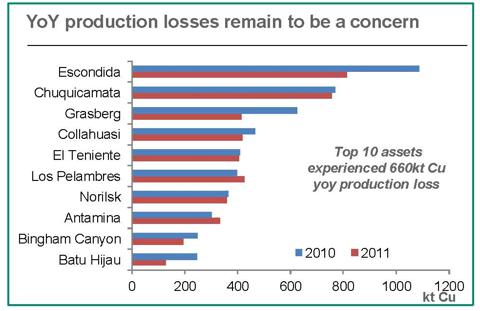 If copper prices fall drastically, mining of those lower grades will become uneconomical and mines will close, restricting supply and driving prices back up. Grade depletion and mine closures will have removed 4.2 million annual tonnes of supply between 2004 and 2016. At the same time, new projects are taking much longer to bring on stream. Social and environmental pressures and legislation are lengthening the time required to develop a new mine.
In this economic climate, many of the major mining companies are cutting back on capital spending and exploration. This seems to me a wrong move. It takes many years to develop an exploration prospect into a producing mine. By the time the production comes on line, the demand cycle could very well be in an upswing.
A case for investing in copper is neatly presented in this article from another Seeking Alpha member.
It is possible to invest in copper metal directly through an ETN such as iPath Dow Jones-UBS Copper Total Return ETN (NYSEARCA:JJC), or by investing in one or more of the big mining companies. Freeport-McMoran (NYSE:FCX) is the world's biggest publicly traded copper producer, followed by BHP Billiton (NYSE:BHP).
My own preference is to find a smaller company that is expanding in the business, and is at the point of bringing new and profitable projects on stream. I have analyzed two companies that meet my criteria.
Turquoise Hill Resources (NYSE:TRQ)
History
In year 2000, Ivanhoe Mines, rich in cash from the sale of the Voisey's Bay nickel deposit, signed an option agreement for the mining rights to a little known copper deposit in the South Gobi region of Mongolia.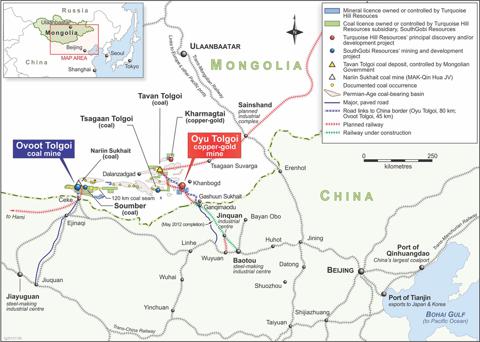 BHP Billiton had previously owned the rights and had "scratched the surface" to find a mineral deposit which was too small to be of interest. Between 2000 and 2002, Ivanhoe continued drilling in the area and established more extensive ore deposits.
In late 2002, Ivanhoe Mines drilled a hole in the far northern portion of the Oyu Tolgoi licence. This drill hole resulted in the discovery of the Far North Zone's underground deposit, one of the world's largest and highest-grade gold/copper porphyry systems.
In 2006, world mining leader Rio Tinto agreed to form a strategic partnership with Ivanhoe Mines by investing in Ivanhoe. The agreement created a defined path for Rio Tinto to become the largest shareholder in Ivanhoe Mines. Ivanhoe Mines was subsequently renamed "Turquoise Hill" resources, and RioTinto now holds a 50% ownership in the company.
On October 6, 2009, Turquoise Hill Resources and Rio Tinto signed a long-term, comprehensive investment agreement with the government of Mongolia for the construction and operation of the Oyu Tolgoi copper-gold mining complex. The agreement creates a partnership between the Mongolian Government -- which acquired a 34% interest in the project -- and Turquoise Hill Resources, which retained a controlling 66% interest in Oyu Tolgoi.
Exploration drilling has continued and independently verified estimates indicate that Oyu Tolgoi contains approximately 46 billion pounds of copper and 25 million ounces of gold in measured and indicated resources and an additional 55 billion pounds of copper and 36 million ounces of gold in inferred resources.
The Oyu Tolgoi Project
Since signing the Investment Agreement in 2009, Turquoise Hill Resources has developed the Southern Oyu open pit mine, and is now extracting ore from that mine. This open pit will provide cash flow until the completion of the underground portion of the project in 2016, and will become a secondary source of ore after 2016. Development of the underground mine is proceeding on schedule.
A concentrator with a nameplate capacity of 100,000 tonnes per day of throughput has been constructed and is being commissioned. The first concentrate was produced in January of this year, and the concentrator has reached 70% of its design capacity.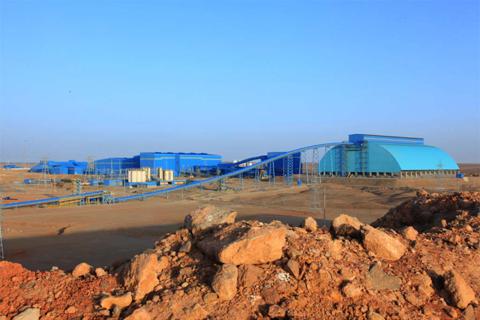 Phase 1 of the project was completed for a capital cost of $6.2 billion (about 3% over budget). Phase 2 of the project involves continued development of the underground mine, and expansion of the back end of the smelter to process the higher grade ores from the underground mine. A feasibility study has been completed for phase 2. The estimated cost is $5.1 billion, and the net present value at a discount rate of 8% is $9.9 billion, which does not include the negative cash flow expended to date. Turquoise Hill owns 66% of the Oyu Tolgoi project, the remainder is owned by the Mongolian Government. Turquoise Hill also owns shares in three other companies, remnants of the former Ivanhoe Mines.
These are:
58% of Mongolian coal producer, South Gobi resources
57% of Ivanhoe Australia
40% of Altynalmas Gold, Khasakhstan
Valuation of Turquoise Hill Resources
I have valued Turquoise Hill Resources as follows:
| | |
| --- | --- |
| | $ Billions |
| Oyu Tolgoi project (66% ownership) | 6.534 |
| Balance sheet value | -0.880 |
| South Gobi Resources (58%) | 0.174 |
| Ivanhoe Australia (57%) | 0.089 |
| Altynalmas Gold | 0.300 |
| Total | 6.217 |

Value per share $6.18
The base case NPV calculations for Oyu Tolgoi come from the NI101 compliant feasibility study. The calculations were done at an assumed long term copper price of 2.87/lb and a gold price of $1350/oz
To value the balance sheet value I used Financial Assets plus Inventory minus Liabilities. The value of South Gobi Resources and Ivanhoe Australia is based on their current market cap. Altynalmas Gold is being sold, and I have used the sale price of $300 million.
Potential upside
Factors which might increase the value of TRQ include:
Oyu Tolgoi would be worth about $2 billion more if today's metal prices were used in the analysis.
Exploration is ongoing and the resource estimate could well be increased over what is now shown as measured and indicated.
The mine is well positioned to deliver concentrates to the Chinese smelters by road or rail. The transportation advantage should give it an edge when negotiating treatment terms with the smelters
An ongoing "value engineering" review of Phase 2 costs could improve the project financials
Several options exist for expansion of the project, which may improve cash flow and NPV.
Risks
On the downside, the company has to deal with a Mongolian Government which is not experienced in dealing with projects like this, and which may not uphold the terms and conditions of the development agreement with respect to taxes etc.
It seems that TRQ, trading today at $6.98 per share, is fully valued in the marketplace right now.
FIRST QUANTUM MINERALS (OTCPK:FQVLF)
First Quantum trades over the counter in the USA, and is available on the Toronto exchange under the symbol FM, and in London under the symbol FQM. Anyone trading this stock should use these exchanges if possible, because the over the counter volume is very limited.
First Quantum Minerals Ltd. is an established and rapidly growing mining and metals company engaged in mineral exploration, development and operations. The Company currently produces copper cathode, copper concentrate, nickel, gold and sulphuric acid. Its operations and projects are located in Zambia, Mauritania, Australia, Finland and Peru. In the latter part of 2012, First Quantum made a takeover bid for Inmet, which was successfully completed in March 2013 and which has expanded the First Quantum operations to Spain and Turkey, and which includes Inmet's flagship development project, Cobre Panama.
The Cobre Panama project, along with several other projects being developed by the company are expected to make First Quantum the fourth largest copper producer in the world.
Most of First Quantum's existing production comes from projects in the Zambian copper belt, where they own and operate the Kansanshi mine complex, producing cathode copper from oxide ores, and concentrates from sulphide ores.
In 2010, First Quantum bought the Ravensthorpe nickel complex from BHP for $340 million after BHP had spent close to $4 billion dollars on the construction and commissioning and had failed to reach more than 25% of the nameplate production rates. After spending a further $200 million on upgrades and repairs, First Quantum is operating at a profit at Ravensthorpe.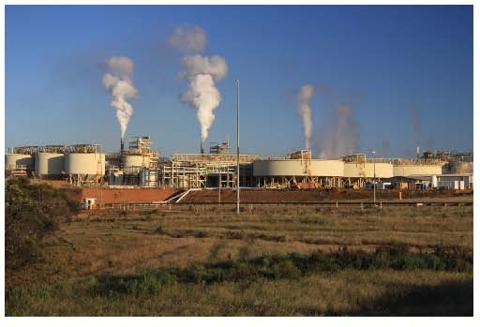 First Quantum's operating projects, including properties acquired with Inmet, are:
| | | | | |
| --- | --- | --- | --- | --- |
| Column1 | Location | Ownership | Annual production | Mine life |
| Kansanshi | Zambia | 80% | 261 kt Cu, 136 koz Au | 2037 |
| Las Cruces | Spain | 100% | 68 kt Cu | 2022 |
| Guelb Moghrein | Mauritania | 100% | 38 kt Cu, 61 koz Au | 2019 |
| Çayeli | Turkey | 100% | 31 kt Cu, 41 kt Zn | 2019+ |
| Pyhäsalmi | Finland | 100% | 13 kt Cu, 26 kt Zn | 2018 |
| Ravensthorpe | Australia | 100% | 33 kt Ni | 2049 |
| Kevitsa | Finland | 100% | 15 kt Cu, 9 kt Ni | 2033 |
Projects under development include:
| | | | |
| --- | --- | --- | --- |
| | | | |
| | Location | Ownership | Annual production |
| Sentinel | Zambia | 100% | 270-300 kt Cu |
| Enterprise | Zambia | 100% | 38-60 kt Ni |
| Cobre Panama | Panama | 80% | 266 kt Cu |
| Haquira | Peru | 100% | N/A |
| Kansanshi smelter | Zambia | 100% | 300 Kt Cu anode |
| Kansanshi expansion | Zambia | 100% | 140 Kt Cu |
| | | | |
The Sentinel project is under construction and is expected to start production in 2014. This project will provide feed for the Kansanshi smelter which is expected to be complete by mid-2014, and which will save the company between $340 million and $510 million dollars per year by treating concentrates that would otherwise have to be treated at other smelters, and by providing a low cost supply of sulphuric acid for the oxide leaching operations in Zambia.
Expansion of the Kansanshi mine and oxide ore facility is also progressing well, the oxide leaching facility is complete, and the sulphide ore treatment plant expansion is under construction.
The Enterprise nickel project is also under construction. Plans for the future include development of the Haquira project in Peru, and an increase in production at the Kevitsa mine in Finland.
Valuation of First Quantum
I am valuing First Quantum on the following basis:
Operating properties are valued at the NPV of projected cash flow (after taxes), discounted at 8%.
Where mine life exceeds 20 years, I have cut the valuation off at 20 years. Otherwise, I have limited the future cash flows to the mine life.
A copper price of $2.80/lb and nickel price of $7.50/lb has been used.
Two levels of cash costs are stated in First Quantum's annual reports. C1 costs are cash costs of production adjusted for by-product credits. C3 costs also include depreciation, royalties and interest. For this analysis I have used C3 costs minus depreciation.
An allowance of 15% of cash flow has been made for sustaining capital expenditures.
Projects under development are valued at the NPV stated in the NI101 compliant technical reports posted on the Sedar website. The Kansanshi smelter has been valued using the NPV of the stated annual savings (lowest figure) minus the capital cost. The Kansanshi mine expansion has been valued assuming that the costs of production are the same as the existing Kansanshi property.
The balance sheet value is the financial assets plus inventory minus liabilities. Also included is the book value of the work in progress on projects under development. The full capital costs of the development projects are included as negative cash flows in the NPV calculations.
The company valuation is:
| | | | |
| --- | --- | --- | --- |
| Operating properties | | | Value |
| Kansanshi | Zambia | 80% | $2,468,060,738 |
| Las Cruces | Spain | 100% | $903,631,517 |
| Guelb Moghrein | Mauritania | 100% | $297,709,699 |
| Çayeli | Turkey | 100% | $543,167,515 |
| Pyhäsalmi | Finland | 100% | $342,160,572 |
| Ravensthorpe | Australia | 100% | $123,986,697 |
| Kevitsa | Finland | 100% | $225,218,745 |
| | | Sub-total | $4,903,935,483 |
| Development properties | | | |
| Sentinel | Zambia | 100% | $3,003,000,000 |
| Enterprise | Zambia | 100% | $1,100,000,000 |
| Cobre Panama | Panama | 80% | $2,640,000,000 |
| Kansanshi smelter | Zambia | 100% | $1,534,790,092 |
| Kansanshi expansion | Zambia | 100% | $562,863,997 |
| | | Sub-total | $8,840,654,090 |
| | | Total value of properties | $13,744,589,572 |
| | | Allowance for corporate overheads | -$848,287,936 |
| | | Value of future cash flows | $12,896,301,636 |
| | | Value of current balance sheet | $3,355,500,000 |
| | | Total company value | $16,251,801,636 |
| | | Value per share | $28.26 |
First Quantum is trading at about $18.50 per share, about 30% below my valuation
Potential Upside
Using today's copper prices to calculate cash flows would increase the value of First Quantum to $33/share.
First Quantum has built itself a reputation for completing projects on time and on budget at a significantly lower cost than their major competitors are able to achieve. They do this by minimizing bureaucracy, by using a large component of self-managed construction, and by using skilled construction labour imported from low cost countries. This approach could reduce the capital cost and increase the value of the $6.2 billion Cobre Panama project.
No value has been placed on projects which are not yet past the feasibility study stage. The Haquira project in Peru is a significant mining development which is not included in the above analysis.
Risks
Investing in mining companies always carries a degree of market risk. The forecasts for copper price may be too optimistic, and project values may decline. However, the price used in my valuation is a long term price forecast of $2.80/lb, which I believe is conservative. The graph below shows how copper prices have historically exceeded the long term forecasts, often by wide margins.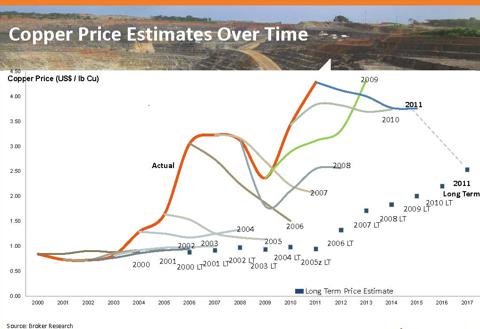 In the case of First Quantum, the company has grown very rapidly over a short period of time. The management skills which are obviously available to the company will be stretched thinner as the company grows, and their recent project development performances may not be repeatable.
The Cobre Panama project is located in an area with very heavy rainfall, which could affect the open pit mining operations and lead to higher operating costs and lower production.
All mining projects carry inherent risks including operating risk, market risk and political risk. Investment in mining should be approached with caution, and only using funds that are disposable.
Based on my analysis I intend to sell my shares in Turquoise Hill and buy First Quantum. I believe both companies have outstanding growth potential, but First Quantum has a more attractive valuation at this time.
Disclosure: I am long TRQ. I wrote this article myself, and it expresses my own opinions. I am not receiving compensation for it (other than from Seeking Alpha). I have no business relationship with any company whose stock is mentioned in this article.
Additional disclosure: I intend to sell TRQ and buy First Quantum