In this article, we will be talking about what we believe are the four most influential earnings reports for this week, which we believe will be crucial to the market this week. For each company, we will talk about market expectations, analyze the company's earnings prospects, and discuss key developments that happened in the last three months.
Company #1: Michael Kors Holding Limited (NYSE:KORS)
Earnings Date: 29-May-2013
Average Expected EPS: 0.39
EPS One Year Earlier: 0.22
Expected Revenue: 544.71M
Revenue One Year Earlier: 379.99M
Analysis: With KORS being a relatively new company on the market, its growth potential is still very large. Analysts estimate that earnings this quarter will report revenue growth of around 43.30%. Although this number is lower than the 66% reported in Q3, it is still higher than most of its peers as result of high same-store-sales of 35%. This lowering of estimated revenue growth from one quarter to another can start signifying the consolidation of Michael Kors as one of the main products in the luxury apparel sector. Analysts also estimate an average 50% increase in EPS for Q4 reporting next week. This increase is predicted as a result of KORS widening its operating margins as to this day they still do not offer dividends to their shareholders.
Historical Statistics: Stock Price Change before or after each earning day for the past 6Q.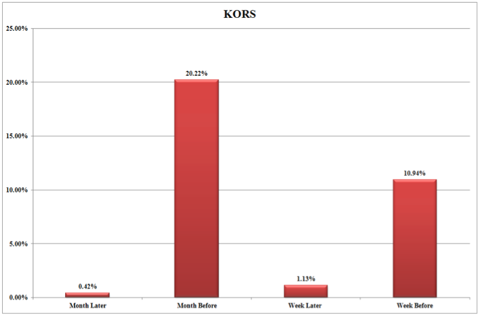 Although everything going into earnings seems great for KORS for the last couple of quarters, this has not translated into a very large price increase over the last 6 quarters. As can be seen in the analysis above, a week later only gives a 1.13% increase in stock price and under the one month later time period KORS only sees a 0.42% increase.
Key Developments:
- Launching of second public offering of shares on February 13, 2013. 25,000,000 ordinary shares were put out for offering. These shares were priced at $61.50 per share. As more shares were put out, the EPS for Kors decreased as the denominator of the ratio (number of ratios) increased. This second public offering also leads to an increase in P/E if all else stays equal because as the EPS decreases (this is the denominator) the whole ratio increases.
Conclusion: From all this information we can conclude that if you are going to invest in Michael Kors as a result of their earnings, historically it is proven that returns are not proportional to earnings and revenue growth so it may be something to keep away from.
Company #2: Costco Wholesale Corp. (NASDAQ:COST)
Earnings Date: 30- May-2013
Average Expected EPS: 1.03
EPS One Year Earlier: 0.88
Average Expected Revenue: 24.23B
Revenue One Year Earlier: 22.32B
Analysis: With Costco reporting earnings at the end of the month analysts are estimating an 8.50% sales growth increase and an EPS increase of 17%. This increase in sales is partly due to an increased number of memberships this quarter. Costco has a very stable business model where revenues can be predicted relatively easily just by the number of customers that sign up for membership at a particular time. As mentioned, with this model revenues are more easily predicted than if it had the regular grocery model and customers paid for what they purchased.
Historical Statistics: Stock Price Change before or after each earning day for the past 6Q.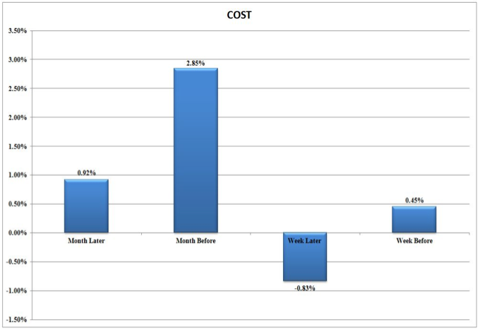 As one can see above, it takes close to one month for Costco's stock price to reflect its positive earnings and when it does happen there is only a 0.92% increase in price. Although these analysts believe that EPS and sales will increase, we would wait for more than a week to get into position to gain returns.
Key Developments:
- As mentioned before Costco announced higher membership numbers than expected in April. This not only increases revenues but also stabilizes and widens margins as Costco's business model is about membership at a particular point and not about how much a particular customer buys at any point. The more members the better earnings would be.
- They also raised quarterly dividends from 27.5c per share to 31c. This increases the dividend yield, meaning that investors are getting more for each dollar invested in the company. Costco's current dividend yield is 1.24.
- This quarter there was a renewal of an agreement between Primus Canada and Costco to provide Costco members in Canada preferred high speed internet and home phone services. This incentivizes customers to become members as they are not only receiving Costco benefits but also other discounts
Conclusion: We can conclude that if you are going to invest in Costco as a result of earnings, the best time period is between after the first week after earnings are reported to the one month time period.
Company #3: Trina Solar Limited (NYSE:TSL)
Earnings Date: 29- May-13
Average Expected EPS: -0.70
EPS One Year Earlier: -0.42
Average Expected Revenue: 294.87M
Revenue One Year Earlier: 349.88M
Analysis: Analysts estimate that TSL will not have a successful quarter. Their average revenue estimate is 15.70% below what it was the previous year and the average EPS estimate is also down close to 66%. These estimates occur as the solar industry announced that it is to reach its 7 year low in market cap of about $2.3B in 2013 which comes a long way to explaining the estimates presented above. The
Historical Statistics: Stock Price Change before or after each earning day for the past 6Q.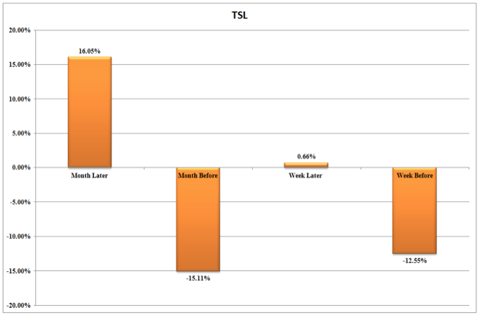 Although Trina Solar Limited is part of the volatile solar industry, it is one of the companies in the industry with positive price spikes after earnings. As can be seen from the graph above, in the last 6 quarters its stock price has increased by a whooping 16.05% one month after reporting earnings and 0.66% one week after even though for the last few quarters analyst expectations were very low.
Key Developments:
- Recently the solar industry has been in talks to resolve the current tension between the EU and China concerning the trading of solar panels. These talks have currently failed and Chinese solar firms are looking to raise prices on their products which would limit exports to the European Union and therefore avoid the great tariffs that are being imposed in this part of the world. President Obama has become involved in this squabble as he is trying to solve the situation to avoid conflict between the world's largest economies. Exports to the United States have remained very low and if the high tariffs are being imposed in the EU then this doesn't give the solar industry much to turn to which would continue these lowly earnings.
Conclusion: As a result of Trina Solar Limited being part of the declining solar industry, it very often does not get the benefit of the doubt when it comes to analyst opinion. Using the historical data presented above, we can see that after earnings TSL stock prices normally increase even though estimates are bad. This may occur because analysts have such low opinions of solar stocks that most of the time they underestimate what earnings will do, Trina Solar being a great example of this.
Company #4: Tiffany & Co. (NYSE:TIF)
Earnings Date: 28- May-13
Average Expected EPS: 0.52
EPS One Year Earlier: 0.64
Average Expected Revenue: 855.16M
Revenue One Year Earlier: 819.17M
Analysis: Analyst estimates for Tiffany & Co. for this quarter are not too positive which continues the trend of the previous quarters. The average expected EPS is predicted to be 18.75% lower than last year as a result of expected decreases in net income. Estimated average sales on the other hand are expected to have a slight increase of 4%, meaning there is an expected increase in the cost of goods sold.
Historical Statistics: Price Change before or after each earning day for the past 6Q.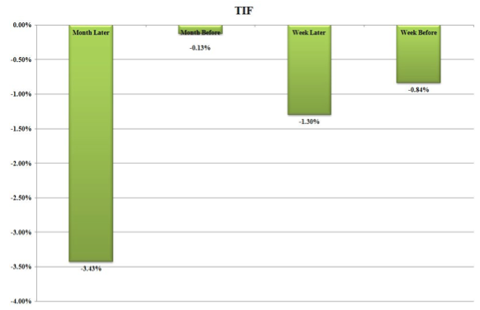 For the majority of the last 6 quarters included in this study, TIF has missed its earnings; thus, the negative stock price reaction. As analysts expect TIF to miss earnings this quarter too, we can expect its stock price to mimic what has happened previously. The biggest change we see is in the one month after reported earnings where the stock price has a -3.43% change while in the week after time period there is a -1.30% drop in stock price
Key Developments:
- Tiffany & Co. raised quarterly dividend to 34c from 32c. This increases investors' dividend yield all else staying equal, meaning that investors are getting more for each dollar they invest into the company. This can only be good for investors, if all else stays equal, meaning the number of shares staying equal. TIF's current dividend yield is 1.28
Conclusion: Tiffany & Co. is not looking too great going into earnings. Historical data proves that as this happens, stock prices react negatively. TIF would not be a company that we would recommend going into earnings this period.
Disclosure: I have no positions in any stocks mentioned, and no plans to initiate any positions within the next 72 hours.
Business relationship disclosure: The Oxen Group is a team of analysts. This article was written by David Ristau, one of our writers. We did not receive compensation for this article (other than from Seeking Alpha), and we have no business relationship with any company whose stock is mentioned in this article.