Investing in quality dividend equities is a time-tested strategy to mitigate losses, dampen volatility, and generate income in most market environments. Bears argue that strength of cyclical stocks could reverse and send the market materially lower in the short-term. The rally may have room left to run but it would be wise to position yourself for downside protection. Most companies with high yields have strong financial positions that make them attractive to investors. Additionally, these companies usually have high cash flows from operations, one of the most important factors in a prospective investment. If investors get nervous, they will likely look to sell less stable stocks and keep those with strong fundamentals. The yields on junk bonds are near record lows and some are now yielding less than five percent: would you rather buy low quality bonds or high quality equities with comparable, or higher, yields?
This week there are twelve ex-dividend candidates that have been analyzed below based upon SA readership criteria. This week most of the opportunities are energy and financial firms with a few other consumer related stocks compromising the balance. Half of the equities offer yields between four and five percent but the other fifty percent offer yields over five percent. The market capitalizations are low again this week but there are four large opportunities for your consideration. I prefer that my ex-dividend candidates have market caps greater than five billion dollars but that is not a requirement, especially with smaller financial service firms and Master Limited Partnerships ("MLPs"). The majority of the equities are trading ex-dividend Wednesday but one is trading ex-dividend on Tuesday.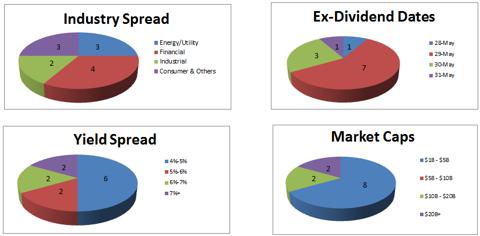 For details of the strategy and my screener details, please consult my methodology on the topic (last modified 4/7/2013). In brief, the screen focuses on relative stable equities with a concentration on liquid companies at affordable valuations. This is summarized below:
Dividend Yield ≥ 4.0%
Ex-Dividend Date = Next Week
Market Capitalization ≥ $1B
P/E Ratio: 0-20 (Relaxed for MLPs and REITs)
Institutional Ownership ≥ 15%
Ideally Modest YTD S&P 500 Underperformance
Minimal European Exposure
After applying this screen, I arrived at the equities discussed below. Depending on your belief in the investment hypothesis, you may decide to hold long enough for the dividend or to hold for the long-term. The information presented below should simply be a starting point for further equity research in consultation with your professional financial advisor before making an investment decision. My goal is to present new companies to you and provide a brief overview of their recent developments; this should not be considered a substitute for your own due diligence.
Prospect Capital Corporation (PSEC): 12.22% Yield; Ex-Dividend 5/29
Prospect Capital is a specialty finance company that operates primarily in the private equity and specialized investment categories with a focus on secured lending. The firm prefers to make small investments in small- to mid-size North American companies. Private equity companies are attractive dividend producers because they frequently revitalize or recapitalize existing businesses, thus are able to return excess cash quickly. These can be volatile firms because portfolio companies often do fail but once they have successful investments, they can pay above-average dividends. A key metric to follow is the underlying portfolio yield, and compare it to the dividend yield paid out. This can alert investors to potential movements in the dividend and act as an early warning sign.
Prospect reported another record quarter in May as total investment income increased 25.7% quarter-over-quarter; however, net investment income was essentially flat due to a significantly higher interest expense. The current portfolio yield declined from 14.7% last quarter to 13.9% but the dividend still appears safe. In early December, Prospect increased the dividend payments by 8.2%. In June 2010, Prospect began distributing dividends monthly rather than quarterly, which accounts for the large perceived dividend decrease from $0.40 to $0.11 (this was still a dividend decrease but not as dramatic as charts make it appear). Private equity investments are complex due to the scale and diversity of their operations, so I strongly recommend that you read the earnings release for further details of investment activities.
The company has been very active recently and raised $250M of debt capital to facilitate additional long-term investments. One potential negative for Prospect is that it will need to replace the income generated by its Energy Solutions Holdings, Inc. investment, which generated "significant dividend and interest income" in 2012. This risk is mitigated by the $500M investment pipeline that includes "secured investments with double-digit coupons, sometimes coupled with equity upside through additional investments… diversified across multiple sectors."

(Source: Yahoo! Finance)
The stock has lagged the market by approximately fifteen percent this year and now trades lower than a recent $384M net stock issuance ($11.10 per share before fees). The forward P/E is around eight and the yield is above twelve; therefore, I am bullish on Prospect Capital's future. I continue to reiterate that I would be comfortable buying Prospect under $11.00 when it is trading around book value. I have concerns about the company's dilution as Prospect has only reported a $0.71 per share net increase in net assets from operations versus $0.95 in dividends per share thus far in the fiscal year. As a result, the net asset value per share has declined from $10.82 to $10.71 during the fiscal year; however, investors have received $0.98 in dividends per share over the period.
In January, Prospect announced that it would be diversifying its investments into the real estate market with three investments totaling $50M. President Grier Eliasek stated that "while our initial real estate investments have been in industrial and multi-family residential properties, Prospect is interested in all types of direct and indirect real estate investments, including properties owned by private equity-owned companies." Prospect might be late to the game, but I believe this diversification will ultimately improve the quality of the company. In mid-May Prospect announced that it completed the acquisition of three multi-family properties for $27.4M. Again, the numbers are small but are an important program to watch.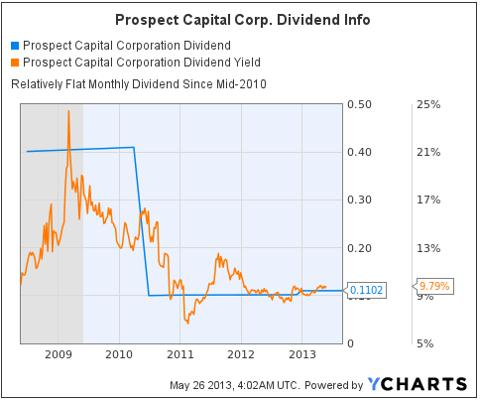 Baytex Energy Corp. (BTE): 6.60% Yield; Ex-Dividend 5/29
Baytex Energy is an oil and gas company that engages in the acquisition, development, and production of oil and natural gas in Western Canada. In recent years, Baytex has also been expanding its presence in the United States. Despite the expansion efforts, only six percent of production is in the United States and the bulk is originated from Alberta and Saskatchewan (Canada). As a Canadian publicly listed corporation, there may be special tax considerations for United States shareholders depending on their unique situations. Despite its natural gas interests, over 75% of revenue is derived from heavy oil with light oil accounting for nearly 20%. Jeffrey Gall wrote an overview of Baytex in which he concluded, "BTE is overvalued relative to PGH, ERF, and PWE based on an investigation of funds flow from operations, reserve valuation, dividend yield and dividend coverage ratio. Because of this, it is recommended to sell BTE…"
Baytex recently reported first quarter 2013 results and faced declines in numerous key metrics quarter-over-quarter. For example, funds from operation ("FFO") per diluted share dropped 21% due to lower commodity prices, lower volumes, and high operating expenses. A large reason for the decline was an increased discount for Canadian oils but management indicates that the price differential has returned to a more normal 20% versus 34% in the first quarter. Higher operating expenses were due partially to overall lower volume in the period as well as general higher labor costs. Expenses were $13.95 per Barrel of Oil Equivalent ("BOE") in the first quarter and management is forecasting costs of $12.00-$12.50/BOE for the remainder of the year. Total production declined three percent year-over-year; therefore, an increase in volume should help to spread high fixed costs due to the use of operating leverage. Over the next five years, Baytex is forecasting sixty percent growth in after-tax FFO as a result of organic growth and increases in heavy oil prices.
The stock continues to exhibit volatility and the yield has generally stayed between 5.8% and 6.2%; however, the dividend yield has dropped fifty basis points in the past month alone. The monthly dividend has remained at twenty two Canadian cents per share since late 2011 and I view future growth as unlikely given the 123% payout ratio; however, the payout as a percent of FFO) is closer to 55% (net of DRIP). Note that Baytex offers a discount policy for reinvested dividends of approximately three percent.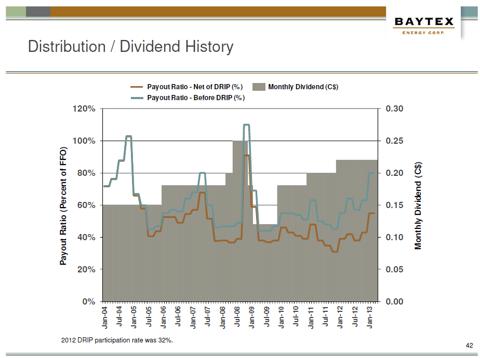 (Source: May 2013 Corporate Presentation)
Baytex announced an acquisition in October 2012 for 46 sections of undeveloped oil sands leases in the Cold Lake area of northeast Alberta for approximately $120M. This acquisition is consistent with Baytex's focus on heavy oils. Overall, Baytex appears to be an average dividend opportunity but there may be storm clouds on the horizon. Demand for pipeline capacity is outstripping supply and those companies without refining capabilities, such as Baytex, may suffer. Earnings are estimated to drop almost thirty percent going forward if demand stays at this level. This is a critical situation to monitor if you are considering a long position in the company and the stock has dropped nearly twenty-five percent in the past year.
The yield is now at its highest point since late 2009 and may entice dividend hunters who are willing to assume the risk. The valuation ratios have oscillated recently but with current and forward P/Es of 18.6 and 24.9, respectively, I would personally avoid the risk involved in Baytex. The stock has underperformed by twenty-five percent year-to-date and is currently just ten percent above its 52-week low. I am not overly bullish on Baytex but downside appears to be limited in the short-term at this level. Albert Alfonso comes to a similar conclusion but is overall more optimistic on Baytex's prospects: "Baytex also has the benefit of higher production volumes for Q2 2013 and a lowering of the heavy oil differential. These two factors should help boost FFO next quarter."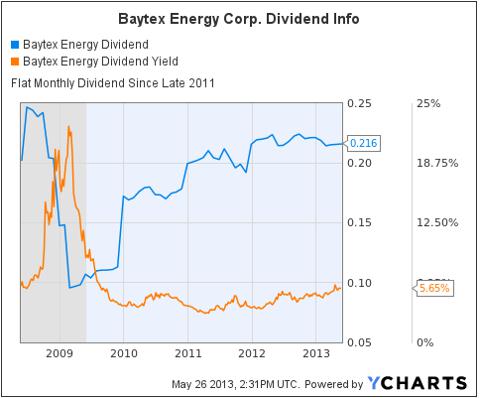 TAL International Group (TAL): 6.10% Yield; Ex-Dividend 5/31
TAL International is one of the leading container leasing companies that specializes in leasing containers to shipping line customers. TAL is a top five company for dry and refrigerated containers and is the market leader in specialized construction shipping. Despite its leadership position, the container industry is still quite fragmented and there is opportunity to take market share from competitors. Revenues have been growing at a 20% CAGR over the past three years but virtually all of the expansion is occurring in Europe and Asia. Over 40 percent of revenue relates to Europe but Asia is poised to become TAL's largest market. Revenues should grow further in 2013 as TAL has reentered the Tanks and Chassis markets. Approximately 70% of the lease portfolio as of March 31, 2013 is long-term (3.7 years), which mitigates some of my concerns related to the Eurozone crisis.
In the first quarter of 2013 TAL reported a 12.8% increase in total revenue and 13.9% increase in net income year-over-year. Overall earnings were improved by an increase in the residual value policy that decreased depreciation by $3.2M after-tax ($.10 per diluted share). Diluted earnings per share increased by $0.14 year-over-year so the bulk of the improvement was due to the revised depreciation policy. One potential red flag to watch for relates to the lease rates charged on containers. The overall increase in revenue was due primarily to an increase in containers but the rates charged declined across the board:
Dry containers: 4.3% decrease YoY (0.7% decrease excluding sale-leasebacks)
Refrigerated containers: 3.2% decrease YoY
Special containers: 5.7% decrease YoY (1.4% increase excluding sale-leasebacks)
The reasons for the declines include the overall lower costs of containers, TAL's preference for older containers recently (thus lower rates charged), and heightened market competition. This deterioration in rates is a troubling warning sign and necessitates that TAL continue to grow by acquiring new containers.
Cash flows from operations continue to be positive but are not high enough to meet lofty investing requirements. In the quarter TAL spend nearly $200M to purchase leasing equipment and invest in finance leases; this activity was financed with approximately $100M of net borrowing during the period.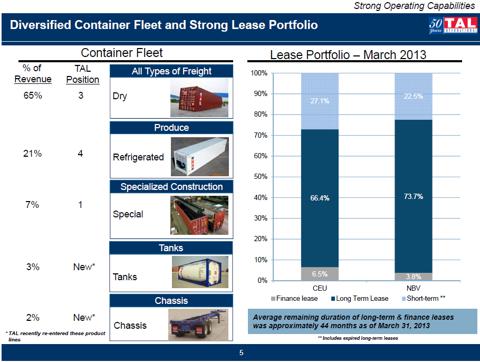 (Source: TAL May 2013 Investor Presentation)
I like both the leasing business and TAL's financials, thus I am willing to stomach the European exposure. TAL has appreciated 39% the past six months and has climbed 21% in 2013; this strong growth has pushed the dividend down from 7.0% to 6.1%. Despite the drop in yield, the payment has been rising steadily and is currently 40% of adjusted pretax EPS. Based upon recent history, management appears to keep a relatively conservative payout so further increases may not be as large. Historically, TAL's dividends have been treated as non-taxable returns of capital; please consult your personal tax advisor before making an investment decision.
Over the last twelve months, TAL has generated steady-state cash flows per share of $6.24 and has ample cash available for investing in growth projects (in conjunction with the previously mentioned financing activity). Earlier this year TAL announced a secondary offering by affiliated private equity ("PE") owners. The stock has appreciated 30% in the past two years so it is likely just a case of PE firms taking profits but I always get a little apprehensive when I see so much insider selling. I am hesitant to wholeheartedly recommend TAL but it continues to be a solid dividend opportunity.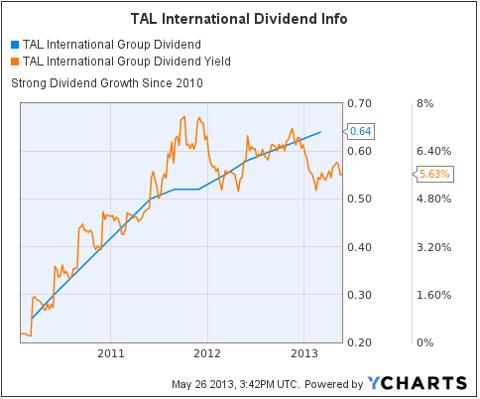 CenturyLink, Inc. (NYSE:CTL): 5.80% Yield; Ex-Dividend 5/30
CenturyLink is the third largest telecommunication company in the United States but is significantly smaller than its rivals Verizon (NYSE:VZ) and AT&T (NYSE:T). For comparison purposes, Verizon is more than six times larger than CenturyLink based on market cap. CenturyLink is facing declining revenue as it continues to lose 'legacy revenue', which includes local and long-distance telephone service. For example, consumer and business legacy service revenues declined 8.7% and 4.6%, respectively, year-over-year. Strategic revenues increased 4.1% year-over-year but overall it was not high enough to compensate for the lost revenues. Overall, 44% of CenturyLink's revenues were derived from legacy services in the first quarter of 2013.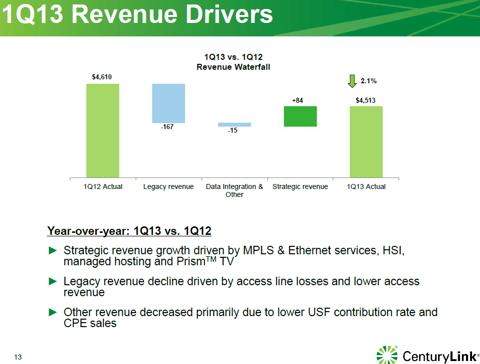 (Source: Q1 2013 Earnings Presentation)
CenturyLink recently cut its dividend at the start of 2013 from $0.725 to $0.54. The rationale for the change was to keep the payout ratio below sixty percent of free cash flows. In conjunction with this change, CenturyLink authorized a two billion dollar share repurchase plan through February 2015. Through May 7, 2013, CenturyLink has repurchased 19.2 million shares for $682 million so it has approximately $1.3B available for use. The stock is expensive on a historic P/E basis but is more reasonably priced with a 13.4 forward P/E. I would rather invest in AT&T, which has a similar forward P/E and a higher forecasted earnings growth. CenturyLink does offer a yield that is ninety basis points higher but I would avoid chasing yield in this case.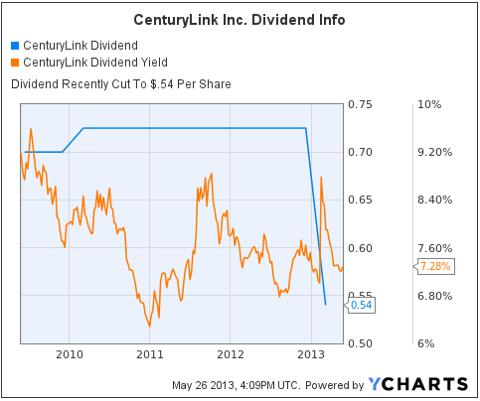 Lorillard Inc. (LO): 5.01% Yield; Ex-Dividend 5/29
Lorillard is one of the "big tobacco" companies with brands including Newport, Kent, and True. I have profitably invested in both Altria (MO) and Philip Morris (PM) over the years and the investment hypothesis is very similar. U.S. cigarette volume is declining, but tobacco is still a strong worldwide seller. Furthermore, declines in cigarettes are being partially offset by demand for smokeless tobacco and other products such as eCigs (electronic cigarettes). Tobacco companies are both mature and safe, which presents the opportunity to return money to shareholders via dividends and share repurchases.
Lorillard recently announced a solid quarter, which included respectable revenue growth and an expanded eCig market share. Net sales increased by 3.3% and the market share increased 0.4 share points year-over-year (14.9% total cigarette market share). In comparison, Lorillard is a clear leader in eCigs with a 40% market share. The dividend was also increased 6.5% earlier this year as Lorillard continues to be very shareholder friendly. Not only did management announce a $500M repurchase plan on March 2013 but recently doubled the plan to $1B. In the first quarter Lorillard repurchased 3.8M shares for a cost of $149M, indicating that there is sufficient 'dry powder' available to further reduce the shares outstanding.
For these reasons, I hold PM in my "Great Recession II" portfolio. Lorillard is currently notably cheaper (12.8 forward P/E) than both Altria and Philip Morris, thus, I would consider this as one of the better potential investments in the industry. A possible concern for Lorillard is that Altria recently announced that it would be entering the eCig market but the emerging market is large enough for multiple competitors at this time.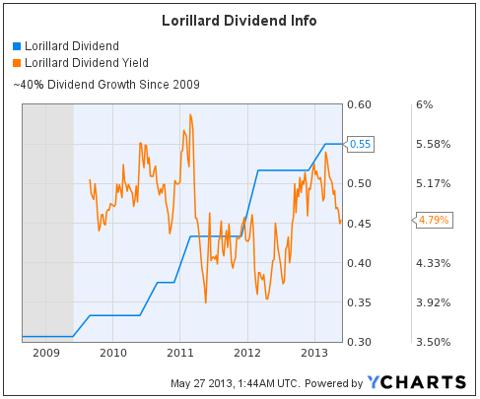 Transocean LTD (NYSE:RIG): 4.30% Yield; Ex-Dividend 5/29
Transocean is one of the largest offshore drilling contracts in the world and rents drill rigs and the related operational equipment to oil and gas companies. The company has 91 drills owned (eight under construction), which is 14 more than its next closest competitor. Additionally, the company is a market leader in ultra-deepwater drilling and is able to charge premium rates for its services. In the first quarter of 2013, the average daily revenue from ultra-deepwater drills was a staggering $457,800. Over fifty percent of revenue is derived from these ultra-deepwater drills with another 15% relating to ordinary deepwater drilling. There is a $28.5B total backlog from continuing operations, approximately half of which relates to 2013 and 2014.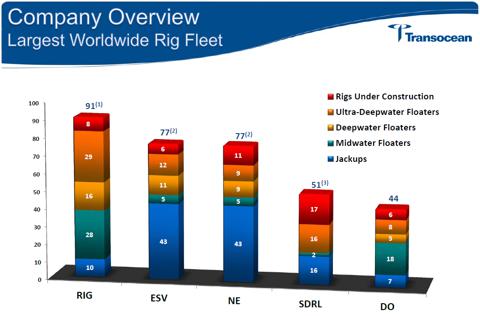 (Source: 2013 UBS Global Energy Conference)
Transocean recently reported its first quarter 2013 results and continuing operations deteriorated over the past year. Excluding the effect of a $140M impairment, operating income declined from $511M to $473M year-over-year. One reason for the decline was sharply lower average-daily revenues in key areas. For example, ultra-deepwater floater average daily revenue fell by $20,300 year-over-year and $56,500 quarter-over-quarter.

(Source: Q1 2013 Quarterly Report)
Transocean is an unusual dividend payer and it announces its annual dividend which is payable to investors in installments. For example, this year Transocean announced a $2.24 dividend and this quarter's distribution is $0.56 per share. Carl Icahn has been waging a public battle with Transocean's management to increase the dividend payout but Icahn faced a setback recently in a proxy vote. The stock was range-bound between $44 and $50 late in 2012 but surged to a high of $59 in February. Transocean has been volatile recently but is 12.5% below its 52-week high and trades at a reasonable 8.7 multiple of forward earnings. Note that the YChart for dividend/dividend yield was excluded as it was unreliable.
Lockheed Martin Corporation (LMT): 4.30% Yield; Ex-Dividend 5/30
Lockheed Martin is an advanced technology manufacturing company that specializes in defense and other related fields. Lockheed is the company behind the F22 fighter plane, as well as anti-missile defense systems. The company has the distinction of being the largest provider of IT services and training to the United States government.

(Source: Q1 2013 Earnings Press Release)
I wrote a dedicated article on Lockheed in August and to summarize, I like Lockheed's fundamentals but has too many obstacles to overcome. Despite the fact that defense spending is facing $600B in cuts, Lockheed has been on a very strong run recently and has jumped from $85 to $107 in the past quarter. The forward P/E is only 11.9 but the 23% climb in the past quarter makes the stock riskier than usual. In the first quarter of 2013, Lockheed's sales slipped but overall earnings increased due primarily to lower unallocated expenses. As you can see from the table above, aeronautics revenues declined 14% and the 12.5% increase in the missiles & fire control segment was not great enough to compensate for the decline. The majority of the decline in aeronautics was due to lower sales of the F-16 and C-130; however, the segment's operating profit was relatively flat due to higher risk retirements and the resolution of contractual matters surrounding the F-16.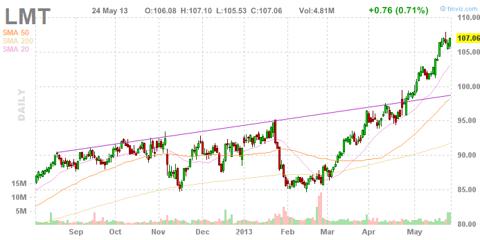 (Source: Finviz.com)
Due to the nature of operations, Lockheed is highly leveraged to government spending and Goldman estimated that the company has 97% exposure to "government agencies." Despite the potential decline in government spending, investors with a tolerance for risk can collect a respectable dividend that has been exhibiting respectable growth in the past five years (see chart below). Not only does Lockheed have a strong yield, the company is dedicated to repurchasing shares and repurchased over $400M of stock in 2012. For the long-term Lockheed is a solid bet, but I do not like the firm for dividend capturing in this environment. To make matters worse in the short-term, the F-35 Fighter was ordered grounded by the Pentagon due to safety concerns. Overall Lockheed will continue to face difficulties expanding its top-line and is too rich for me to favor right now.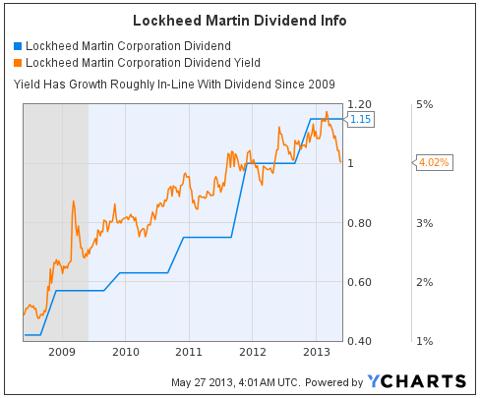 The information presented has been summarized below. I make no guarantees regarding the information in the charts as industry classifications and yield calculations are frequently imperfect. Orange and green represent "avoid" and "consider" classifications, respectively.

Please refer to profile page for disclaimers.
Disclosure: I am long MO, PM, T, VZ. I wrote this article myself, and it expresses my own opinions. I am not receiving compensation for it (other than from Seeking Alpha). I have no business relationship with any company whose stock is mentioned in this article.