American Eagle Outfitters (NYSE:AEO) has had a forgettable year. As the chart below illustrates, its shares are down fractionally, trailing both the 18% return of the Dow Jones U.S. Apparel Retailers Index and the 16% gain of the S&P 500. It also trails peers such as Gap (NYSE:GPS), which we just wrote a piece about, and Abercrombie and Fitch (NYSE:ANF).
American Eagle Outfitters vs. S&P500 and DOW Apparel Index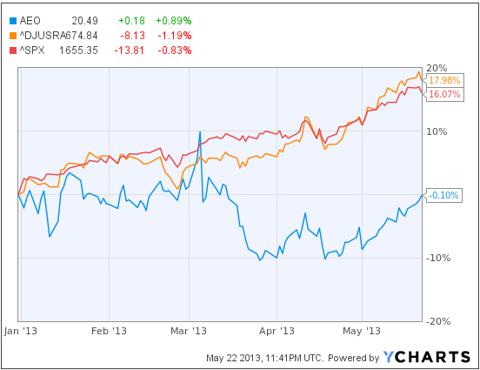 Click to enlarge
Source: YCharts
American Eagle disclosed its fiscal first quarter earnings on Wednesday, reporting adjusted earnings per share of 18-cents, which beat estimates by a penny. Meanwhile, its revenues were also ahead of estimates at $679.5 million compared with the 23-analyst estimate of $678.4. Unfortunately, American Eagle's full-year guidance is where its earnings report disappointed investors: it predicted earnings of between $1.42 to $1.45 per share compared with the mean estimate of $1.49.
That miss is critical - at the top end of that estimate, American Eagle is saying that it will grow earnings by a meager 4.3% in its current fiscal year. That's short of the 15.1% growth rate predicted for its industry. To be sure, the company may simply be playing things close to its vest given the fact that revenues in the first quarter were 4.1% lower than a year earlier and same store sales fell by 5% -- a significant reversal coming off of the 17% growth in same store sales it recorded the same period a year earlier.
In our view, the fact that American Eagle beat estimates on both the revenue and earnings front is enough for us to give the stock some consideration. In fact, we believe that the stock is undervalued at current levels and that investors looking for retail exposure at this point in the year would do better with a fresh position in American Eagle than trying to catch up with its competitors, given their already strong performance in the year thus far.
Earnings
The cat is already out of the bag with respect to its first quarter so we will not be recounting its earnings here. Instead, we want to highlight a few other things: American Eagle reported strong online sales growth of 24% -- that compares favorably with the 22.5% online sales growth that Gap registered in 2012, which led the industry by revenue. At the same time, American Eagle is expanding in emerging markets, where the potential is the strongest: in its recent earnings call, it highlighted license store openings in the Philippines and Mexico.
Direct-to-consumer and emerging market sales could enable American Eagle to surpass earnings expectations for the next five years, when it is expected to grow by an average of 11% -- a full 1.24 percentage points less than its industry's expected average earnings growth rate of 12.24%.
Oddly, while the prognosis for American Eagle's forward earnings paints a dull picture, it is actually better than the estimate for Gap, which is expected to grow at a marginally lower pace of 10.97%. It is, however, slower than the 16.7% growth rate for Abercrombie and Fitch, but it should be noted that base effects flatter Abercrombie as it comes from a five-year period when its sales contracted by an average of 18.4%.
In fact, of these three companies, American Eagle has the most compelling earnings story: as the table below illustrates, it is coming from a half-decade of 4% annual earnings growth into a half-decade of 11% growth while its closest peers are decelerating or simply attempting to re-capture lost ground.
Five-Year EPS Growth Rates

Source: Yahoo! Finance
In that sense, American Eagle's forward prospects are somewhere in the Goldilocks zone, neither too hot nor too cold, but in an environment where investors have expected excellence on all fronts, American Eagle has gotten the short end of the stick.
Fundamentals and Valuation
American Eagle is currently trading at a price-earnings ratio of 17.5x earnings, roughly in line with the S&P 500 but at a 23% discount to its peer group's 22.8x earnings. While this might imply more about the overvaluation of apparel retailers than anything specifically attractive about American Eagle, it's worth noting that American Eagle's peak valuation in the past half-decade was just 28x earnings, compared with 70x for its peer group and 68x for the S&P 500.
While price-earnings might be inconclusive, other valuation metrics do paint American Eagle as undervalued - its price-to-sales and price-to-book value are both at discounts to its competitors and the S&P 500. What's more, value investors will be delighted that American Eagle carries a dividend yield of 2.4% -- superior to the S&P 500's 2.1% and considerably higher than the 1.6% yield of its industry as a whole.
In terms of financial strength, American Eagle is very robust: it carries no debt and its cash ratios are considerably higher than that of its peer group or the S&P 500, suggesting that its management is of a more prudent predilection that has served the company well in the challenging retail environment.
Where American Eagle needs to show improvement is its profitability: its gross margin of 39.1%, while solid, is still lower than the 46% of its peers. To be sure, its positioning as a purveyor of quality, affordable and relatively trendy clothing affects its ability to charge premium prices such as Gap's Banana Republic brand is able to. That being said, American Eagle was able to reduce its product costs by 2.4% in its latest quarter and continued improvement in this area may eventually enable it to narrow the gap between itself and its peers.
Conclusion
On balance, we believe that American Eagle's positive earnings prospects, better-than-average dividend yield and solid fundamentals deserve a better valuation than the market has awarded it with. Indeed, American Eagle shares should be roughly 15% higher than where they currently are and, given the already strong run-up of its competitors (particularly Gap), we believe that it will be easier for American Eagle shares to rise by this magnitude than for its peers to rise by the same proportion.
Disclosure: I have no positions in any stocks mentioned, but may initiate a long position in AEO over the next 72 hours.
Business relationship disclosure: Black Coral Research, Inc. is a team of writers who provide unique perspective to help inspire investors. This article was written by Jonathan Lara, one of our Senior Analysts. We did not receive compensation for this article (other than from Seeking Alpha), and we have no business relationship with any company whose stock is mentioned in this article. Black Coral Research, Inc. is not a registered investment advisor or broker/dealer. Readers are advised that the material contained herein should be used solely for informational purposes. Investing involves risk, including the loss of principal. Readers are solely responsible for their own investment decisions.