Apollo Group (NASDAQ:APOL) is about 20% undervalued right now. Because of significant pressure on the enrollment of new students and regulatory and competitive risks the entire education sector is under pressure. The market is overreacting and pricing the shares for doomsday.
There is no clear short term catalyst to be identified but if the decline in revenue would be halted, that could be a moment the market realizes there is a mispricing. As a minimum time I estimate it will take two quarters but it's possible it will take multiple years for the stock to trade closer to intrinsic value. I think a 20% outperformance of the S&P 500 over a time period of 2 quarters to 2 years is an interesting opportunity.
What is Apollo Group?
Since starting up in the for profit education business more than thirty years ago, Apollo Group has grown quickly to become one of the world's largest education providers.
During the last decade, Apollo Group experienced great tailwinds, like increased Pell Grant funding, historically low borrowing rates, the explosion of demand for online course delivery, and the 2008-09 recession actually drove an outsized number of people back into the student benches. Times change.
Who Are Competitors Of Apollo Group?
If we only consider competitors who are approaching the education market in the same way as Apollo Group most notable competitors are: Devry, Inc. (NYSE:DV), Strayer Education, Inc. (NASDAQ:STRA) Capella Education Company (NASDAQ:CPLA). Most of these are suffering from the headwinds that are being felt in the for profit education sector. Fellow Seeking Alpha Contributor Mike Arnold wrote an interesting article treating a wider variety of threats.
Yet, Apollo Group is in an especially tough spot as is reflected in the company's P/E. Given its sizable cash position the 6.7 P/E in reality is closer to 4.5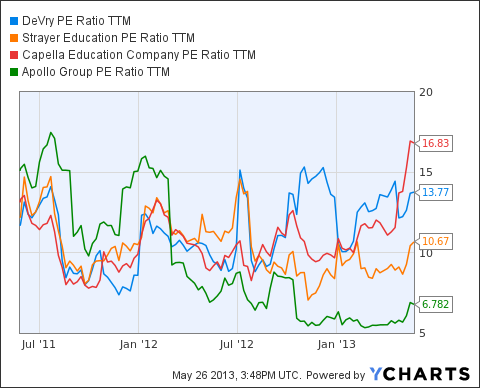 DV PE Ratio TTM data by YCharts
Summary of Apollo Group's Current Situation
From a global perspective, there are more than 250 million people who, between now and 2025, will need access to high-quality post-secondary education. Apollo Group is aiming to serve this market both with physical locations and online programs.
The for profit education sector is under pressure because students, who are usually dependent on government money, are unable to acquire the jobs they are trained for. Resulting in a high number of loans defaulting. Because of its funding, the government is pressing for changes and prospective students faith in the programs is decreased.
During the second quarter, Apollo reported revenue of $834 million, down 13% year-over-year. The decrease was mostly the result of a 16% decline in Degreed Enrollments at the University of Phoenix to approximately 301,000 students. For New Degreed Enrollments, the University of Phoenix reported a year-over-year decline of roughly 20% to approximately 39,000 students.
Revenue per student was essentially flat year-over-year, reflecting price increases, which were offset by a decrease in average nights of attendance. It expects revenue per student to be roughly 1% to 2% negative year-over-year during the second half of 2013.
| | | | | |
| --- | --- | --- | --- | --- |
| Enrollment | Q2 2013(1) | Q2 2012(1) | Q2 2013(2) | Q2 2012(2) |
| Associates | 89900 | 118100 | 14900 | 18500 |
| Bachelors | 159600 | 179400 | 16700 | 22000 |
| Masters | 44900 | 51000 | 6700 | 7500 |
| Doctoral | 6400 | 7300 | 600 | 700 |
(1) Degreed Enrollment, (2) New Degreed Enrollment
On the bright side Apollo is in pretty good financial condition with about $90 million in total debt and $1.1 billion in cash and equivalents. The company generates sufficient free cash flow to fund growth and handle debt payments.
What is Apollo Group Doing To Improve Outlook
The company is also taking measures to improve its operation. It have been closing down locations and aggressively reducing costs.
Apollo announced in October 2012 that it would restructure and close nearly half of its locations at a cost of approximately $200 million, though this should translate into $300 million in savings down the road.
Apollo has been aggressive in managing it's costs and, as a result, has increased its target savings by $50 million. Apollo Group now anticipates delivering a minimum of $350 million in savings through the 2014 year as compared to 2012.
| | | | | |
| --- | --- | --- | --- | --- |
| | TTM | 2012 | 2011 | 2010 |
| Gross Margin % | 56.7 | 57.7 | 62.5 | 56.9 |
| Operating Margin % | 14.3 | 14.3 | 20.3 | 20.5 |
| Earnings Per Share USD | 3.11 | 3.45 | 4.04 | 3.62 |
Valuation
It's when trying to value the company that it gets interesting. The company has 821.2 million in cash on the balance sheet. Approximately 600 million of this can be considered excess cash. That comes down to $5 / share.
Income from continuing operations for the six months ended February 28, 2013, was $175.8 million, or $1.56 per share. Even when taing further deterioration into account, full year EPS should still approach $3 EPS annually.
DCF
After performing a DCF calculation taking into consideration a significantly further decline in cash flow in the near future, and no growth in the longer term, the shares still have a value of $19.
Because the large excess cash position is not required to conduct business, we add excess cash of $5 to $19, and consequently the shares are worth approximately $24. Meanwhile Apollo Group trades at $20. Which makes it about 20% undervalued right now.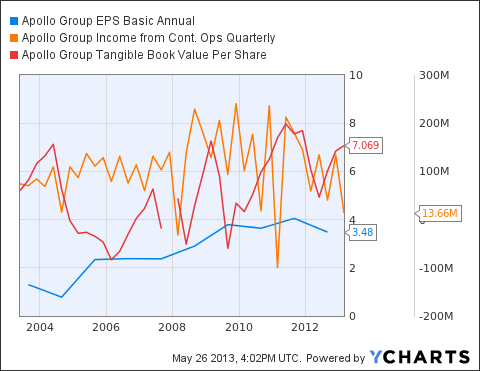 APOL EPS Basic Annual data by YCharts
Risk
The risks the company faces in the next few years are nothing to sneeze at. These are some of the risks but there might be others as well. If all of these risks manifest themselves in a pronounced way, intrinsic value of the shares will be impaired. Read more about risks in Seeking Alpha Contributor David Pinsen's interesting article: reasons to be cautious about for-profit colleges.
Regulatory concerns are high because of high post-graduation student debt loads and high default rates. Tuition rates may come under pressure in the future.
88% of current revenue comes from government-aided loans, the University of Phoenix could exceed a 90% threshold in fiscal 2013, which would put this funding at risk in the future, if it happened another consecutive year.
Competition in the for profit education space is increasing, especially in online and advanced degree programs, new initiatives in the marketplace could gain traction or become more widely popular. This puts upward pressure on Apollo's marketing expenses.
Accreditation standards are being raised, if the education provider doesn't meet the new requirements that the Higher Learning Commission sets, that can be problematic.
Conclusion
The company is priced for a bleak future. There seems to be little doubt that future cash flows will be a lot lower. If things don't turn out as bad as the market expects, Apollo Group is quite cheap right now.
In the aggregate there is an estimated 20% profit to be picked up in the near to medium term. No matter whether or not this is a correct assessment, it's likely that any investment in Apollo Group will be paired with a lot of volatility.
Disclosure: I have no positions in any stocks mentioned, and no plans to initiate any positions within the next 72 hours. I wrote this article myself, and it expresses my own opinions. I am not receiving compensation for it (other than from Seeking Alpha). I have no business relationship with any company whose stock is mentioned in this article.