The city I live in used to operate its own trash trucks and employees for picking up said trash, but they switched over to Waste Management (NYSE:WM) a few years back. I never used to think of trash as a sexy option for a stock selection but after tracking Waste Management for some time now I think it is a pretty healthy play for some income. The company currently yields 3.45% and his been increasing dividends for the past ten years.
Valuation
Waste Management currently trades at a trailing twelve month P/E ratio of 24.22 which doesn't bother me too much because I like to purchase a stock based on where the company is going in the future as opposed to what it has done in the past. On that note, the 1-yr forward-looking P/E ratio at 17.73 is currently priced just right to me for an income stock. This company should be insulated from global macroeconomic headwinds as it only operates in the US, which makes it a very good candidate to hold onto if you believe we will be experiencing turbulence in the near future due to Japan, Europe, or China. The PEG ratio which measures the ratio of the price you're currently paying for the trailing twelve month earnings on the stock while dividing it by the earnings growth of the company for a specified amount of time (I like looking at a 5-yr horizon) tells me that Waste Management is expensive based on a 5-yr EPS growth rate of 7.35%; what this really tells us is that Waste Management is not a growth company and only validates what I said earlier in that it is a great dividend company.
Financials
On a financial basis the things I look for are the dividend payouts, return on assets, equity and investments. Waste Management boasts a dividend of 3.45% with a payout ratio of 81.57% while sporting return on assets, equity, and investment values of 3.73%, 12.97% and 4.4% respectively. These are all very respectable values but not high enough for me personally to consider buying my full position in the stock. If maybe you feel the market will retract a little more and would like a safety play then maybe the 3.45% yield of this domestic company is good enough for you to take shelter in for the time being. Also the high payout ratio can be cause for concern because one is left to wonder how much the company can grow earnings in order to cover future increases in the dividend. Though the company has raised dividends for the past ten years the future growth rate of these dividends might be miniscule.
Technicals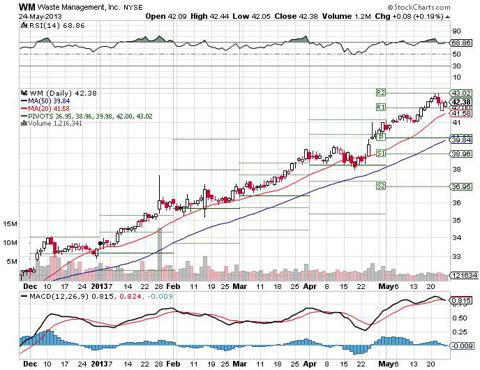 As we can see vividly, the stock has been riding its 20-day average upwards since early December, since 03Dec12 the stock is up 30.12% while the S&P 500 is only up 16.48%. The relative strength index chart (RSI) stands at 68.86 which means it is near overbought territory, and the moving average convergence-divergence (MACD) graph illustrates that the stock may be losing some momentum for the time being with the black line crossing below the red line while with a bit of divergence being evidenced to the negative side. There seems to be a bit of weakness in the technicals which makes me cautious on buying a big portion right now, I'd wait a couple of days and watch if the stock will test the 20-day average before it moves up again. If it fails at the 20-day average I'd look for it to test $39.98, but if the 20-day acts as support then we can see the stock move up to $43.02.
Recent News
Waste Management declared a quarterly dividend of $0.365/share which will be payable on 21Jun13 for shareholders of record on 07Jun13 with an ex-date of 05Jun13.
Conclusion
Every time I see that trash truck coming to pick up my rubbish I think to myself, "I just made some dividends just by throwing away my trash this week." I'm currently long on Waste Management and love it as a dividend play because it is a safe way to be in the market right now because I believe there is a bit of uncertainty. Fundamentally this is not a value stock nor is it a growth stock; it is just an income play from my perspective. On a technical basis I believe it may be due for a bit of a pullback and would love to see it happen right before the ex-dividend date so that I can buy some more of this great yielding domestic garbage company.
Disclaimer
These are only my personal opinions and you should do your own homework. Only you are responsible for what you trade and happy investing!
Disclosure: I am long WM. I wrote this article myself, and it expresses my own opinions. I am not receiving compensation for it (other than from Seeking Alpha). I have no business relationship with any company whose stock is mentioned in this article.