The share price of Starbucks (NASDAQ:SBUX) has risen by 19% year to date. At $63.36, the stock has just reached its record high and offers a 1.3% dividend yield. Despite the solid fundamentals, I am hesitant to buy at the current price level as the stock appears to be trading in the high-end of its fair value range. My view is based on the following 4 reasons:
1. Starbucks shares are fairly priced relative to its comps. According to the chart shown below, Starbucks' consensus revenue, EBITDA, and EPS growth estimates are considerably above the comps averages. However, many of the company's profitability margins are below par. Its capital return performance is in line with the group average. In terms of leverage and liquidity, Starbucks carries a relatively low debt load as reflected by its below-average leverage ratios. The company's free cash flow margin is slightly below the peer average. Due to the low debt load, the firm is able to maintain a healthy interest coverage ratio. Both Starbucks' current and quick ratios are above the group averages, reflecting a healthy balance sheet condition.

The stock's current price multiples at 14.0x forward EBITDA and 26.6x forward EPS (next 12 months) are on average 20% above the peer-average trading multiples. Considering Starbucks' superior growth potential but relatively weaker margin performance, its valuation premium has fully reflected the company's relative strength in growth potential (see chart above).
2. Over the past 6 months, Starbucks' forward P/E multiple has expanded by 13% (see chart below).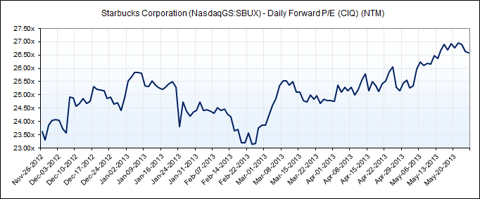 Nevertheless, the company's consensus revenue, EBITDA, and EPS estimates for the current and next fiscal years have only slightly changed from their levels of 6 months ago (see chart below), suggesting the rise in valuation was not supported by any notable corporate developments.



3. From a historical valuation perspective, Starbucks' current valuation looks somewhat rich. Over the past 5 years, Starbucks has been able to maintain steady capital return and margin performance. The company's consensus revenue, EBITDA, and EPS growth estimates for the next few quarters are showing a stable trend which is fairly in line with the historical average since 2010 (see charts below).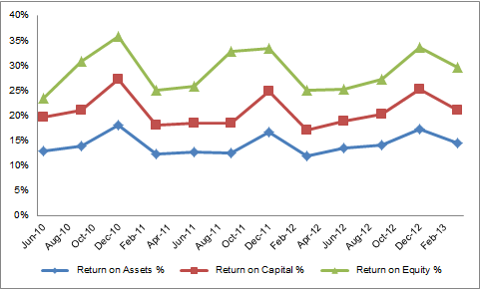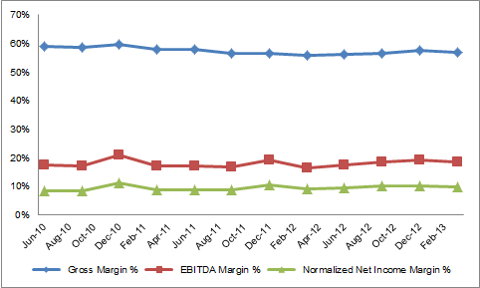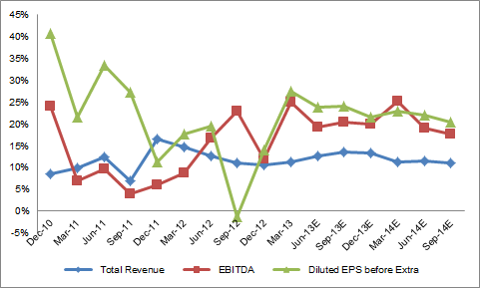 However, the stock's trailing P/E multiple is currently trading at a 17% premium over its 5-year historical average (see chart below), which appears to be somewhat frothy relative to the firm's growth and profitability profiles.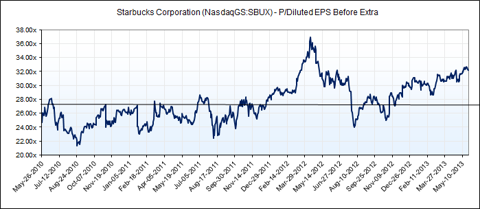 4. Sell-side analysts continue to be bullish on the stock. Of the total 30 ratings compiled by Thomson One, there are 11 strong buy and 12 buy ratings. However, the average 1-year price target at $67.96 is only 7.3% above the current share price. Given that Starbucks should command a cost of equity of at least 9% based on the capital asset pricing model (see chart below), sell side's average price target actually implies the stock price is within its fair value range.

Despite the above, the current stock valuation has not yet reached the point that should trigger a sell. There are still reasons for existing shareholders to continue holding the stock. In a Deutsche Bank research note released on April 26, Jason West commented on Starbucks' solid fundamentals following the release of the quarterly results (sourced from Thomson One, Equity Research):
"While just an in-line quarter, SBUX delivered many of the key elements that the bulls look for in this story: solid domestic SSS, upside on margins (helped by lower coffee costs), accelerating unit growth, and higher earnings guidance. However, high expectations, soft CPG sales, and weak China margins are likely to put some moderate pressure on the stock. We remain buyers given a healthy core biz, significant global retail growth still ahead, and potential catalysts such as elevated dividend/buybacks and Europe refranchising. Buy."
For potential buyers, I recommend waiting for a lower entry point for a better margin of safety. I would consider pulling the trigger at $60, everything else being equal.
All charts are created by the author except for the consensus estimate tables, which are sourced from S&P Capital IQ, and all financial data used in the article and the charts is sourced from S&P Capital IQ unless otherwise specified.
Disclosure: I have no positions in any stocks mentioned, and no plans to initiate any positions within the next 72 hours. I wrote this article myself, and it expresses my own opinions. I am not receiving compensation for it (other than from Seeking Alpha). I have no business relationship with any company whose stock is mentioned in this article.