[Editor's note: For a bullish view on InterOil, see here]
"I've got a very bad feeling about this"
- Han Solo
It wasn't supposed to be this way. For the past seven years, InterOil Corporation (NYSE:IOC) has been trumpeting various permutations of a multi-billion dollar Liquefied Natural Gas ("LNG") project in Papua New Guinea. As outlined in a prior article, InterOil's latest attempt consisted of a process started in September, 2011 with the hiring of Morgan Stanley, Macquarie Capital, and UBS to scour the globe for "potential strategic partners" for an LNG project to be located in PNG's Gulf Province.
As the months and quarters dragged on, 2011 turned into 2012, and 2012 turned into 2013, hope for the faithful finally arrived on January 24, 2013 when InterOil announced that it had:
"advised bidders with which the Company has been in discussions that the final binding bid solicitation period for the partnering process currently being undertaken will close on February 28, 2013."
It is perhaps telling of the process that InterOil had to be clear that it was 2013 being referenced.
Since the passing of that "binding" bid deadline three months ago, the anticipation built as InterOil announced that it had received "several bids to partner with InterOil in its Gulf LNG project". The sudden and unexpected "retirement" of founder and CEO Phil Mulacek on April 23 (2013!), rather than being viewed as a potential warning sign, was trumpeted as "clearing the deck" for a potential outright acquisition of InterOil, with Wall Street analysts like Pavel Molchanov of Raymond James salivating over a "substantial premium".
As the excitement reached a crescendo the stock reacted in kind, shooting up from $74 on May 10 to over $93 on May 23.

Then in the wee hours of the morning on May 24, InterOil issued the following brief press release:
("InterOil" or the "Company") and its joint venture partner, Pacific LNG Group, have entered into exclusive negotiations with ExxonMobil Papua New Guinea Ltd., a subsidiary of ExxonMobil (NYSE: XOM), on the development of Petroleum Retention License 15 (PRL 15), which comprises the Elk and Antelope fields in the Gulf Province of Papua New Guinea. The transaction has been discussed with the Government of PNG and any future agreement will be subject to their final approval.

Items under consideration include:

InterOil and Pacific LNG selling ExxonMobil Papua New Guinea Ltd. an interest in PRL 15 that is sufficient to supply gas to develop an additional LNG train at ExxonMobil Papua New Guinea Ltd.'s Konebada site. There will be staged payments before and after production commences.
InterOil and Pacific LNG will be funded to drill additional delineation wells in the Elk and Antelope fields, which will be followed by recertification of the resource.
InterOil and Pacific LNG will have the optionality to either independently develop a second LNG project in the Gulf Province that may also use gas from PRL 15 and potentially other discoveries, such as Triceratops, or pursue further development with ExxonMobil Papua New Guinea Ltd.
A somewhat cryptic statement that really raises more questions than answers:
What happened to the Gulf LNG project?
InterOil just announced that it had received several "bids" specifically for its Gulf LNG project. Now apparently what is "under consideration" is simply supplying gas to Exxon for its project?
Why does Exxon have exclusivity when, per the press release, terms are still being negotiated and items are "under consideration"?
InterOil announced that "binding bids" were due in February, and that multiple bids were received.
What is InterOil's bargaining position now that Exxon is the only party at the table?
Why does Exxon need additional delineation wells and a recertification of the resource if only enough gas for a single train is needed?
Interoil has always stated that Elk/Antelope could support two LNG trains. Exxon stated that only 4 to 5 Tcf of gas is required for an LNG train (half of the 9.45 Tcf best case estimate provided by InterOil).
What about terms???
Staged payments before and after production commences does not sound like a particularly clean transaction.
What about timing?
Exxon and partner Oil Search are still constructing the initial two-train PNG LNG project with first LNG not scheduled for 2014. It is unlikely they would make a final investment decision on a third train before then, which would require offtake agreements, the additional Exxon-required drilling, recertification, financing, approvals etc.
Initially, the market reacted positively to the Exxon announcement, reaching an intraday high (near the open) of $106.44. However, as the market digested the news and possibly began pondering the above questions, the stock began selling off, closing 19% lower than the intraday high and 8% lower than the previous day's close.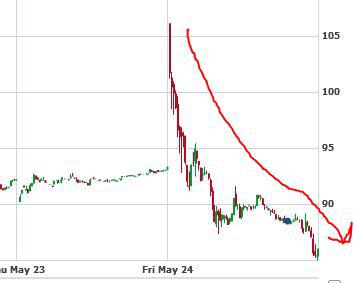 If there's one thing equity markets abhor it is uncertainty, so it is not surprising to see the shares react so negatively after digesting this latest twist in the InterOil saga.
Whatever comes out of the "negotiations", if anything, will look quite different from what was being heralded up until a few days ago (a Gulf LNG Project). Some investors may find that troubling, especially in light of IOC's $4.4 Billion valuation. Others, it seems, have found A New Hope.
Disclosure: I am short IOC. I wrote this article myself, and it expresses my own opinions. I am not receiving compensation for it (other than from Seeking Alpha). I have no business relationship with any company whose stock is mentioned in this article.
Additional disclosure: This article reflects my personal views only. I have a short position in IOC stock. All data and calculations presented are accurate to the best of my knowledge but have not been vetted, checked, proofread, or independently verified. This article should not be relied upon for any purpose other than for entertainment. I welcome comments and or corrections.