It's been a couple of weeks now since I discussed the quarterly report from Green Mountain Coffee Roasters (NASDAQ:GMCR). The fiscal Q2 report was very mixed, with the company missing on revenues (after much lower-than-expected guidance to begin with), but beating handily on the bottom line. It was another quarter where revenues were the weak part, but earnings per share were fine. The company also lowered its Q3 and full-year revenue forecast, partially in part to the declining bagged coffee business. Green Mountain also announced an expanded partnership with Starbucks (NASDAQ:SBUX), but cut their capital expenditures forecast again. Shares soared thanks to the Starbucks news, hitting new 52-week highs a couple of times.
At the end of my earnings review article, I stated that the Green Mountain short case would return if shares traded into the $75 to $80 range (or higher). I thought that a rally of this size would be too much, and that shares would certainly pull back as investors digested the report, which wasn't great. Well, after a rise to nearly $82 a share, Green Mountain has pulled back by $10, and shares were even a few bucks lower than that at times late last week. Today, I'm here to explain why if you did profit off my short recommendation, you might want to take some profits. For short sellers, this probably is not the best time to be greedy.
Underpromise and overdeliver:
Thanks to the Starbucks deal announcement, Green Mountain was able to issue much lower-than-expected revenue guidance for both Q3 and the fiscal year. This could set up a situation where Green Mountain is able to produce a large beat in Q3, and that could send shares higher.
For fiscal Q3, Green Mountain stated that revenues would grow by 11% to 15%. In last year's Q3, revenues were just over $869 million. Analysts had been expecting 17.4% growth for the quarter, or roughly $1.02 billion. Thanks to the low forecast, analysts have been cutting their estimates. Current estimates call for revenues of $986.34 million, which would represent 13.5% growth. That's still a little ahead of the Green Mountain guidance midpoint, but we probably have about 2 months or so until the next earnings report. There is plenty of time for estimates to be revised lower. Additionally, with just 12 analysts following the name, one decent size cut from an analyst could bring the average down a bit.
Thanks to the large earnings beat in Q2, fueled by nicely improving margins, Green Mountain issued a much higher-than-expected earnings forecast. The company guided to earnings per share of $0.71 to $0.78 for the quarter, while analysts were looking for $0.65. Part of this has to do with the company's buyback as well, which is expected to give a boost to earnings per share which totaled $0.52 in the year-ago period. Currently, analysts are looking for $0.76 this quarter.
Green Mountain has done very well in recent years on the earnings per share front. Even in the few quarters where the company posted large revenue misses, they only missed by a penny or two on the bottom line. In the quarters where Green Mountain has posted a solid revenue number, earnings per share beat handily. Just look at fiscal Q2. Even with a sizable revenue miss, earnings per share blew out estimates.
Now I'm not arguing that Green Mountain will have a substantial revenue blowout this quarter, as revenues have been an issue in recent years. However, the low guidance does shift the bar to a more reasonable level, and it certainly will be easier to beat a 13.5% growth number than a 17.4% one. Analysts might even take down their numbers a little further, which would make a beat even more possible. How much of a beat will be required to satisfy investors with a stock that's rallied so much? That's the real question. But in the last quarter, revenues missed and the guidance was light. The Starbucks deal hid that, but they probably won't be able to hide anything this quarter. Luckily, the bar is a lot lower now.
The stock buyback program:
Green Mountain has been a victim of its own success in one respect, as the stock has rallied from $15 to $72 since August, and we were recently above $80. While shareholders are surely loving those gains, it has come at a price, and that is the stock buyback program. Green Mountain has bought back just under 8 million shares since the program started at a cost of $202.2 million. Their average price paid for a share is $25.32, about a third of where we are now.
That $500 million buyback was expected to significantly reduce the amount of Green Mountain shares outstanding, which has jumped a bit in recent years. Excluding the buyback, the share count is rising as executive options further dilute shareholders. This isn't a company specific issue, as it happens to most, if not all, companies out there. However, a rising share count does hurt earnings per share, and shareholders do get diluted a bit, which can add up over time.
At $20 a share, the company would have been able to buy back 25 million shares. At $25 a share, roughly the price they've been paying so far, they could repurchase 20 million shares. But now we are at $72, and we recently were above $80. The roughly $298 million left on the program isn't going to buy back as many shares as we once thought. At last Friday's close of $71.90, the company could buy back about 4.14 million shares. That's good, but not as great as the nearly 12 million they could have bought at $25. While current shareholders laugh at this premise, new shareholders are hurt by it. At the recent 52-week high of $81.70, you would be looking at 3.64 million shares.
The main point here is that short sellers have to fight the buyback. I'm guessing (well, more like hoping) that Green Mountain wasn't buying back shares when the stock was above $80. But as the stock pulled back to its post-earnings low of $69.35 (not counting the first few hours the day after earnings), maybe they have started to buy some shares. They still had nearly $300 million behind them at the end of last quarter, and that's still some firepower to work with. If Green Mountain shares were to pull back into the mid or even low $60s, the opportunity to repurchase would be even better.
The last significant pullback:
Back in February, the stock pulled back after a great earnings report that was coupled with so-so guidance. Shares hit a high of $49.10 on the day going into earnings, and lost a couple of bucks the next day. It was almost a week later when the stock bottomed at $42.25. From the high to the low, you saw a decline of 13.95%.
The recent pullback we've seen is a bit different. The one above started with the earnings report, while this one took a couple of weeks post-earnings to occur (which I said it would). This pullback has been a little bit more. From the $81.70 high on May 16th to last week's low of $69.35, the pullback was 15.12%.
This recent pullback is what inspired my StockTalk from last week, which formed the basis of this article, seen below.

Click to enlarge
The momentum bubble popped for now:
Recently, I wrote about the momentum bubble being back. Momentum names such as Green Mountain, SodaStream (NASDAQ:SODA), Netflix (NASDAQ:NFLX), First Solar (NASDAQ:FSLR), and even new entrant Tesla (NASDAQ:TSLA) had all rallied strongly as of late. Many of these stocks had seen recent rallies, with a number of them more than doubling from last year's lows. For now, the bubble has slightly popped, as you can see in the chart below.

*Change is from recent high to last price (Friday's close).
Tesla closed near its high point on Friday, but it did have a pullback before that. Each of the other four names have pulled back at least 7%, with an average pullback of about 10%. These names were even lower during last week, as each have rallied 3%-5% from last week's low. For now, the momentum party has stopped, but it could certainly pick up from here, and each of these names could see new highs. Most of them are not far from their 52-week highs.
Still a large short base:
While short interest has come down significantly from its peak, as you can see in the chart below, it still remains elevated. Green Mountain short interest hit a high of approximately 51.45 million in November 2012. As of the latest update, a little under 30 million shares were short. Almost 42% of shorts have covered, but there still are a lot of them remaining.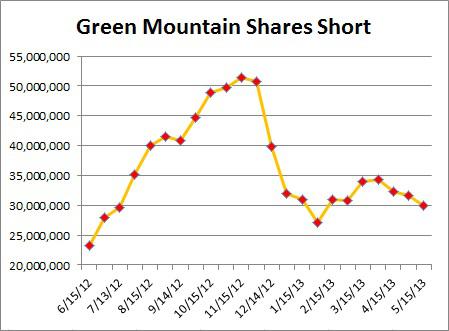 Green Mountain had just over 148.9 million outstanding shares as of the latest quarter. Given the current short interest, basically 20% of the outstanding share count is short. Yahoo! Finance's page shows a float of approximately 129.35 million, meaning more than 23% of the float was short. That's a fairly sizable short base, even after the recent decline in short interest.
You must also consider that Green Mountain's average trading volume over the past 3 months is about 3.8 million shares. That means that it would take roughly 7.85 full days of trading volume to cover all short positions. For those that don't know, a days to cover ratio of 7.85 is high, meaning that a nice short squeeze could occur.
Starbucks deal provides reasonable valuation?
Those that are bullish on Green Mountain point to the incredible opportunity the company has outside of North America. The bulls believe that this Starbucks deal could be the start of a huge international push for Green Mountain. Not only would that provide a significant boost to revenues, but profits as well.
When you add in the share buyback that keeps reducing the share count, earnings per share can still significantly improve from current levels. Green Mountain currently expects $3.05 to $3.15 in non-GAAP earnings this fiscal year, which ends in September. That's a solid growth number from the $2.40 reached in the prior fiscal year.
Currently, Green Mountain analysts expect $3.15 in non-GAAP earnings per share this fiscal year and $3.60 in the following year (ending September 2014). That would mean that shares trade for just under 20 times forward earnings, earnings that are expected to grow 50% in two years. This isn't the Green Mountain from a few years ago that traded for 30 times, 40 times, or even more when it came to future earnings. Sure, the company is not growing as fast as it was in those days, but the valuation seems fairly reasonable right now. Starbucks currently trades for 24.1 times future earnings.
So think about it this way. If Green Mountain is able to produce solid results and maybe do $4.00 per share in the following fiscal year, that extra growth could maybe get you a P/E of 22 to 24. That would imply $88 to $96 for shares, which would represent a great deal of upside from current levels.
Final Thoughts:
Green Mountain shares have pulled back a bit from their recent high, and for short sellers, this might be a good opportunity to cover. The company still has a fair amount of firepower on its buyback program, and the expanded Starbucks deal could provide a solid amount of future growth. The stock trades at a reasonable valuation, and with 20% of shares short, you don't want to be the last short that has to cover. As great as the short case for this name was at $80, I don't see as much potential at $72. For those shorts that have profits, it might be a good time to lock them in. Don't get greedy. There is the potential that shares could pull back some more, but unless the overall market really starts to pull back, the momentum bubble will come back and this name will race higher. This probably isn't the greatest entry point for longs either after a rally from $15. If you are thinking of entering the name, a small position would be warranted and you could certainly average in if the name goes lower. The Starbucks deal may have changed this company's future for the time being, and that leads me to believe that there is upside here if Green Mountain can produce those revenues. I said a pullback would come and it certainly has. It's probably time for shorts to take their profits, and longs to start looking at adding shares again.
Disclosure: I have no positions in any stocks mentioned, but may initiate a long position in GMCR, SODA over the next 72 hours. I wrote this article myself, and it expresses my own opinions. I am not receiving compensation for it (other than from Seeking Alpha). I have no business relationship with any company whose stock is mentioned in this article.
Additional disclosure: Investors are always reminded that before making any investment, you should do your own proper due diligence on any name directly or indirectly mentioned in this article. Investors should also consider seeking advice from a broker or financial adviser before making any investment decisions. Any material in this article should be considered general information, and not relied on as a formal investment recommendation.