Most martial art films are sped up to make fighting scenes appear faster than they really are, but not legendary Kung Fu master Bruce Lee's. Lee's moves were so fast that they couldn't be captured on traditional 24 frames per second film - so they had to film him at a higher frame rate (32 fps) and then slow the film down so the cinema audience could see his moves.
The fastest punch on record is still held by Bruce Lee at 0.3 seconds, which is uncomfortably close to the average human reaction time of 215 milliseconds, roughly the amount of time it takes to push a button on a video game controller. As a practical matter, Bruce Lee's One Inch Punch would have snapped a few of your ribs before you even realized you'd been hit.
Impromptu surprises like that aren't anyone's idea of fun, but it could be worse. You could be a business journalist working the Yahoo (NASDAQ:YHOO) beat.
On Thursday, gaming platform startup PlayerScale announced that it had been acquired by Yahoo. Fortunately, the mainstream business press (i.e. Bloomberg, Forbes, Businessweek, Barron's, WSJ, etc.) was caught asleep at the wheel.
Of course, maybe Barron's et al decided that the PlayerScale acquisition was so small and inconsequential that it wasn't worth reporting. But I suspect the real answer is somewhat more prosaic: No one expected that Mayer would make another acquisition before the ink on the Tumblr deal had a chance to dry. Just like Bruce Lee, Yahoo's new CEO is striking deals faster than the financial media can react to them (eat your heart out, Eugene Fama), and Wall Street's hard charging Alpha warriors are getting their clocks cleaned by a woman from Wausau, Wisconsin.
PlayerScale
PlayerScale is a 4-year-old startup that provides tools and analytics that over 2,600 developers use to scale their games across multiple platforms, including Windows, Android, and iOS. PlayerScale offers unique advantages for players as well - namely, the ability to save and exit your game on one device (your smartphone, for example) and pick right back up where you left off on another device (PC, laptop, iPad, Kindle, etc.). In other words, PlayerScale gives end users the freedom to "Save Once, Continue Anywhere."
As a result, PlayerScale's audience has surged by 60% over the past 4 months alone. 150 million people currently play PlayerScale-enabled games (4,000 titles and growing), and the company is adding another 400,000 gamers a day. PlayerScale supports Flash, Unity 3D, C++, .Net, Android (JAVA), iOS (Objective-C) and HTML5.
Perhaps the most invaluable feature that PlayerScale brings to the table for developers is a data analytics tool that allows game developers to study user behavior, as well as revenue tracking capabilities across multiple platforms. This data is vital because it allows developers to quickly bring games to market that account for user gaming preferences, spending habits, and evolving tastes.
The acquisition of PlayerScale means that Yahoo is getting into both Mobile and Social gaming in a big way. In addition to developers, Yahoo now has access to PlayerScale's user data, including user preferences and in-app purchases for advertising, micro-targeting, and of course, seamless integration with Tumblr's social network. (More on that in a moment.)
PlayerScale's Yahoo PlayerScale's Terms of Service Agreement (TOS) is as clear as Waterford crystal in this respect.
Section 3, sub-paragraph 2 of the TOS agreement states:
Yahoo does not claim ownership of the Developer Content you submit to and/or store on the Services, however, by submitting Developer Content to the Services, you grant Yahoo and its designees a world-wide, non-exclusive, unlimited users, unlimited sites, royalty-free license to prepare, compile, install, make, use, execute, access, reproduce, modify, adapt, publish, publicly perform and/or publicly display any and all Developer Content for the purpose of providing the Services to you. [emphasis mine]
In other words, Yahoo has a free license to do whatever it has to do in order to provide PlayerScale's services to developers. If you're still not sure what that entails, never fear. It's all spelled out in Section 10:
10ADVERTISEMENTS

The Services may include advertisements that are necessary for Yahoo to provide the Services. Your dealings with any advertisers found through the Services are solely between you and such advertiser. You agree that Yahoo shall not be responsible or liable for any loss or damage of any sort incurred as the result of any such dealings or as the result of the presence of such advertisers on the Services.
Demography is Destiny
As the charts below illustrate, Tumblr's demographic dovetails nicely with the Social Gaming market.
Fig. 1: Yahoo vs. Tumblr Demographics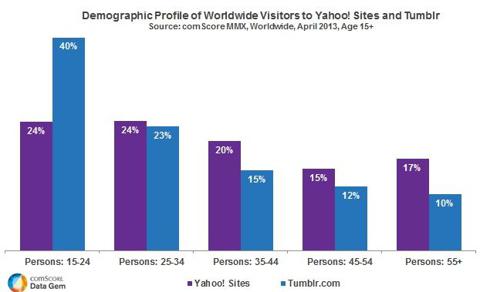 (Source: ComScore)
Fig. 2: Mobile Social Gamers by Age and Gender
(Source: Flurry Analytics)
Of course, Yahoo's primary monetization strategy is plain vanilla online advertising. How many eyeballs are we talking about, here? Assuming that Yahoo is able to strike mutually profitable monetization and promotion agreements with a plurality of PlayerScale's developers, the answer is: OODLES.
As of February, 2013, 224 million people opened an iOS or Android app, and most of them were playing a game.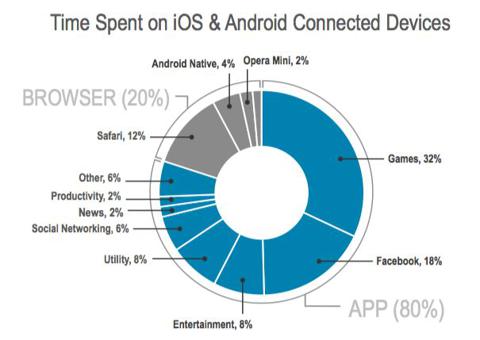 (Source: Flurry Analytics, ComScore, NetMarketShare)
The U.S. consumer spends an average of 2 hours and 38 minutes each and every day on their smartphone or table. Of that figure, approximately 45 minutes and 42 seconds are spent playing a game, while only 31 minutes are spent using the mobile web.
In fact, in any given Primetime broadcast hour, there are more people using the top 250 iOS and top 250 Android apps than reading the top 200 newspapers in the country or watching the top three rated television shows combined.
Conclusion
Marissa Mayer is actively ramping up Yahoo's risk-reward profile. If that doesn't sound like your cup of tea, you may want to bail out now while the Alibaba IPO is still priced in. The odds of a one-time dividend payout to investors are looking longer by the day. If the only reason you own stock in the company is to plunder Yahoo's corpse the expectation of a post-Alibaba IPO windfall, you're likely to be disappointed.
However, if re-animation a la Frankenstein's Monster is more your thing, now may be the time to back up the truck: A Hulu Disney (DIS, Comcast CMCSA, News Corp. NWS) or Pinterest acquisition is lurking just around the corner. Whether or not these acquisitions will be instantly accretive to shareholder value is almost besides the point. Despite a 133% increase in EPS over the last year, Yahoo is still trading at a rock bottom P/E multiple of 7.73 - a.k.a. like a dying Web 1.0 dinosaur. If even 25% of these acquisitions achieve their full potential, the company's stock could double or even triple in a remarkably short period of time due to multiple expansion.
Disclosure: I am long YHOO. I wrote this article myself, and it expresses my own opinions. I am not receiving compensation for it (other than from Seeking Alpha). I have no business relationship with any company whose stock is mentioned in this article.