With the end of Q1 earnings season, there will be a lull until earnings and fundamentals capture investors' attention again. In the interim, the Fed and other macro dynamics will likely drive the price action of the S&P 500 (NYSEARCA:SPY). In fact, I currently view the bond market as the greatest risk for the S&P 500, as I wrote about here.
Although some may disagree, I view the S&P 500 as fundamentally sound at these levels. The P/E valuation is still a bit high compared to the last few years, but low on a multi-decade basis. The S&P 500 may experience a sell-off for any number of reasons, but it will be important to keep in mind the fundamental picture to determine if a correction is a buying opportunity or the beginning of a larger crash. I continue to have a bullish bias as long as the bond market doesn't crack, but I did put on some hedges and reduced exposure just in case. In this article I will look the S&P 500's earnings, valuation and estimates to get an updated view on its fundamentals.
S&P 500 Price Action
The S&P 500 closed at 1,650 last week, after some volatility. The S&P 500 came down from over-stretched levels. It had been rising in a clear range since the November lows and recently tried to move up too much too fast, so it needed to pullback. It still seems a bit extended and may need a longer pause.
From a fundamental perspective, it is important to note that the S&P 500 rallied through Q1 earnings season. The S&P 500 was a bit extended, even before Q1 earnings, and investors could have used Q1 earnings as an excuse to sell off, but the opposite happened. Although Q1 earnings were not great, they were good enough for investors and seemed to provide incremental optimism about the rest of the year.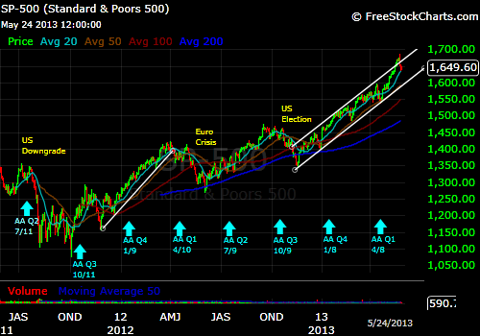 Click to enlarge
(Source: FreeStockCharts.com)
The weekly chart of the S&P 500 going back to the 2009 bottom shows that the S&P 500 is also at the higher end of a larger channel going back a few years. This also indicates that the S&P 500 may need to trade sideways for a while, to work off its extended level.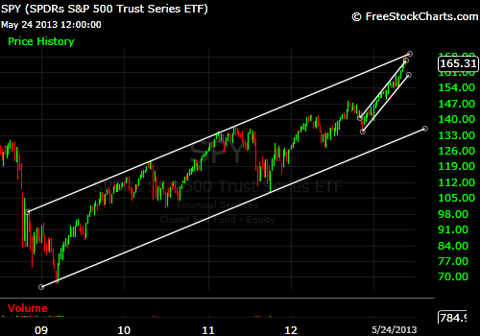 Click to enlarge
(Source: FreeStockCharts.com)
These charts just show that the S&P 500 is at extended levels. That does not mean that the S&P 500 needs to sell-off. There are two ways that the S&P 500 can correct, either through price or through time. I look at the fundamentals (and other macro factors) to see which is more likely.
S&P 500's Q1 2013 Earnings So Far
The following is the latest data from S&P, which shows the 465 companies that reported Q1 earnings as of May 17, 2013:
Click to enlarge
Factset reported data as of May 24, 2013 covering 487 companies that released Q1 earnings. According to Factset, 69% beat estimates. The earnings beat rate looks strong compared to the last few quarters. Factset reported that the "blended earnings growth rate" for Q1 2013 was 3.3% and the "blended revenue growth rate" for Q1 2013 was negative -0.3%. According to Factset, the energy sector is the largest contributor to the revenue decline. Excluding energy, the revenue growth rate would have been 2.6%. Interestingly, the utilities sector had the highest revenue growth rate.
S&P 500 P/E Multiple & Earnings Estimates
The following are several ways to look at the S&P 500's P/E multiple.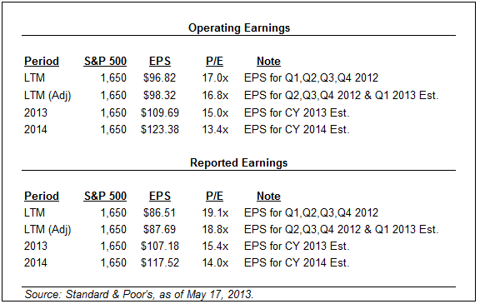 Click to enlarge
As I noted previously in several articles, this data comes from Standard & Poor's and its quarterly estimates may be calculated slightly differently than the historical numbers, so the comparison is not perfect. It is important to note that analyst estimates may be wrong, for any number of reasons. I use estimates as a gauge of sentiment, and do not assume that they will be accurate. I am more interested in changes to estimates than the precise numbers.
The following shows the earnings estimates for the coming quarters and years. The estimates came down a bit last week. I expect the 2013 and 2014 to continue to come down as analysts focus more on those periods. The estimates for 2013 and 2014 still look high.
However, I do not consider this bearish, just a correction of overly high expectations.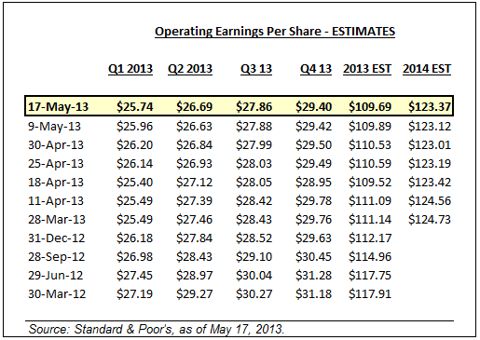 Click to enlarge
The following graphs put the S&P 500's P/E multiple and earnings in historical perspective. The important thing is that the S&P 500's P/E multiple only looks high compared to the post-crisis period, but not to the last few decades.
Please note that the last data points in the third and fourth graphs are estimates and will change as the numbers come in. Therefore, these graphs are useful to get a general sense of the earnings picture, but the estimates should not be relied on precisely.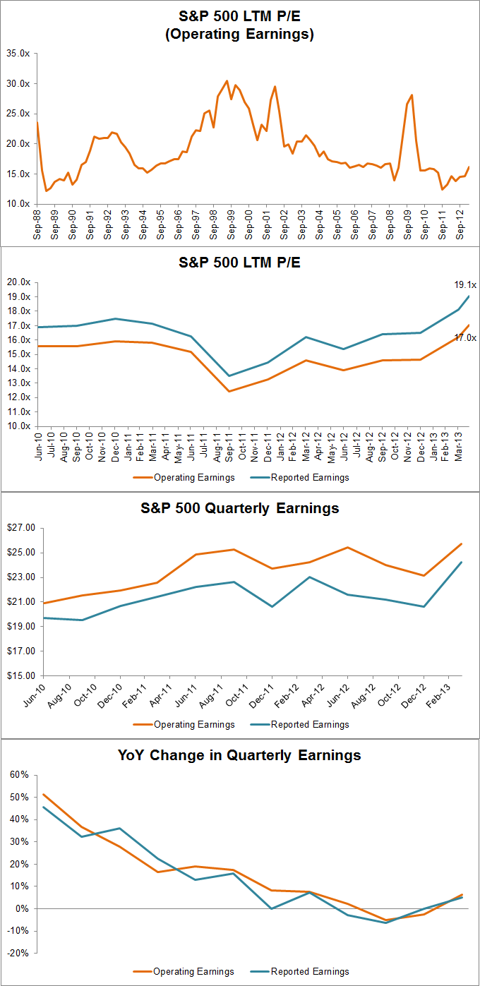 Click to enlarge
(Source: Standard & Poor's)
Focus On The Top 100 In The S&P 500
Every week I focus on the top 100 companies in the index, which comprise 64% of the value of the S&P 500. Below are four charts about the top 100 companies in the S&P 500: (1) 5-day price change, (2) forward P/E multiples, (3) analysis of companies with FY1 P/E multiples lower or higher than the median for the group and (4) changes in analyst estimates for FY1 over the last 7 and 30 days. I want to highlight a few key points.
The third chart is one of the factors that could support the bulls. Many of the companies that are trading at multiples below the median are in the tech and energy sectors. There seems to be a rotation into these sectors and their relatively low P/E multiples could support further gains. Although some of the defensive companies are still trading at relatively high multiples, a rotation into energy and tech could provide for more upside.
The fourth chart shows the changes over the last 7 and 30 days to EPS estimates for the upcoming fiscal year.
Companies with positive revisions included:
Companies with negative revisions included:
It is interesting to see the upgrades in the energy sector, especially the energy majors Exxon Mobil and Chevron. On an individual basis the changes were small, but this could be an emerging trend in the energy sector. Previously I wrote about the potential for a bottoming in negative revisions to Apple's estimates. However, Apple's estimates were revised down again last week, so it looks like it was too early to talk about a bottom.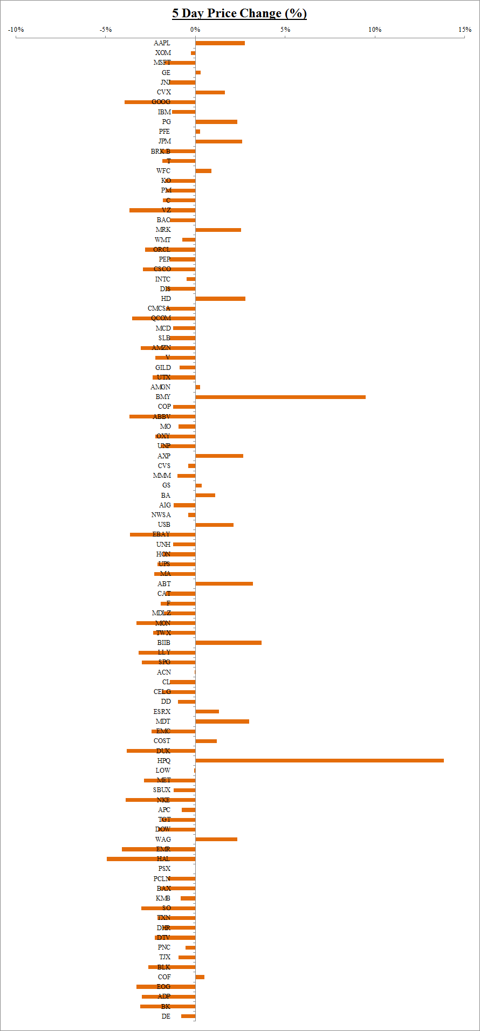 Click to enlarge

Click to enlarge

Click to enlarge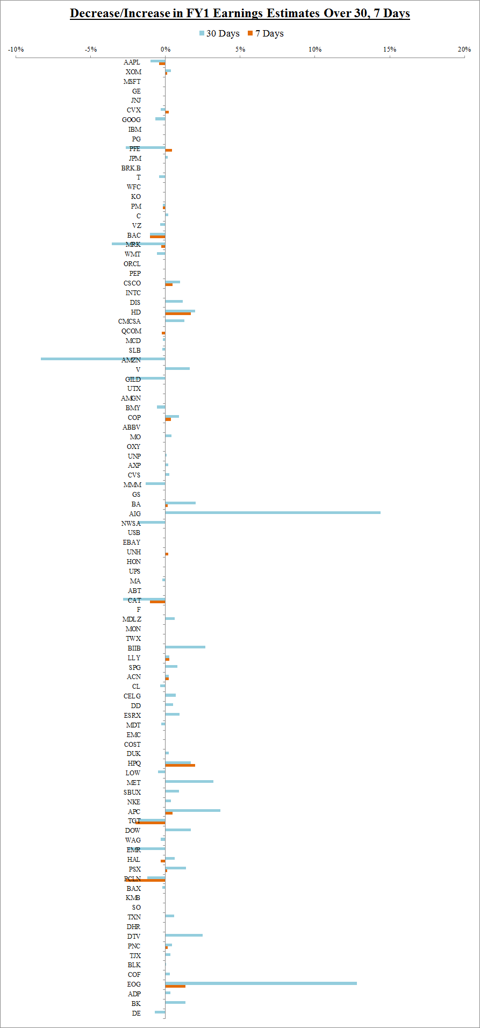 Click to enlarge
(Source: Yahoo Finance)
Conclusions
The price action of the S&P 500 looks a bit stretched and the S&P 500 is trading at the upper boundary of two important ranges. However, the S&P 500 can work off its extended level through time or a drop in price. It is important to look at the fundamentals and other macro factors to give context to the price movements. As I mentioned earlier, the biggest risk for the S&P 500 comes from the bond market. The bond market is at the cusp of an important level and a sell-off in bonds could be a negative catalyst for the S&P 500.
However, the fundamental picture for the S&P 500 still seems sound. Q1 earnings were good enough and may have given investors incremental optimism. Furthermore, the S&P 500's P/E multiple is not stretched by historical standards, even if it looks a little high compared to the recent past. With earnings season nearing its end, investors are going to be more focused on other factors than earnings and fundamentals. However, it is important to keep an eye on the fundamental picture throughout this period.
Please note that I initiated put positions on the SPY that stand to gain in value if the S&P 500 declines and also reduced my portfolio exposure a bit. I view these as hedges, or insurance. I am more cautious than I had been (mostly because of the bond market). I am still leaning on the bullish side, but wanted some insurance. I am saying this to give full disclosure, not as a recommendation or investment advice. Nothing in this article should be considered investment advice.
Notes
The tables exclude the following: P/E multiples greater than 100 and P/E less Median values greater than 50. Additionally, some information about Amazon, Berkshire Hathaway, AbbVie, Mondelez and Abbott Laboratories was not available. The mean and median figures presented in this article represent the unweighted mean and median of the metrics for the 100 components in the SPDR S&P 500 ETF Trust and are not capitalization-weighted like the index itself. Earnings Estimates are based on data from Yahoo Finance as of May 26, 2013.
Disclosure: I am long SBUX, INTC, WMT, AAPL. I wrote this article myself, and it expresses my own opinions. I am not receiving compensation for it (other than from Seeking Alpha). I have no business relationship with any company whose stock is mentioned in this article.
Additional disclosure: I am long put positions on the SPY ETF that stand to gain in value if the SPY ETF declines. I am also long call options on the VIX. I am long AAPL through call options, not common stock. I may trade any of the securities mentioned in this article at any time, including in the next 72 hours.
Disclaimer: The opinions expressed above should not be construed as investment advice. This article is not tailored to specific investment objectives. Reliance on this information for the purpose of buying the securities to which this information relates may expose a person to significant risk. The information contained in this article is not intended to make any offer, inducement, invitation or commitment to purchase, subscribe to, provide or sell any securities, service or product or to provide any recommendations on which one should rely for financial, securities, investment or other advice or to take any decision. Readers are encouraged to seek individual advice from their personal, financial, legal and other advisers before making any investment or financial decisions or purchasing any financial, securities or investment related service or product.
Information provided, whether charts or any other statements regarding market, real estate or other financial information, is obtained from sources which we and our suppliers believe reliable, but we do not warrant or guarantee the timeliness or accuracy of this information. Nothing in this article should be interpreted to state or imply that past results are an indication of future performance.
THERE ARE NO WARRANTIES EXPRESSED OR IMPLIED AS TO ACCURACY, TIMELINESS, COMPLETENESS, OR RESULTS OBTAINED FROM ANY INFORMATION IN THIS ARTICLE OR ANY LINKED WEBSITE.