Overview
Tesla Motors (NASDAQ:TSLA) has been one of the top performers in the US equity market this year (up over 186% YTD) and it seems to make it a good time to investigate the investment thesis and the current valuation for the company. Tesla is attempting to revolutionize the auto industry in two main ways. The first and more publicized way is the company's attempt to bring fully electric automobiles to the mainstream US auto market. This has come with many challenges, but the company has made large strides in conquering their issues, which will be discussed later in the article.
Secondly, Tesla is also trying to revolutionize the way that consumers purchase automobiles. Tesla operates retail stores where consumers can see the cars and can meet with sales representatives or purchase company merchandise. These retail stores are revolutionary as consumers can purchase automobiles directly from Tesla, contrasting with the dealership model that Ford (NYSE:F), General Motors (NYSE:GM) and others utilize. However, states have opposed this new and streamlined business model as it cuts out the dealerships, which have provided employment and profits for businesses. While the company has many tailwinds, the valuation makes Tesla very expensive and investors in the company should be concerned about this. With Tesla's recent run-up in stock price, it is valued very expensively and makes for an ideal short position as valuations revert to industry and market norms over the long-term.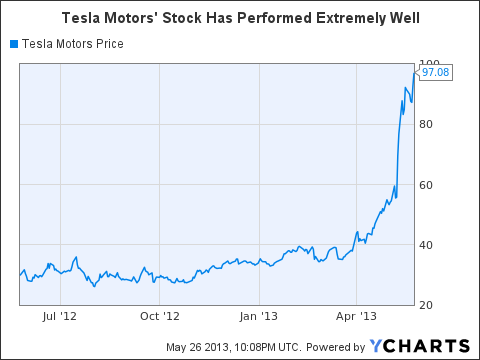 The Allure of Resale Value
In what can be one of the most important factors that consumers evaluate when purchasing a new car; Tesla has seemingly provided its customers with confidence in decent resale values for its new vehicles. The company's cost of ownership calculator states the following:
"If you do your financing with Tesla, we guarantee that the Model S will have the top residual value of any high volume premium sedan brand (Audi, BMW, Mercedes or Lexus) after three years of ownership."
This is a important item for Tesla and it should be able to give consumers the confidence to purchase the company's vehicles without worrying about the value of the automobiles when comes time to selling given the fact that Tesla is a young company and is still building its brand reputation.
Automobile Pricing
When one visits Tesla's website, you are soon shown the all-important factor of cost of ownership. Tesla conveniently has a calculator for potential customers to determine what the true cost of owning a Tesla vehicle would be. While the vehicles are priced at a premium, it appears that consumers are willing to pay up for quality and environmental friendliness. Currently, after the $7,500 federal tax credit, the cheapest version of the Tesla Model S starts at $62,400 with the 65 kWh battery. This is expensive, but if consumers are willing to pay premium prices for Tesla's cars, it could prove to be a strong strategy for the company. Nissan (OTCPK:NSANY) has already made a purely electric car, the Nissan Leaf, and it is much less expensive than the Model S as the Leaf starts at $21,300 after the federal tax credit. This competition could hurt Tesla over the long-term as the company continues to grow.
Charging and Supercharging
For many, charging electric cars is one of the largest concerns, since it is required for operation and has not been tested on a large scale. Companies have tried "battery swap" programs where drivers simply switch car batteries at different locations. However, this concept did not take off and has largely been written off given the difficulty to scale such a concept. In addition to the ability to charge the automobiles through conventional wall plug-ins, Tesla has set up "supercharging" stations. Tesla currently operates supercharging stations in three states. The advantage of these stations is that they charge at a rate nearly 5x that of the high power wall connector that drivers can use at home. Additionally, Tesla car owners can use these stations free of charge. The company plans to have more than 100 of these stations in operation by 2015. If the company is able to effectively scale this operation, this could be a significant competitive advantage and could further support consumer interest in purchasing Tesla's automobiles.
Repayment of DOE Loan
On Wednesday May 22nd, Tesla repaid its 2010 loan of over $450 Million to the Department of Energy nine years before it was due. Tesla has touted itself to be free of debt owed to the US government, which appears to be a somewhat important issue for consumers. The company could be trying to prove that it is financially strong. Yet the problem is that this was a low interest loan and Tesla could have held onto it for a few more years to benefit from the low cost financing that the DOE has provided to the company. In the company press release, Tesla says that money for the repayment came from the $1 Billion that was raised from recent common stock and convertible note offerings. The company did not state the reasoning for the switch from DOE to private financing other than the suggestion that it wanted to be free of governmental funding.
Valuation
For the majority of Tesla's existence to date, it has not been profitable. In Q1 of this year, the company reported a small profit of $11 Million. This is a very small amount, especially given the company's market cap of over $11 Billion. The company also has a rather large amount of debt, and has a book value $169 million. This works out to a book value of around $1.46/share, which is meager compared to its $97 share price. Currently, Tesla trades for approximately 11.5x TTM sales, which is much more expensive than the S&P 500 which trades for around 1.5x sales and even more richly valued relative to its peers Ford and General Motors which both trade for around 0.4x TTM sales.
Potential Buyout?
There has been speculation recently that Tesla could be a target for a corporate acquisition. Some have said the company could be purchased by a large tech firm such as Google (NASDAQ:GOOG), which others have thought that it may be the target of a larger and traditional automobile company such as General Motors. However, this is likely not much more than simple speculation. Firstly, Tesla has a market cap of $11 Billion making it larger than Tiffany & co (NYSE:TIF). An $11 Billion deal would not make a small acquisition by any means and would subsequently require much more scrutiny and investors in potential acquiring companies would likely be concerned by the recent run up in the stock's price. Furthermore, it does not seem that it would make strategic sense for a large tech company to enter the US auto market. As for the larger auto companies, it could prove cheaper to develop their owns brands in house and many have already been producing hybrid vehicles, such as Toyota (NYSE:TM) with their Prius brand and Nissan has already brought a purely electric car to market.
Conclusion
As Tesla has not yet had a profitable year, it is concerning that the stock has had such a large recent run up and continues to trade for such an expensive Price/Sales ratio. However, Tesla does have significant growth opportunities ahead, but the company still has a lot to prove and needs to continue to execute to be able to provide a positive return to shareholders over the long-term. The company has been making strides forward, but the valuation makes the company very expensive and a long investment would be very risky. Given the recent run up and the accompanying valuation, it seems prudent for investors to take profits and evaluate a potential short position in the company and conduct a reevaluation of their original thesis and their outlook for the company over the long term.
Disclosure: I have no positions in any stocks mentioned, and no plans to initiate any positions within the next 72 hours. I wrote this article myself, and it expresses my own opinions. I am not receiving compensation for it (other than from Seeking Alpha). I have no business relationship with any company whose stock is mentioned in this article.