The State of Silver
It has not been an especially great few months for people holding long Gold (NYSEARCA:GLD) and Silver (NYSEARCA:SLV). Prices of both have been hit hard as the Fed continues quantitative easing and retail demand wanes on the heels of analysts left and right downgrading (and in Goldman's case of gold manipulation, immediately covering afterward) the precious metals. I've been contesting for months now that both gold and silver are at great buying spots. I'm very long most precious metals; from a macro view, all non-renewable commodities are attractive long buys for me, gold and silver especially.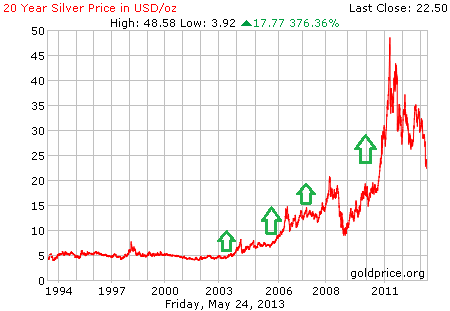 As time moves on, inflation will continue and silver's value will continue to rise. This past year has been a small correction, but in the long term I'm holding silver. Currently, I hold SLV and select SLV calls, as I said in an article about the investment plays I'm making for the summer:
I bought SLV calls when the equity price was about $22, opposed to gold calls as a "hedge to a hedge", in essence. I hardly believe that there is a gold bubble, but what I do believe in is the possibility of other traders believing there is and causing panic. Gold is in a lot of headlines right now. Headlines mean volatility; panic buying and panic selling - this is why I'm going with silver here. Don't get me wrong, however, I'm also still ultra-bullish long term gold.
As you can see on the chart above, we're in what appears to be just another small pocket of correction, eventually on our way upward again. The chart below shows silver's anemic past year. Even though silver is only down slightly since last May, it's well off of the highs it established in September 2012.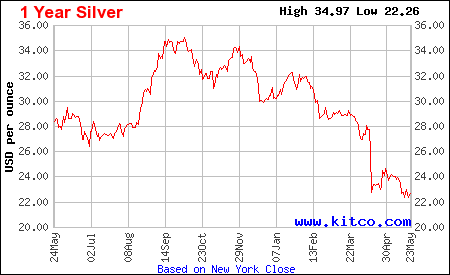 Here's three quick reasons that I think we may be close to a silver run-up again:
1. Silver is Volatile and In Demand
Silver is easily the more volatile of the two metals. As silver has many applications in industry, as well as being a hedge for investors, it tends to make sharp moves in both directions. Sharp price moves mean extra risk, but also extra reward if you can time the upward movements correctly. Aside from investors buying silver for the same reasons they buy gold -- primarily an inflation/end of the world type hedge -- silver remains in demand no matter what the current market sentiment is on holding precious metals as insurance.
2. Silver is a Better Buy Than Gold
Gold is the most well known commodity, and as such, is most susceptible to inflation and overbuying in times of panic. Because of this, the gold/silver correlation spread is much larger than it would (or should) normally be. From a buyers stand point, this just means that silver is a better value buy than gold right now.
Also, as long as the Fed continues to keep things warm and fuzzy, a faction of gold holders are going to continue moving their money out of gold and into other investment vehicles. Silver, again, benefits from its use in manufacturing and industry. If the economy continues to churn upward on actual demand, silver is going to stay in demand and will rope the spread with gold back in.
3. The Technicals Suggest SLV is Oversold
I use technicals in a supplemental sense, and rarely base an entire buy on charts or technicals (unless I'm looking for a quick scalp on a bounce).
Having said that, this is SLV's 6 month chart and it's pretty ugly. However, there's one thing worth noting on this chart: the RSI for SLV is consistently trending towards oversold territory. The RSI hasn't even breached 50 in months, and has dipped below the oversold line (30) twice in the last month and a half. Based on this technical indicator, it's a strong suggestion to me that SLV is consistently oversold. If SLV can pull above $24.30, it'll reverse its current trend (at least for the short term), and could show chart strength again.
I'm Long Silver Right Now
As I said in my last article, I'm holding Silver long over gold for a couple of reasons:
the correlation between silver and gold prices is favorable towards silver
silver is a more volatile than gold
demand for silver runs commensurate with not only demand for reserves, but demand for silver used in manufacturing
when the markets pull back, silver and gold prices usually spike
Hopefully, this article points out silver's little known advantages to curious investors. Whatever your position on Silver and Gold, I wish you the best of luck in your investments.
Disclosure: I am long SLV. I wrote this article myself, and it expresses my own opinions. I am not receiving compensation for it (other than from Seeking Alpha). I have no business relationship with any company whose stock is mentioned in this article.