Campbell Soup (NYSE:CPB) is one of the largest soup makers in the world. Campbell's products are sold in more than 120 countries around the world. The company maintains around 70 percent market share of the "wet" soup market in the United States, and it holds leading market positions in Canada, Germany, France and Australia.
About the Acquisition:
Campbell Soup has recently announced that it is acquiring Plum Organics, Inc., which makes organic food for babies and children. This is its latest move to enter into this faster-growing market. The company had been struggling to increase sales of its canned soups in recent years because many people increasingly prefer foods with a fresher feel. To diversify its stable of products, Campbell also recently purchased Bolthouse Farms, which makes premium juices, salad dressings and bagged carrots. The company said that Plum Organics generated $93 million in sales last year. The acquisition will bring Campbell's portfolio of baby foods to $1 billion in annual sales.
Organic baby food market:
Organic food is one of the fastest-growing sectors in the food industry, mostly in developed countries. The global demand is increasing due to the fact that parents want to feed their babies healthier foods. These organic baby foods cost more when compared to the normal baby food available on the market, but parents are willing to pay more for the "feel good" factor. According to the consumer market research firm Mintel, organic baby food made up about 10 percent of the $1.4 billion U.S. baby food and snacks market in 2011.
According to Campbell Soup, the premium and organic baby food market has been growing at an annual rate of 43 percent and baby food is a $2 billion category in the United States, with Plum holding the No. 4 position in the market.
Historic Performance:

Click to enlarge
The above chart shows the stock price performance of Campbell Soup and two of its competitors, General Mills (NYSE:GIS) and HJ Heinz Company (HNZ) along with the Food & Beverage industry index. As you can see, over the year Campbell Soup's stock price has clearly outperformed its competitors' stock prices and index price, respectively. The most important thing to note here is that the rapid increase in price in the last three months is due to the fact that the company was expecting 5 to 7 cents per share earnings in its fiscal year 2013, stemming from its Bolthouse acquisition.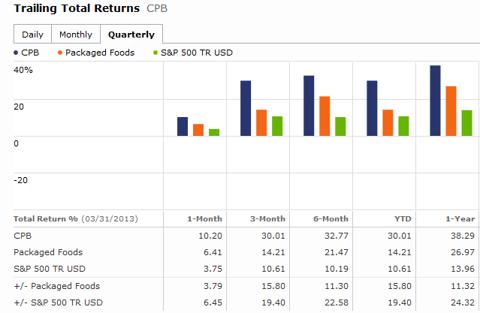 Click to enlarge
The above graph shows the total returns of Campbell Soup compared to the sector and the industry. You can clearly see that Campbell Soup's performance is better than the packaged food sector and industry, not only in the short term but in the long run as well. But the important point to be noted here is that these figures only show the company's historic performance and we cannot predict the company's future based on these figures; we need more information to analyze the company's position and its growth potential.
Impact of Bolthouse acquisition on third quarter results:
Bolthouse Farms improved the company's revenues and profit margins after the acquisition. For the third quarter, Campbell Soup's revenues increased 15 percent to $2.094 billion. The acquisition of Bolthouse Farms added 11 percent to its total revenues, which shows the company's effort to grow through merger & acquisitions. Bolt house Farms' quarterly revenues increased by 123 percent on a YOY basis from 154 million to 344 million, respectively.
Conclusion:
Campbell Soup's general business is mostly in a mature stage, resulting in slow growth. Over the years the company has had a habit of M&A whenever growth is slow, as you can see with Bolthouse Farms' acquisition. This time it finds an opportunity to gain access to markets that will be beneficial to the business in the long term. This acquisition will provide an attractive platform to extend its core product portfolio and enhance its access to a new generation of consumers. In the short run this deal will add no earnings to the company, but in the long term it will bring higher growth and revenues to the company. So my recommendation for this stock is 'buy'.
Disclosure: I have no positions in any stocks mentioned, and no plans to initiate any positions within the next 72 hours. I wrote this article myself, and it expresses my own opinions. I am not receiving compensation for it (other than from Seeking Alpha). I have no business relationship with any company whose stock is mentioned in this article.