The past 3 months have been wonderful for Microsoft (NASDAQ:MSFT) : stock price raised 25.21%, making Bill Gates take back the title of world's richest man.
This amazing rally poses 3 questions to the investor: 1) What exactly caused the 25.21% price increase? In particular, was this rally caused by a certain catalyst or was it caused because investors started to realize that Microsoft was too cheap 3 months ago ($27 a share)?, 2) What is going to happen in the next months?, and 3) Even at $34 a share, is Microsoft a sound investment?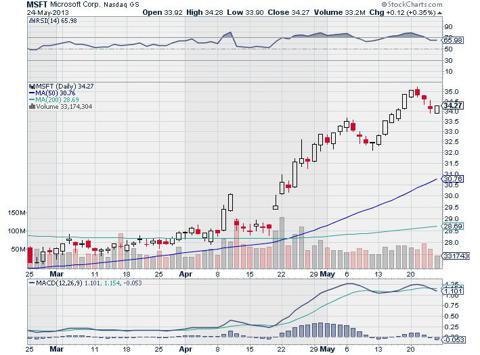 (Click to enlarge)
I start this article by providing answers to the first 2 questions introduced above. Then, I introduce 5 reasons to believe that Microsoft is a sound investment, even at $34 a share.
Finding answers
The Decline
In other to explain the recent rally, I think it is important to first explain what caused the giant to lose about half of its market capitalization since the beginning of this millennium.
The current $34 price per share isn't a milestone for Microsoft: it was
trading as high as $58 a share in December, 1999. By that time, Internet Explorer's victory over Netscape was already an undisputed issue.
Like Apple (NASDAQ:AAPL) and Google (NASDAQ:GOOG) nowadays, ten years ago Microsoft was a synonym of innovation. But as time went by, the giant started to be always a step behind, as new technologies emerged. These technologies, from smartphones and tablets to cloud computing, indirectly eroded the market share of the giant's ubiquitous cash cow: the Windows PC operating system. While the giant was too worried about other OS products (direct competitors), new technologies like smartphones and tablets (indirect competitors) made the whole PC market gradually irrelevant. The PC irrelevance translated into Microsoft irrelevance.
This trend started as early as 2002-2003. However, since 2009 it has intensified very quickly. The following graph, presented by Benedict Evans in a conference this month, shows how Microsoft share of connected device unit sales decreased since early 2009. Not surprisingly, Microsoft also experienced a massive decline in market capitalization in this period.
In Search of Lost Time
But the giant couldn't stay asleep for too long. As tablets and mobiles continued eroding the PC world, Microsoft realized that even if it was not the first-mover this time, it could still "join the party" with "me too" products. Better late than ever. Therefore, since 2009 Microsoft was very active in launching new products and services: Microsoft Surface (tablet), Bing (web search engine), Windows Mobile (mobile) and Azureus (cloud computing solutions) are some examples.
As a result, its product portfolio became more attractive and diversified. Of course, it took and will continue taking many months for some of its new products to generate significant revenue. But some results are already visible. For example, Microsoft reported better than expected results for the third quarter of 2013 on April. Overall, revenue grew 18% (excluding pre-sales and upgrade revenue recognition, growth would have been 8%). The Server & Tools business is particularly promising: it reported $5.04 billion of revenue, an 11% increase from the prior year period. Of course, since Microsoft has been very active in the past 3 years launching new products, operating expenses have increased. Just recently, the giant reported a 4% y/y increase in operating expenses due to higher marketing costs (see the section "Business Outlook" in the official press release).
Those who still believe that Microsoft is a giant in decline are not aware of the quiet transformation the firm went through in the past 3 years. Now there is more to Microsoft than Windows 8. The giant created an interesting portfolio of products and now it's time for it to reap the fruits of its hard labor, as investors become more aware of the benefits of owning a solid portfolio of diverse products, from the Xbox to Bing, and forget about Windows. I believe that this new way of perceiving Microsoft amongst investors is the main cause of the recent price rally.
5 Reasons to be Bullish
1. The PC business is not death
It is evident that the future is mobile. However, the PC business won't disappear any time soon. Mr. Evans showed this interesting graph in his presentation that clearly illustrates my point: the global annual unit sales of consumer PCs is decreasing, as users migrate to tablets and smartphones; but on the other hand, corporations are buying more PCs.
Consequently, the Windows business may not be growing, but it is not decreasing either. According to the latest earnings call, it remains flat, because Microsoft's Surface tablet, plus licenses to businesses made up for the shortfall (Business Insider):
"The Windows Division posted revenue of $5.70 billion, a 23% increase from the prior year period. Adjusting for the recognition of revenue related to the Windows Upgrade Offer, Windows Division non-GAAP revenue was flat. During the quarter, we added to the Surface family of devices with Surface Pro."
I don't deny that the PC will become more and more irrelevant to consumers. However, as corporations continue relying on them, we can be sure that Microsoft's traditional cash flow (Windows) will not disappear any time soon. And in the meanwhile, the giant can continue applying its strategy of using Windows' cash to invest aggressively in new products.
2. New cash cows on their way
In particular, I believe the following products are very promising:
| | |
| --- | --- |
| Product | Explanation |
| Office 365 | To avoid compatibility issues, many Office users will buy Office 365 (almost without thinking) when they decide to move to the cloud. This will help to preserve Office's brand strength. Also, piracy isn't a concern this time as Office 365 goes beyond software: it comes with an additional 20GB of SkyDrive storage and 60 minutes per month of international Skype calls. |
| Server & Tools (Windows Azure) | According to the latest earnings call, The Server & Tools business reported $5.04 billion of revenue, an 11% increase from the prior year period, driven by double-digit percentage revenue growth in SQL Server and System Center. |
| Xbox One | This product introduces innovative features like live TV, Skype group video chat, split-screen multi-tasking, voice command, social recommendations and, of course, stronger hardware. Investors do not look excited so far but I believe this could be a midterm catalyst, because it is an excellent product. However, I believe that a more aggressive marketing campaign is required. For more information about this point, see 8 Reasons To Buy The Xbox One (Forbes). |
| Online presence | Lead by Skype, the Online Services Division reported revenue of $832 million, an 18% increase from the prior year period (online advertising revenue grew 22%). |
3. Amazing dividends
Microsoft is one of the fastest-growing dividends stocks. The giant has more than doubled its dividend since 2008: 2.6% dividend yield, 15.7% average annual dividend growth rate since 2008.
Is the dividend safe? Yes, because Microsoft has enough free cash flow to support it. According to this article by The Motley Fool via Insider Monkey: "The company has a payout ratio based on cash flow of 20.2% and its free cash flow has been increasing since 2010. Both factors indicate its ability to pay the same if not increase dividends in the near future".
4. Excellent financial health
I used Yahoo Finance to obtain the balance sheet of Microsoft. The giant's total assets size is more than twice the size of its total liabilities. Furthermore, the growth rate of total current assets is higher than the growth rate of total liabilities. This indicates long term sustainability. Finally, Microsoft has enough cash and cash equivalents to boast artificial growth through mergers and acquisitions.
5. Value
Even at $34 per share, I believe that Microsoft is undervalued. I run a DCF valuation using Old School Value financial spreadsheets to confirm this. I used the 10 years FCF median growth rate (7.8%) for the average growth rate of the next 10 years, and a terminal growth rate of 3%. Considering that the company is financially strong, I assumed a 12% discount rate. My result indicates that the fair value estimate for Microsoft is $50.39 per share, about $16 above the current stock price. As a result, Microsoft is clearly undervalued: from a valuation perspective, stock could raise 50% more. I attach the DCF spreadsheet screenshot so you can see in detail what assumptions I used. I also introduce a sensitivity matrix.
These numbers are nothing else but the reflection of Microsoft's ability to generate consistently high FCF. Although its stock price was irrationally low back in 2010 and 2011, Microsoft never stop delivering FCF growth, as the next figure shows: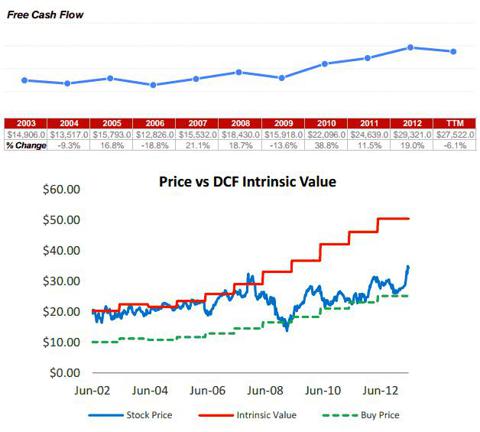 (Click to enlarge)
In this way, Microsoft has changed its product portfolio to add more diversity and innovation. There is more to Microsoft than Windows. And considering the aggressive rhythm of new product releases we saw in the past 4 years, I believe that new surprises are on their way. And I'm not just talking about interesting dividends! Add to this the fact that even at $34 per share, Microsoft is undervalued, and you have a strong buy here.
References
Old school value software was used for the DCF valuation. Data comes from Morningstar. The latest earnings call document was obtained from Microsoft IR section. The balance sheet information was obtained from Yahoo Finance.
Final Remarks
Price target: $50.00 / from N.A.
Rating: Buy / from N.A.
Investment Strategy: Value
Investment Horizon: 1 year
Uncertainty: Medium
Disclosure: I have no positions in any stocks mentioned, and no plans to initiate any positions within the next 72 hours. I wrote this article myself, and it expresses my own opinions. I am not receiving compensation for it (other than from Seeking Alpha). I have no business relationship with any company whose stock is mentioned in this article.