Editors' Note: This article covers a micro-cap stock. Please be aware of the risks associated with these stocks.

Investment Thesis
Paradise Inc. (OTCPK:PARF) is an extremely undervalued nano-cap stock (market cap = $12.2m). Shares trade at 62% of tangible book value per share (which is $38.20 as of 1Q13), which would normally indicate that there is serious investor doubt regarding the company's future operations… in this case, such a large discount to book would imply that investors are pricing the company for bankruptcy. This is clearly not the case, as Paradise owns 80% of its market and continues to generate steady profits with its most "recent" loss occurring in 1993. This type of stability in a stock trading so cheap relative to tangible assets is nearly unheard of in today's market. While the company does not offer exceptionally high returns nor does it operate in an attractive industry, shares offer potential for considerable returns for the patient investor operating under a long-term holding period: major value could be unlocked with something as simple as a stock split.
I will provide an overview of PARF's business model and some brief historical analysis, followed by an overview of management compensation and a potential catalyst for unlocking the business's value.
Business Overview
PARF has 2 business segments:
Candied fruit: Sell to manufacturing bakers, institutional users, and use in home baking. Also process frozen strawberries for preservers, dairies, and drink manufacturers depending on market conditions. $17.4m FY12 sales, 67% of total business.
Molded plastics: Produce plastic containers for their own products and also sell plastics to unaffiliated customers. $8.3m FY12 sales, 33% of total business.
Some comments on the 2 segments worth mentioning:
PARF's participation in the strawberry piece of the candied fruit business is entirely dependent on market conditions and management picks and chooses its spots only when it knows it can be profitable based on supply/demand.
Starting 3 years ago, management began shifting focus within the plastics segment from high-volume, low-profit generic pieces to higher technology value-added custom applications.
Paradise owns the candied fruit market and is believed to be the biggest distributor of such product in the Western Hemisphere. The company's brands (Paradise, Dixie, Mor-Fruit, & Sun-Ripe) account for 80% of all candied fruit and peels sold in the USA during 2012. 20% of sales are made to manufacturing bakers/institutional users while the remainder is shipped to supermarkets and retail outlets… Wal-Mart is the company's largest customer at 16% of FY12 sales and accounted for nearly the entire accounts receivable balance of $1.9m at the end of the year.
PARF's business model is highly seasonal: Over 85% of annual sales are booked in September, October, and November because of the U.S. holiday season… because of this, the company has to spend the preceding months acquiring inventory and processing its fruit resulting in high inventory and working capital needs throughout most of the year. In FY11, 81% of sales came in the back-half of the year and this came down to 77% in FY12. This makes sense as management has been branching out its distribution strategy to include a higher proportion of sales through its website.
Financial Performance
PARF has made a profit every single year since 1990 with the exception of 1993, when it reported a loss of $1.00 per share. EPS has averaged $1.26 over the last 10 years and the company remained profitable throughout the recession, generating cumulative EPS of $5.95 between 2008 and 2011. Sales have trended nicely, averaging $22m between 1995 and 2004 and growing to an average of $25m between 2005 and 2012. In FY12, revenues grew 3.4% to $25.7m and the company booked $1.93 in EPS on net income of $1m (5% ROE).

Click to enlarge
While the supermarket industry has been consolidating slightly over the past few years, management is aggressively targeting sales of bulk fruit and dried fruit products to customers outside the industry such as convenience stores, airports, and over the internet which helps explain why a smaller % of sales has been coming in the back-half of each year recently. Improvement in the housing market has helped plastics sales, and management has chosen to diversify into the military, medical, and recreation markets with its more value-added focus on plastics production.
PARF has also been laying out cash to get its fruit products in baking center displays during non-holiday months for supermarket customers to increase brand awareness and spread sales out more evenly during the year. According to their latest 10K, management is pleased with this initiative's results and believes it will be a vital part of their marketing strategy going forward.
Balance Sheet Value
This is where the true value of the business lies: here are some stats from the most recent quarter's balance sheet: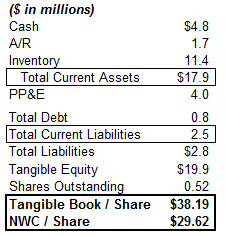 This compares to a current share price of $23.50, implying discounts of 21% and 38% to tangible book and NWC respectively before even considering the operations of the business itself. While I don't see a buyout on the table, given the large working capital requirements spread throughout the year, the business should continue to generate a steady stream of profit which will push book value up slowly over time.
Proposal for Value Extraction
Why does PARF trade so cheap? There are a couple of reasons, #1 being the illiquidity of PARF's float. There are only 520,000 shares outstanding and the Gordon family (management/board) owns 42% of them. The bid-ask spread is currently $21.27-$24.90. This could be fixed with a simple stock split, which would make more shares available for larger investors and drive daily volume up. The question is why they haven't done this yet and what will make them do so… Salvatore Muoio is a 7.5% owner and has an excellent track record of investing in situations like this one, and I'm assuming he has been in contact with management in an attempt to split shares.
Another issue is the management/board structure as well as executive compensation. PARF's management consists of the following persons and the respective timeframe of each one's employment:
Melvin Gordon, Chairman/CEO (1965-present)
Randy Gordon, director (1989-present)
Eugene Weiner, director (1967-present)
Tracy Schulis, director (1989-present)
Mark Gordon, director (1990-present)
Each is a member of both the executive management team and the B.O.D., meaning PARF has no independent directors. This, coupled with failure to meet the minimum shareholder requirement of 300 (PARF currently has 128 holders of record) bars shares from uplisting to a more well-known exchange. The company always elects its incumbents at its annual shareholder meetings, and as a result, these 5 are fully responsible for setting their own pay and do not believe it's appropriate to have a policy regarding Board consideration of director candidates nominated by shareholders. Below is a summary of their compensation: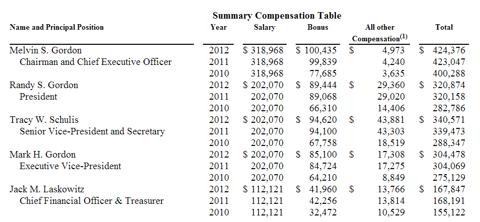 Click to enlarge
This is a combined $1.6m in FY12 alone, or 13% of PARF's current market cap. In FY09, the team decided to cut their own salary by 15% but it later amended the cut and their all-in comp has since spiked back up to 2008 levels. They don't use stock compensation at all and this is currently somewhat of a drag on EPS as the company could have saved $0.28 per share had they maintained FY09 pay levels.
Since they collectively own 42% of the float, you would expect them to want to see the stock price appreciate to a more reasonable level. Right now, Melvin owns a large majority of the family's share at 37.1% of the float, or ~192,000 shares compared to Tracy, Mark, and Randy who own a collective 4.7%, or ~24,400 shares. If the stock price improved by just $6 to its working capital / share value, Melvin would see his equity value in the company increase by $1.2m or about 3x his current annual salary. At $35 per share (still 8% below tangible book), his share value would increase by $2.2m, or almost 5x his current annual salary. He wouldn't even have to pay taxes on this and could keep his current $420,000 salary! Note this analysis does not even take into account the operational value of the business. If you apply a measly 3x earnings ratio to the business's operations and it traded at tangible book, you could see shares trade up to as high as $55 which would net Melvin a hefty 134% tax-free return on his current holdings.
The shares are at large enough discount to fair value to the point where there is enough value to be extracted and distributed to all stakeholders fairly: this could all be facilitated by a simple stock split, which would substantially improve the liquidity of shares and provide for a much improved share price which would obviously appease current shareholders. Since management is such a large shareholder at this time, the move clearly makes sense for them as well and in addition to this, they get to keep their current salaries: they could even increase their own salaries significantly and the company would still generate positive earnings. By my estimates, management could increase its own salary by another 15% from 2012 levels and the business would still break-even at a $25m sales level.
Summary
PARF is a hidden gem for deep-value investors. There is no telling when the company's value will be unlocked, but there is a very simple solution to make this happen and it is in every stakeholder's best interests to make it happen. There is no telling when this will occur, but Salvatore Muoio says he likes to invest in situations like this with a 2-3 year catalyst horizon and based on the potential outcomes for management, this may be coming sooner than he thinks: PARF provides a great opportunity for the patient investor looking to put his money in a stock with extremely limited downside and a free call option on a potential double in share price.
Disclosure: I am long OTCPK:PARF. I wrote this article myself, and it expresses my own opinions. I am not receiving compensation for it (other than from Seeking Alpha). I have no business relationship with any company whose stock is mentioned in this article.