With yesterday being Memorial Day and the markets being closed we are now set to open the week on a Tuesday, which readers may recall has been the strongest day of the week since January 15th of this year as we have an impressive streak of up days in place. With overseas markets in Asia finishing up and Europe currently green our North American markets are showing a strong open right now per the futures. Tuesdays are good days for the market and we expect today to follow that trend.
Chart of the Day:
France's CAC has risen healthily over the past 12 months, although it has dramatically underperformed other world markets over the past 5 months as Europe dealt with issues such as Cyprus. With Europe's latest moves, could the leaders in Europe be the next frontier to yield riches? It is possible.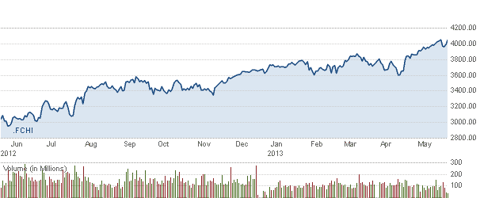 Click to enlarge
Chart courtesy of CNBC.com
We have economic news due out today, and it is as follows:
Case-Shiller 20-City Index (9:00 a.m. ET): 10.1%
Consumer Confidence (10:00 a.m. ET): 72.5
Asian markets finished higher today:
All Ordinaries -- up 0.24%
Shanghai Composite -- up 1.23%
Nikkei 225 -- up 1.20%
NZSE 50 -- up 0.00%
Seoul Composite -- up 0.32%
In Europe, markets are higher this morning:
CAC 40 -- up 1.39%
DAX -- up 1.02%
FTSE 100 -- up 1.62%
OSE -- up 0.68%
Consumer Goods
We had recently liked the levels that Procter & Gamble (NYSE:PG) was trading at for those looking to acquire shares and build up positions, however with the sharp move higher on Friday in response to bringing back former CEO A.G. Lafley to serve as the new CEO and Chairman of the board. With shares closing at $81.88/share after rising $3.18 (4.04%) and volume reaching 25.6 million shares we would move to end any buying programs until we see some dips down the road. We would be holders now and not buyers because there is a real possibility that the company could use this first quarter under Lafley's second reign to throw the kitchen sink at investors and give the legend a clean slate to work with moving forward. We still like the P&G story, but are very aware of the potential for short-term pullbacks after this sharp rise.
We are now approaching the recent highs on the CEO hire...or is it rehire? Either way we are recommending readers be holders now, not buyers.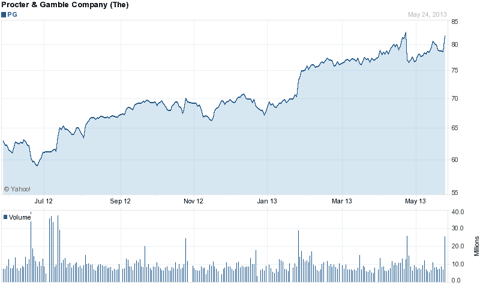 Click to enlarge
Chart courtesy of Yahoo Finance.
Dean Foods (NYSE:DF) saw shares fall $10.31 (50.51%) to close at $10.10/share as the company completed the spin-off of Whitewave Foods Company, the previously announced organic foods spin-off which was the fast growing segment of their business. This is one of those names which showed up on the largest percentage losers list but not for good reason and we wanted to highlight the reason it was on that list this morning based on some of the questions we received via email. We do try to keep up with every stock we mention in our articles and have no problem refreshing readers on the important issues which move these names.
Pharmaceuticals
Valeant Pharmaceuticals (NYSE:VRX) saw its shares pop during Friday's session as rumors began circulating that they were in talks to buy Bausch + Lomb and beef up its ophthalmology unit. Shares rose sharply mid session finishing the day at $84.47/share after rising $9.80 (13.12%) and seeing volume rise to 10.4 million shares. Over the holiday weekend it was confirmed that the deal was happening with Valeant paying a total of $8.7 billion, with most of it being cash and no more than $2 billion in new stock being created (see New York Times article here). The buy is a big deal for Valeant as it catapults them to the big leagues in the ophthalmology business and makes them a top 5 player worldwide. We always take notice when the buyer's shares rise in a buyout as that typically indicates a great deal for all parties involved.
Retail
Readers should know our view on Abercrombie & Fitch (NYSE:ANF) by know and that we are not believers in the current management team and their ability to figure out what the consumer wants these days. It has been a rollercoaster recently as well with the CEO coming under fire for numerous transgressions, from saying that obese people should not where the company's clothes to having his partner who is not an employee of the company allegedly run meetings off-site which were mandatory for high ranking employees to attend. The company has become a joke over the past few years and the culture where they cranked out styles and forced the consumer to like it is not sitting well with today's style oriented consumer. Until they redevelop their image and get back to their roots we feel that one absolutely has to steer clear of the name and instead focus upon competitors like the Gap, which we like much better.
One quarterly beat is why the company's shares have performed as well as they have, but with the nonsensical news surrounding the CEO and his antics, one has to wonder how much more investors and the board are willing to put up with.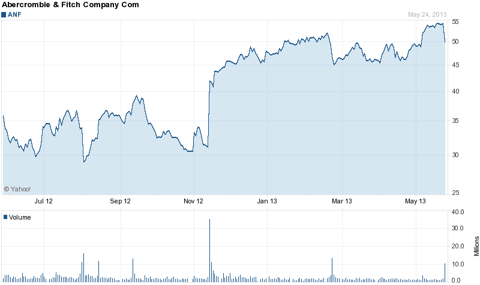 Click to enlarge
Chart courtesy of Yahoo Finance.
Automotive
We recently wrote about Tesla (NASDAQ:TSLA) and stated that now that the stock has broken above $90/share the next level to watch was $100/share and with the shares rising $4.35 (4.69%) on Friday to close at $97.08/share with 16.1 million shares being exchanged. It appears to us that the $100/share level could come under attack from Tesla bulls today as it is a Tuesday and futures are green today. This could be a big day for Tesla, so readers should take note and our short-term traders may want to set up a position via stock or short-term options.
Disclosure: I have no positions in any stocks mentioned, and no plans to initiate any positions within the next 72 hours. I wrote this article myself, and it expresses my own opinions. I am not receiving compensation for it (other than from Seeking Alpha). I have no business relationship with any company whose stock is mentioned in this article.