(Editors' Note: This article covers a micro-cap stock. Please be aware of the risks associated with these stocks.)
AVT, Inc. (AVTC.PK) was on quite the rocket-ride when I first encountered it as I was investigating a group of marijuna-related stocks that I concluded were experiencing a bubble in mid-February. Like all of the stocks I included in that initial review, the price has come crashing down, but, as I have gotten to know the company a bit better after several readers questioned me about it, I have become very negative. While the industry in which it participates is one that I find quite interesting (automated vending for retail), I believe that the company has serious financial issues and suffers from excessive promotion. In my view, the stock, which currently is trading near $2.65, is worth less than $1 per share.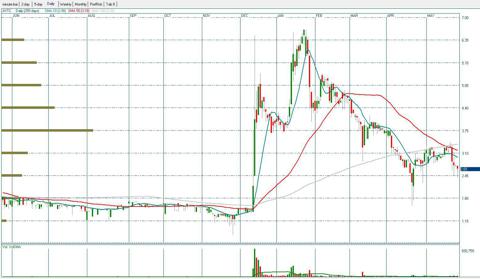 Company Description
Based in Corona, CA, AVTC was founded by its current Chairman Shannon Illingworth (44) in 2001 and has 35 full-time employees as of 12/31/12. Illingworth, who was previously a Nextel reseller, played football at Cal State Fullerton and was on the practice squad of the Rams from 1993-1994 according to an article in The Press-Enterprise earlier this year. He began the company as a vending machine manufacturer, but began transforming it into a automated retail (kiosk) maker. The company includes as customers The Rug Doctor, Blue Rhino, Marley Coffee and, among others, this one: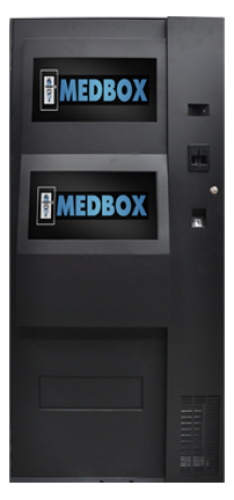 It was the relationship with Medbox (MDBX.PK) that sparked so much interest in December, when the stock took off. AVTC issued a press release then, calling out Medbox's expanded product line for 2013 and quoting its CEO:
"We are pleased to have entered into development and manufacturing agreements with AVT that will allow us to meet our aggressive production orders, as well as expand into new markets with technologies and systems that are significantly ahead of any competition," stated Bruce Bedrick , CEO of Medbox, Inc. "AVT has been working with Medbox since 2010, and is considered a vital business partner."
The Medbox annual filing indicates that it spends about $500K buying dispensary units from AVTC. Illingworth is an investor in MDBX as well. MDBX mentions this, while AVTC doesn't. Two customers, described as Customer A (47%) and Customer B (26%) accounted for 73% of sales in 2012.
One last point is insider ownership. The annual statement lists a total of 651K shares being held by insiders (5.7% of the common stock), but the disclosures don't add up to this number. Chairman Illingworth held only 22,802 shares (0.2%). This is interesting, as he draws no salary. His mother was listed previously as an owner but is no longer included (297K shares last year). CEO James Winsor held 67K while CFO Natalie Russell held 114K. Worth, Inc., which is the majority owner of the company and is owned by Illingworth's father (Jon), held just 12,762 shares. More on this later.
Financial Review
AVTC had been an SEC filer, but it missed the deadline for its 10-K. It ended up filing an annual report via OTC Markets on May 6th, but on April 29th it reported that it had terminated its public accounting firm:
StarkSchenkein has advised the Company that it did not agree with the Company's prior accounting treatment for convertible notes with derivative instrument, beneficial conversions and other features. The Company authorized StarkSchenkein to respond fully to inquiries of the Company's successor accountant concerning this subject matter.
On May 24th, the company filed that it had approved Malone Bailey, LLP as its auditor. The company has delayed its Q1 report which was due May 15th. It had said that it would be filed by May 20th, but it doesn't appear to have done so yet.
The company had 11.4mm shares at year-end, but this is highly misleading, as there are 2.666mm Series A convertible preferred shares that can be converted into 6 common shares each. This means that the total diluted share-count is approximately 27.4mm shares. Financial portals, like Yahoo or Investors HUB don't properly reflect this larger size, which suggests a market cap of $73mm.
Total revenues grew 48% in 2012 to $15.3mm, but expenses increased more than revenue, resulting in a net income decline of $538K to $826K ($.03 per share EPS on diluted shares.). Free cash flow was just $90K. Note that the income statement was incorrect, as it failed to include share-counts and also stated the EPS incorrectly as just .01 for both basic and diluted shares.
How Chairman's Father is Diverting Millions of Dollars
Earlier, I described the capital structure. While there are 11.45mm shares outstanding (100mm authorized), there is also a Series A convertible preferred stock totaling 2.666mm (3mm authorized). Worth Inc. (Chairman Illingworth's father) holds 2.45m. This would convert to 14.7mm shares. A year ago (per 10-K), Worth held 523K common shares and 2.706mm shares of the convertible preferred (16.76mm shares effectively). Thus, Jon Illingworth reduced his stake by 2mm shares. The annual report tells us more about what's going on with Worth:
A company, that is a major shareholder and related party, loans the Company funds to assist in cashflow. There is no formal agreement between the parties. Advances totaling $365,000 were received from the related party for the year ended December 31, 2012. Payments totaling $183,741 were made to the related party. A $125,000 payment was made through the issuance of shares of common stock. At December 31, 2012 and December 31, 2011, the Company owed the related company $129,093 and $62,259, respectively.
Worth held less than 13K shares outright at year-end, so it is clear that Worth lends the company money, gets back stock and sells it.
On page 8, we see another troubling disclosure:
For the quarter ended September 30, 2012, we issued Worth, Inc. a total of 125,000 shares of our Series A Convertible Preferred stock valued at $1.00 per share or $125,000 as partial payment of note.
Remember, these preferred shares are convertible into 6 common shares. That works out to 750K shares if converted. The very low price during that quarter was $1.15, so the $125K repayment was worth $862K at a minimum.
The company issued 1.341mm shares in total for just $1.004mm ($0.75 per share). Some of this was due to the payment of stock for management services, some apparently to pay back Worth. It also issued 307K shares for conversion of notes payable and 22K for interest on notes payable. These conversions are done at large discounts to where the stock is trading.
In the "subsequent events" section of the annual filing, we see what is going on in 2013:
7. Subsequent Events

The Company has evaluated events and transactions that occurred between December 31, 2012 and the date the financial statements were available for issue, for possible disclosure or recognition in the financial statements.

Six shareholder notes totaling $220,000 were converted into 228,984 shares of common stock.

The Company issued 13,713 shares of common stock for payment of interest on shareholder notes.

A preferred stock shareholder converted 298,334 shares into 1,790,000 shares of common stock.
Whoa! No wonder there has been pressure on the stock. Worth is the only holder that could have converted that many Series A preferred shares into common stock, as it owned all but 216K at year-end. Worth apparently doesn't file disclosures about its selling. Clearly, Mr. Illingworth's father is profiting immensely at the expense of shareholders as he lends money, gets back preferred stock valued at $1 per share and converts into 6 shares of common stock that were trading in excess of $3 earlier this year. Going back to the 125K shares received in exchange of $125K, the 750K shares upon conversion earlier this year could have reaped over $2mm based on a price of $3. Not bad for $125K investment!
Excessive Promotion
AVTC pumps out press releases fairly regularly, which isn't uncommon for OTC stocks. One that caught my attention recently was this one on May 14th, titled "AVT Recommended in Seeking Alpha Story". It turns out that the "story" was an instablog and not an article on the company that had gone through editorial review. For those not familiar with instablogs, anyone can publish them. In this case, the contributor was "The Money Journal", and the instablog was titled "The Majors Are Lining Up For Automated Retailing". This contributor has never been published on Seeking Alpha's contributor platform, but there are a total of 7 instablogs published since April 16th. 4 have been about AVTC and 2 about its retail partner Marley Coffee, while the other was not really about a stock at all. I decided to check into the author, visiting the link to his website. It turns out that it was created on April 6th, and the whole purpose of the website appears to be to promote AVTC. To the best of my knowledge, it isn't possible to tie the contributor or the website owner to an individual.
The press release credits the article not to some anonymous person (probably related to or paid by the company) but to Seeking Alpha itself:
According to Seeking Alpha, the two leaders in the automated retailing industry are Coinstar (NASDAQ:CSTR) and AVT, but contend that Coinstar who owns the Redbox systems and is selling at around $55 a share has most of it's growth behind it, while AVT at a few bucks a share "could be the next Coinstar."

Seeking Alpha also stated that AVT's patented technology could be a "game changer" in the industry, as "it covers a basic technology that most of the industry already uses or needs to use," and compared AVT's recent growth to "Winning the Super Bowl and the World Series combined."
Sure they did! This wasn't the first time AVTC has parrotted an instablog at SA, as they stated "AVT Preferred Over Coinstar in Seeking Alpha" in this press release.
Conclusion
While sales grew rapidly in 2012, they did so without an improvement in profits. The company's cashflow statement and balance sheet don't show distress, but the fact that they are effectively selling stock at a discount to the public through their notes program and engaging in very expensive financing with the father of the Chairman is a major red flag. The issue with their accountant and the fact that they are no longer an SEC filer and have yet to provide a Q-1 report with OTC Markets is another red flag. One has to wonder what Chairman Illingworth's interests might be given that he owns only 22K shares and draws no salary.
With a fully-diluted share-count of approximately 27.4mm shares, the stock appear to be overvalued rather substantially at $2.65 ($73mm). Based on 2012 net income of $864K and assuming a PE of 20X, which is generous, I get a price of $0.60. Even at 30X the value would be less than $1. Tangible book value per share is $0.41 on a fully-diluted basis.
Source Documents:
Disclosure: I have no positions in any stocks mentioned, and no plans to initiate any positions within the next 72 hours. I wrote this article myself, and it expresses my own opinions. I am not receiving compensation for it (other than from Seeking Alpha). I have no business relationship with any company whose stock is mentioned in this article.