We ran across this article this morning focusing on uranium enrichment and Urenco (see link here). It just goes to highlight that the business can be quite profitable and for those dabbling in more than just the mining business it can be lucrative on many levels. The fact that the press is paying attention to these stories indicates to us that there will be open ears when the next uranium bull market begins its first leg higher and that shall simply be the kindling that gets the fire going. This is a real story which readers need to pay attention to and hopefully find a way to profit from.
Chart of the Day:
We want readers to pay close attention to the US Dollar Index because it is above the 84 level and very near 52-week highs in the 85 range. That is not a level we want to see approached or breached, however with Japan and Europe easing, it is absolutely within the realm of possibilities and a very real threat to the commodity bull run.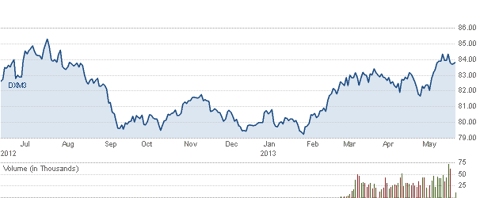 Chart courtesy of CNBC.com
Commodity prices this morning are as follows:
Gold: $1380.60/ounce, down by $6.00/ounce
Silver: $22.305/ounce, down by $0.191/ounce
Oil: $94.77/barrel, up by $0.62/barrel
RBOB Gas: $2.86/gallon, up by $0.021/gallon
Natural Gas: $4.232/MMbtu, down by $0.005/MMbtu
Oil & Natural Gas
Shares of Diamondback Energy (NASDAQ:FANG) have been on a tear lately and we want to throw out some caution this morning, even though this is a name we have been one of the few to talk about and arguably the first to highlight. The company recently did a secondary and reported results which were solid for the area. Also adding to the rise is that competitors have had success in the play allowing investors to believe that the play is as big as promised and that a larger area has been derisked. This is indeed all very good news, however keep in mind that Diamondback has now risen quite close to the price target which was only recently issued by certain brokerages (the $35/share level). We believe in riding the winners, but pay attention here especially after the recent dramatic rise.
It sure is a beautiful chart, but with the name appearing to have gone parabolic, how much more room is left to run? The easy money has been made here, not to say there is not more to be made, but the easy money has been made.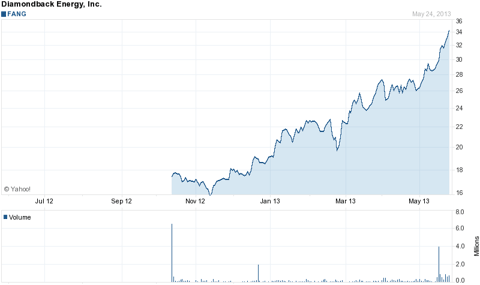 Chart courtesy of Yahoo Finance.
With natural gas prices having recovered strongly in the past few months the natural gas players are fairing much better these days. So well in fact that they are moving to recapitalize via new, cheaper debt to replace old more expensive debt. One has to like that news as it gives these names more breathing room long-term and frees up cash which will go to further debt retirement or exploration. Cash flow is king here and whether you can increase it via the drill rig, drilling on Wall Street or refinancing debt it does not matter, it is all bullish. With that said watch Quicksilver Resources (NYSE:KWK) as their recent performance, it was up $0.25 (10.92%) to close at $2.54/share on Friday, indicates they will be successful in making it through this rough patch in the industry and find the capital to bridge the gap.
Uranium
We mentioned Uranium Energy Corporation (NYSEMKT:UEC) on Friday as a good play for safe North American uranium production, and wanted to expand upon that a bit further this morning as we like the price here. Any time one can purchase these shares below the $2.50/share level we think it is a good buy and after Friday's move to $2.10/share it still leaves plenty of room for both short-term profits and a nice area to build a long-term position. We like the name because although it is quite difficult to set up a mine in North America, it is far easier to do so in Texas than other locales in the United States and this is one of the main reasons, if not THE reason, that Uranium Energy was able to be one of the first juniors to production.
After the recent retreat, we have had a solid rebound however it is our view that this is a $2.50/share stock at fair value and worth far more should the uranium bull market we expect begin at the end of this year.
Chart courtesy of Yahoo Finance.
Diversified Miners
We noticed that Freeport-McMoRan (NYSE:FCX) is back down to levels where it first found support after announcing the three-way merger a few months back. The market has been choppy lately for shares with the company coming under fire for its gold and copper exposure but investors have to recognize that those cash flows are now going to be redeployed back into oil and natural gas and further diversify revenues and profits for the company. With the current dividend yield and our belief that the world economy is beginning to turn a corner, we think for long-term readers this is a buy at these levels, and certainly below $30/share should we see another pullback to those levels. The news out of China is still mixed, but with Japan reinflating and the US economy rebounding, it should not be long before we get confirmation that China too is rebounding.
But with that said we are less bullish of Vale (NYSE:VALE) and would be buyers of that name only later in the cycle. Our first buy would be Freeport-McMoRan followed by Vale due to the diversification at the former and lack thereof at the later. Vale is selling off assets which were supposed to be used to diversify their revenue streams, which in the short-term shall be just fine, but longer term will lead to a company more focused than peers. Vale will not see a healthy recovery until China and others start building again and even then it will be a tough market as the iron-ore industry has greatly expanded supply over the years. We are cautious the diversifieds at this point, but even more so as it pertains to Vale.
Disclosure: I have no positions in any stocks mentioned, and no plans to initiate any positions within the next 72 hours. I wrote this article myself, and it expresses my own opinions. I am not receiving compensation for it (other than from Seeking Alpha). I have no business relationship with any company whose stock is mentioned in this article.