Introduction
ScanSource, Inc. (NASDAQ:SCSC) is an international wholesale distributor of specialty technology products, marketing over 100,000 products from 250 vendors to over 30,000 reseller customers.
The Company operates in 3 main segments:
Point-of-Sale (POS) and Barcode;
Communications (voice, video, and data);
Physical Security (video surveillance, access control, and wireless infrastructure)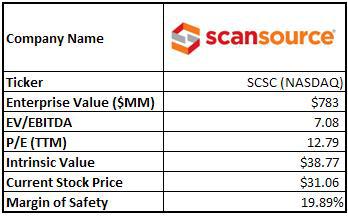 The first segment markets the familiar bar coding technologies that enable electronic identification and data processing of a large group of products. Here, the Company sells bar code printers, hand-held and mounted laser scanners, data collection devices as well as magnetic stripe readers. These technologies, once relegated to areas like inventory control and warehousing, are now increasingly found in more sophisticated areas, such as healthcare. The POS business markets computer systems that have gone on to replace the old-styled cash registers and include terminals, monitors, receipt printers, pole displays, cash drawers, keyboards, among others.
The Communications unit delivers communications solutions which includes video and audio conferencing products; telephony solutions including Voice over IP ("VoIP"), and computer telephony building blocks. Finally, the Physical Security unit markets electronic security equipment, encompassing identification, access control, video surveillance, intrusion-related and wireless infrastructure products.
In addition to servicing the North American market, ScanSource has an international reach, with a distribution presence in Latin America and European markets.
Industry Overview
ScanSource's 2012 Annual Report includes an insightful discussion on the evolution of distribution channels for specialty technology products. The report details a three-stage process that begins with manufacturers selling directly to end-users, later developing into a single-tier system, where we now find resellers acting as intermediaries between manufacturers and end-users. Finally, a two-tier system emerges with the introduction of wholesale distribution, with wholesalers purchasing directly from manufacturers and selling to resellers. ScanSource belongs to the wholesale distribution segment of the supply chain. Continued competition amongst manufacturers and resellers leads to outsourced opportunities for the wholesaler, as it is relied upon to deliver many of the value-added services traditionally performed by the other members of the supply chain. The wholesaler provides inventory management, financing, and technical support, previously the domain of manufacturers, in addition to functions previously reserved for manufacturers, such as product assortment, delivery, inventory management, technical assistance and marketing.
Analysis of Business
ScanSource deals with reputable vendors such as Cisco (NASDAQ:CSCO), Epson, Honeywell (NYSE:HON), IBM (NYSE:IBM), Motorola (NYSE:MSI), among others. Further, the Company markets products to 30,000 active value-added reseller accounts situated in North and Latin America, as well as Europe.
The Company has achieved double digit top line growth over the past decade, expanding from $850 million to over $3 billion in 2012 (Chart 1).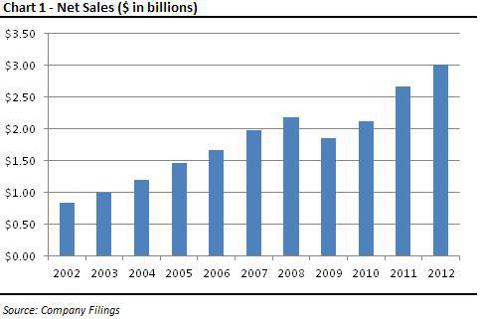 Click to enlarge
Over this time, earnings have followed suit, growing from $20 million to over $74 million, for an annual compounded rate of growth of 14% (Chart 2).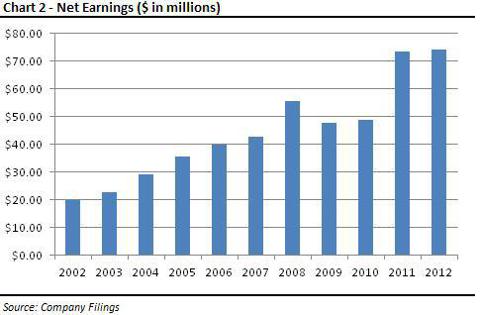 Click to enlarge
In the past 5 years, the product mix has been fairly steady, with Communications Products expanding 200 basis points to 39% (Chart 3).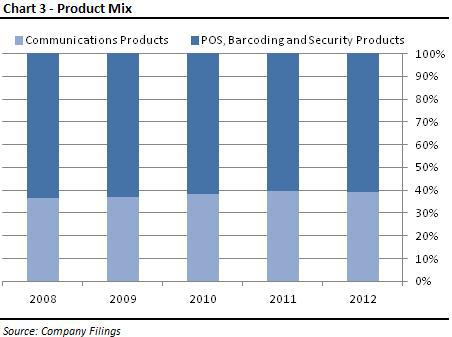 A more pronounced shift is taking place on the geographic side, with international sales doubling since 2006 to 26% overall, in 2012 (Chart 4).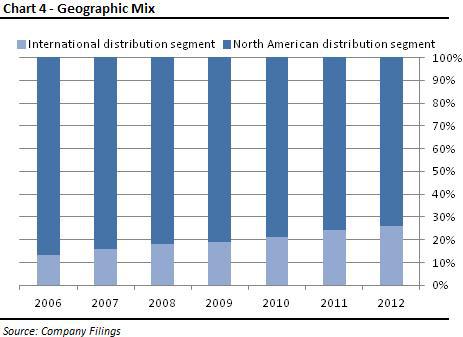 Strategically, the Company's shift to international sales is beneficial, as it attracts higher gross margins (Table 1). Unfortunately, due to a weakened global economic environment, international gross margins have been hit disproportionately vis-à-vis domestic sales. Particularly in Latin America, where the Company is working on integrating its recent acquisition of CDC Brasil, a cooling economy and intensified competition has pushed margins to lower than expected levels. However, management remains committed to seeing these issues through.

Click to enlarge
Fundamentals
Over the past decade, ScanSource has demonstrated an ability to generate value for shareholders by consistently delivering returns in excess of its cost of capital. With a 10 year average return on invested capital ("ROIC") of 13.24%, the Company has generated excess value of 300 basis points (Chart 5) per year. It is comforting to learn that ScanSource's management team has its eyes fixed on ROIC in evaluating performance - in my opinion, the most important gauge of value creation. Taken from their latest Annual Report: "we place significant emphasis on operating income and return on invested capital…in evaluating and monitoring financial condition and operating performance. We use ROIC…to assess efficiency at allocating capital under our control to generate returns." Please note the Company's financial literature cites a much higher ROIC figure. This is because taxes and depreciation are added back to the numerator. As I view taxes and depreciation (the latter, a proxy for maintenance capex) as legitimate cash outlays, I need to add these back to the numerator, leaving me with a lower ROIC. For more information, Management includes a clear reconciliation of ROIC in its Annual Report.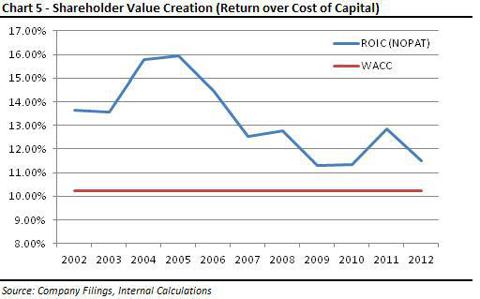 Click to enlarge
As discussed, the passing global economic malaise has weighed on ScanSource's performance, but note how shareholders have managed to remain above water, on a required rate of return basis, throughout the financial/debt crisis. As economies rebound, it is conceivable that returns on capital will follow, generating even more value for shareholders.
Valuation
Shares of ScanSource appear to be attractively priced, potentially offering a margin of safety of 20%. I use a discounted cash flow approach for getting a sense of the Company's intrinsic value. In addition, I use an average of prior years' after-tax operating cash flows, adjusted for capitalized operating leases, as a guide to project future cash flows. Despite reaching $74.2 million in 2012, I start with much weaker cash flows in year one, $66 million, as the Company tackles the present economic headwinds. I assume, in year 3, the Company returns to 2012 cash flow levels, and then begins to grow at a rate equal to half the Company's present ROIC, or 5.96%, until year 10. I set a reasonable terminal growth rate of 2%. With a calculated weighted average cost of capital of 10.24%, I derive an intrinsic value per share of $38.77.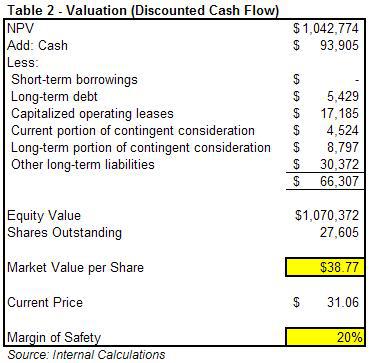 Competition
The Company is not alone in this space and, as such, faces intense competition. However, it appears much more profitable and in better financial shape than its rivals. Included in its peer group are Synnex Corp. (NYSE:SNX), Ingram Micro Inc. (NYSE:IM), and Tech Data Corp. (NASDAQ:TECD). On a market cap basis, ScanSource is the smallest of the group, commanding only $866 million in market value. IM, TECD, and SNX are currently priced at $2.74B, $1.88B, and $1.42B, respectively, according to Yahoo Finance. That being said, the Company generates superior margins, chiefly driven by gross profits.

On a return on equity basis, ScanSource delivers impressive returns compared to the competition, with only one rival able to generate better returns. But, on closer inspection, this excess return is generated with the use of leverage, as SNX has a 50% higher debt-to-equity ratio than ScanSource.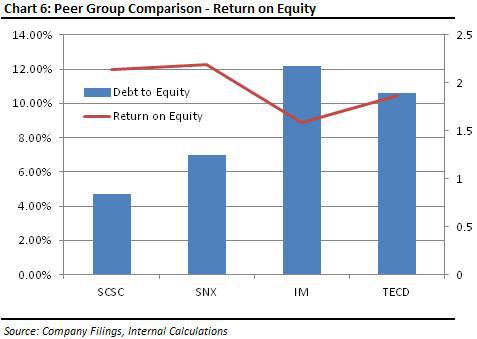 Cash Management
Going forward, I want to keep an eye on the Company's quickness in converting revenues into cash the Company can then deploy to grow the business. In 2002, the Company required 49 days to convert the average dollar of revenue into readily available cash. Now, the average conversion time has climbed to 65 days (Chart 7). The Company explains that the recent decrease in inventory turnover was due to "higher inventory levels built up throughout fiscal 2012, as a result of favorable vendor pricing, longer lead times and anticipation for demand in certain products" [Source: 2012 Annual Report]. Management follows up by saying they have begun to reduce inventories to "levels more consistent with our current volumes and weaker growth in Europe." Over time, we want to make sure the cash conversion cycle stabilizes or, better, returns to historic averages.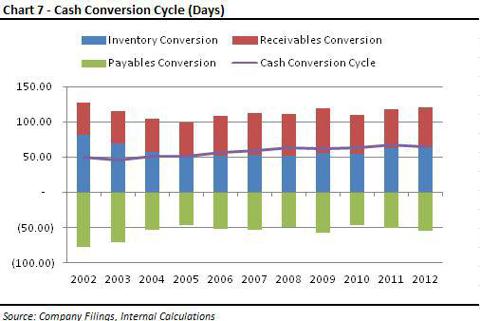 Click to enlarge
Conclusion
Guided by a management team that has delivered impressive growth over the past decade and remains committed to achieving high returns on capital, investors are presented with a Company trading at an attractive valuation, with a reasonable margin of safety. ScanSource is not alone in facing today's challenging economic environment, but is one of the few that has continued to impress during the ongoing malaise.
Disclosure: I have no positions in any stocks mentioned, and no plans to initiate any positions within the next 72 hours. I wrote this article myself, and it expresses my own opinions. I am not receiving compensation for it. I have no business relationship with any company whose stock is mentioned in this article.