Rick's Cabaret International (NASDAQ:RICK) is the largest (and only) publicly traded adult entertainment club company. RICK operates a chain of 37 clubs and is working to open five more this year. As with all retail firms, the key to earnings growth is new store openings as same-store sales growth is usually in the low single digits. Same-store sales is a comparison of revenues for establishments open 12 months or more.
Rick's is a great example of this retail growth concept as same-store sales for its second fiscal quarter ending March 31 decreased year-over-year by 3.6% while overall quarterly revenues were up 13.5%. Quarterly revenue growth was driven by expanding the number of locations, and this expansion is expected to continue. RICK stock could be considered undervalued as long as new store openings continue on its current pace of 15% growth a year and there is a turnaround of same-store sales.
An interesting operational aspect is that RICK employs 1200 full-time restaurant employees. An additional 3500 club dancers pay a nightly fee to dance at the club and the dancers are paid by tips from the patrons.
RICK is not for the faint of heart or for investors who are queasy about sin stocks. Adult entertainment clubs are considered by some to be immoral establishments and the stock has a very high beta of 2.03. However, for those investors looking for higher risk and rewards, RICK should be worthy of consideration.
RICK has successfully grown its club footprint from 21 clubs at the end of Fiscal Year Sept 2010 to 37 clubs currently. Revenues have followed suit, rising from an average of $20 million a quarter in 2010 to $28.7 million last quarter. Gross profits have been in the 85% range and operating margins have fluctuated between 17% and 22%. Due to the costs associated with closing an unprofitable club in Las Vegas, FY2010 logged in at a loss. The balance of the previous 5-years has been profitable with earnings per share between $0.75 and $0.97. Trailing 12-month EPS is currently at $0.90 and the first 6-months of FY2013 EPS is $0.57, up 23% from $0.46 a year ago. RICK has 10 million shares outstanding.
RICK is undervalued based on several comparisons to the restaurant sector. Below is a table of comparison:
| | | |
| --- | --- | --- |
|   | RICK | Peers |
| Price/Earnings TTM | 9.7 | 38.5 |
| Price to Book | 0.9 | 6.8 |
| Price to Sales | 0.8 | 2.4 |
| 3-Yr Avg Revenue Growth % | 7.9 | 4.4 |
| 3-Yr Avg Net Income Growth % | 13.3 | 18.9 |
| Operating Margins TTM % | 19.1 | 17.0 |
| Net Margins % | 8.4 | 10.6 |
| ROE TTM | 10.1 | 32.1 |
| Debt/Equity | 0.8 | 0.9 |
| ROIC TTM | 5.6 | 16.9 |
While return on invested capital (NASDAQ:ROIC) is one third of its peers, share valuations could be considered too low with price to sales, price to book, and price to TTM earnings a fraction of the valuation of RICK's peers. On a historical basis, RICK has a 5-yr average TTM PE ratio of 12, which would indicate an current undervaluation of almost 25%. Earnings are expected to be $1.20 a share for FY2013. If this number is reached, the forward PE is calculated at 7.0, also at a discount to RICK's historic forward PE of 8.5.
In addition to its adult entertainment clubs, RICK has been expanding into more traditional non-adult entertainment restaurants and bars with its Bombshells brand. RICK recently opened its first Bombshells bar in Dallas/Ft Worth and is looking to grow this concepts over time. Management is also researching "greenfield" sites, or those venues which are currently closed but have retain operating licenses.
Management has been discussing the possibility of spinning off its real estate into a publicly traded REIT. This move could unlock additional shareholder value. The current market capitalization for RICK is $85 million and the company is holding an estimated $100 million in real estate. Unlike some of its club competitors, RICK buys the real estate whenever possible as part of its acquisition strategy and owns the land/buildings at 85 percent of locations. As real estate financing for adult entertainment clubs is difficult with conventional financing, a RICK REIT will have the option to expand its assets beyond just its own clubs, giving some successful club owners the opportunity for a partial buy-out of their assets.
Rick's current strategy is to play to its strengths in acquisitions. Currently, RICK is the largest and only publicly traded adult entertainment club operator and has been successful in stipulating acquisition terms not exceed 3 times EBITDA. If management creates the only adult entertaiment club focused REIT, it could have similar market strengths to negotiate real estate deals, This positioning could be very advantageous to the new REIT. More information can be found in the conference call link below.
The 2nd quarter conference call is found here and the company earnings press release is found here.
Below is a 5-year price chart. As RICK does not offer a dividend, the chart accurately depicts shareholder returns: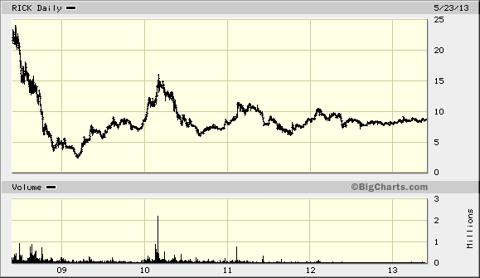 Before the Great Recession, Rick's was a darling of Wall Street and share prices jumped to over $25. However, as the economy turned south and earnings stagnated below the $1.00 a share mark, share prices collapsed and have yet to return to their heyday of a PE of 25+.
For those interested in retail prices charged at Rick's, here is an excerpt from a June 2012 review of Rick's New Orleans club by NOLA Strip Club Review (From RICK's PR boilerplate - Sexual contact is not permitted at any locations):
Cover charge $10 …. A bottle of Dom Perignon is $895. A bottle of Grey Goose is $350 …. Water/Soda $6.25, Beer $8 for domestic, $9.25 for imported, Well drinks $8.25+ …. Table dance $20 per song, Private dance $60 per song …. VIP Lounge $350 per half hour (prices range from $300-$500), $700 per full hour (prices range from $550-$950).
While there are few Wall Street firms following RICK, Brean Capital thinks it is a "buy". From a SA market current on May 10:
Brean Capital is bullish on Rick's Cabaret International following solid FQ2 EPS. "With new concept and 'greenfield' club rollouts on tap, we believe Rick's is poised to register solid double-digit top- and bottom-line expansion. We also applaud management for aggressively looking to monetize their hidden real estate assets, which we believe investors do not materially factor into the RICK story. With momentum slowly turning, we remain buyers of RICK."
If management can generate $1.20 a share in earnings for FY2013 and keep on a 10%+ EPS growth rate, share prices should reach a target of $14, or about 65% above its current price. Add the possibility of a spinoff of a Rick's real estate into a REIT and current investors may be well rewarded for their patience.
As I have told my daughters plenty of times, investors should own companies a) where patrons expect to pay $6.25 for a Coke or bottled water and b) where employees pay to work there. RICK excels on both these premises.
Author's Note: Please review important disclaimer in author's profile.
Disclosure: I am long RICK. I wrote this article myself, and it expresses my own opinions. I am not receiving compensation for it (other than from Seeking Alpha). I have no business relationship with any company whose stock is mentioned in this article.