I see a few catalysts to stock price appreciation in The Finish Line (NASDAQ:FINL), and it doesn't hurt that the stock's dividend yield is currently 1.3%. The Company has a strong balance sheet, giving it flexibility. FINL is currently starting to execute on a business partnership with Macy's (NYSE:M), which I believe will allow FINL to expand its customer base. This partnership is expected to be a drag on financial results in the first half of fiscal 2014, but I expect that in the second half, investors will begin to realize the benefits of this partnership, which won't be fully implemented until fiscal 2015.
FINL ended Friday, May 24, 2013 trading at $21.22, down 1.67% on a day when stocks in general closed about flat. This may have been in response to Foot Locker's (NYSE:FL) earnings announcement, which apparently disappointed with FL finishing the day down about 5%. In my opinion, the move down in FINL represents a buying opportunity for long-term investors.
FINL's Business and the Macy's Partnership
As noted above, I believe FINL's partnership with Macy's will be a major catalyst for growth. The companies have similar strategies, but different core customers, as these excerpts from SEC filings show.
(FINL 10-k) Product diversity, in combination with the Company's store formats and commitment to customer service, is intended to attract a core customer (typically male, age 18-29 for the Finish Line brand and technical and performance runners for the Running Specialty stores) as well as other key demographics. The Company is focused on premium product, meaning the best brands, trend-right styles and most relevant selection, and not necessarily dictated by price.

(M 10-k) The Company seeks to attract customers by offering superior selections, obvious value, and distinctive marketing in stores that are located in premier locations, and by providing an exciting shopping environment and superior service through an omnichannel experience.

(FINL 10-k) Finish Line announced an agreement in September 2012 with Macy's to become the exclusive provider of athletic shoes, both in-store and online. Finish Line will manage the athletic footwear assortment and inventory for all Macy's locations and online. This will include Finish Line-branded athletic footwear shops in more than 450 Macy's department stores ("Branded shops within department stores") in the U.S. The rollout process for the 450 Branded shops within department stores started in February 2013 with completion expected in 18-24 months. As of April 5, 2013, the Company operated 8 Branded shops within department stores. Finish Line began managing the athletic footwear assortment and inventory for all Macy's locations on April 14, 2013. The assortment will be available online in late spring of 2013.
At first glance, the similarity in strategies appears to point to a potential problem which has been raised by some analysts: the partnership could result in some cannibalization of Finish Line store sales. I expect cannibalization to be somewhat of a nonissue because, as was stated in the Q4 conference call, "And clearly, we think there's a significant opportunity, especially around the female consumer that the Macy's company brings into their stores," clearly a different demographic than Finish Line's male, age 18-29 core customer. Perhaps the greatest difficulty in this deal for Finish Line is learning what these new customers want.
Macroeconomic Considerations
In my opinion, the current economic climate is a net positive for FINL. Housing prices have been rising, unemployment is edging down, GDP growth is still expected to be positive (if somewhat restrained), and stock markets just keep rising, thanks in large part to the Fed. All of which combine to create a wealth effect, encouraging increased consumer spending on discretionary items.
General stock market action over the last short while has shown that, should the Fed begin tapering on QE (or even rumors that the Fed is thinking about tapering), there will likely be some downward pressure on stock prices due to the uncertainty of exactly what will happen as a result of that tapering. I look at this is as an increase in the risk premium applied to stock valuations, which is currently quite low. When the Fed does begin tapering, which I expect sometime during the next 12 months, I believe there will be an initial rise in interest rates, which will be offset in part by a flight to safety. The net result may be somewhat of a drag on stock prices. Of course, at this point, that's pure speculation.
Balance Sheet Analysis
As of the end of fiscal 2013, FINL had over $4.50 a share in cash and equivalents, and no debt. Additionally, the Company's current ratio stood at 3.67 at the end of fiscal year 2013. The strength of FINL's balance sheet gives the Company a lot of flexibility going forward. For one, the Company can repurchase shares, and management gave a share count estimate for 2014 of 48 million, which signifies a reduction in shares outstanding of over 1 million shares. I also think the cash on hand might possibly lead to an increase in the dividend as well.
In the Q4 2013 conference call, FINL offered 2014 guidance for $80-90 million in Capex, which is similar to 2013 Capex and should be financed with cash from operations, resulting in FCF for 2014 of about $0. The Company's cash and equivalents dropped in 2013, primarily due to the share repurchases and dividends, and I expect similar results in 2014. This is a positive, in my opinion, since the cash doesn't earn a return, and I think ROE (about 13%) is a bit low due in part to the excess cash.
The significant cash carried by FINL does raise another possibility that was discussed in another article here on Seeking Alpha; it makes the Company more attractive as a takeover target, since an acquirer can use some of that cash to help pay for the purchase. I don't actually think this is likely, but is a possibility.
One other item on the balance sheet I'll be keeping an eye on is Merchandise Inventory, which has been increasing as a percent of sales for the last few years. This issue was raised in the Q4 conference call and management stated that "inventories are back in line with sales."
Income Statement Analysis
Sales growth has been tepid for the last few years, with the Company registering revenue growth of 5.4% in 2013. In 2014, though, sales are expected to pick up significantly (about 13%) due in large part to the Macy's partnership and new store openings. But, margins are expected to contract, also due in part to the Macy's partnership, with the result that EPS should grow in the mid-single digits near term.
Earnings Forecast
The expectations for mid-single digit EPS growth for the full year include projections that Running Company sales will be modestly dilutive to results, while the Macy's partnership is expected to be modestly accretive. Product margins are expected to be flat to down, occupancy costs are expected to increase in the double digits. Notably, Q1 earnings are likely to be bad as the Company won't be showing much in the way of sales from the Macy's partnership yet, but will have some expenses from that partnership, so SG&A, which has been relatively stable as a percent of sales will rise over 1% of sales, according to the conference call. Further detracting from the expected Q1 results will be a one-time charge for "start up costs and inventory disposal costs associated with getting the initial product assortment in place" relating to the Macy's partnership.
The figures below show analyst forecasts, the assumptions built into my forecast, and my actual 5-year forecast.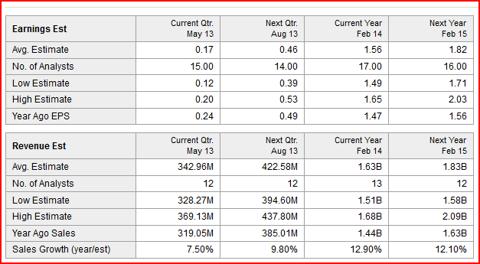 Analyst Estimates (Source: Yahoo Finance)

Forecast Assumptions (Source: Kirk DeBaun)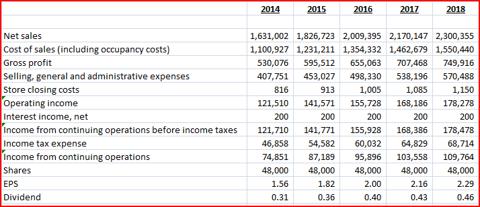 Five Year Earnings Forecast (Source: Kirk DeBaun)
The above forecast was developed using the analyst forecast shown, management's comments in the Q4 conference call, as well as some of my own judgment.
Valuation Method
There is definitely a difference between the value of a stock and the value of the underlying company. The two are rarely the same. Generally, I don't care so much if the company's intrinsic value is higher or lower than the stock price, because stocks often tend to be under- or over-valued for years. As an individual investor, I'm mostly concerned with how the market is currently valuing a stock, and how the market will be valuing the stock in the future, since that is where the majority of my cash flows will be coming from.
I use the residual income model to find the discount rate that will result in the current stock price. Then, I project the stock price 1 year ahead to arrive at the 1-year price target. Finally, I discount the 1-year price target back to the present using a risk adjusted discount rate, taking into account expected dividends, to arrive at what I think the stock is really worth.
The model yields a market-determined discount rate of 10.1%, which results in the current market price of $21.22, and a 1-year price target of $23.58. Included in the model is the assumption of a payout ratio of 20%, which is about the payout ratio for 2013.
The risk-adjusted discount rate that I'm using is based on the capital asset pricing model (CAPM). For the risk-free rate, I'm using a 1-year Treasury rate, about 0.20%, since the timeframe I'm looking at is 1 year. The market risk premium is a matter of opinion, and my opinion is that it should be about 8%. Finally, FINL's beta is reported on Reuters as 1.28. Putting all of this together yields a risk-adjusted discount rate of 10.4% and the result is a risk-adjusted value of $21.64. This is slightly above the Friday, May 24, 2013 close, indicating the stock is slightly undervalued.
Risks to this forecast include macroeconomic considerations (rising interest rates, low or negative GDP growth, foreign exchange fluctuations, rising commodity and component costs), and the company's failure to execute on its growth strategy, specifically, the Macy's partnership.
Sensitivity Analysis
I tested the sensitivity of the 1-year price projection to both revenue growth and gross margin. The results are shown in the tables below. The highlighted rows are the numbers used for the 1-year price target.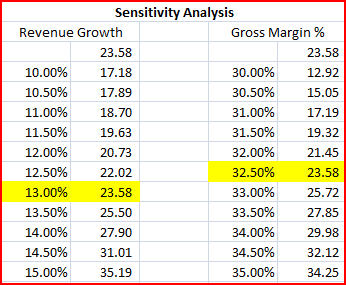 Source: Kirk DeBaun
To put these numbers in perspective, a 0.5% difference in the projected revenue growth rate results in a roughly 7% change in the 1-year price target. Similarly, a 0.50% difference in gross margin results in an approximate 10% change in the 1-year price target. Based on these results, FINL's stock price is extremely sensitive to small changes in the assumptions used to value the stock.
Conclusion
With the recent drop in share price, I believe FINL presents a good value investment. I expect the Macy's partnership will add significant value to shareholders who have the patience to wait to see results until the second half of fiscal 2014. With the Company's focus on returning capital to shareholders through dividends and share repurchases, I expect FINL to be a good long-term investment.
Sources: Data sources include Yahoo Finance, Reuters, Company SEC Filings on Edgar, and other sources as linked in the text. Opinions expressed, unless otherwise noted, are my own.
Disclosure: I am long FINL. I wrote this article myself, and it expresses my own opinions. I am not receiving compensation for it (other than from Seeking Alpha). I have no business relationship with any company whose stock is mentioned in this article.