Armour Residential REIT (NYSE:ARR) is a mortgage REIT. It is managed externally by Armour Residential Management LLC. ARR pays a monthly dividend/distribution (Form K-1). For the three months of Q4 2012, that dividend was $0.09 per share per month. For the three months of Q1 2013, that dividend was $0.08 per share per month. For the three months of Q2 2013, that dividend will be and has been $0.07 per share per month (about 15.1% annually at the current stock price). The falling dividend has been a continuing trend since the beginning of 2011 along with the falling net interest margin. The net interest margin has fallen from 2.23% as of March 31, 2011, to 1.55% as of Dec. 31, 2012, to 1.35% as of March 31, 2013.
Part of the cause of the above has been the fall in the LIBOR rates over the last year. ARR has some ARM securities. These usually use LIBOR rates as the basis for their variable mortgage rates. The charts of 12-month LIBOR rates (see below), the last one-year chart, and the last one-month chart show that LIBOR rates have been decreasing even as mortgage rates for 30-year fixed-rate mortgages have rebounded a bit. These are often based on the long-term U.S. bond. ARR owns these too.
Click to enlarge images.

If you look at both the most recent month 12-month LIBOR chart and the decades-long chart, you can see that LIBOR rates are likely at or very near a bottom, even though a clear bottoming pattern has not occurred. You should also be able to see that it is very unusual for LIBOR rates to be this low. The likely rebound in LIBOR rates bodes well for ARR's LIBOR holdings performance in future quarters.
Since ARR also holds long-term fixed RMBS, you will also want to take a look at the U.S. Treasury 30-year bond yield as an indicator of where fixed-rate mortgage rates are headed.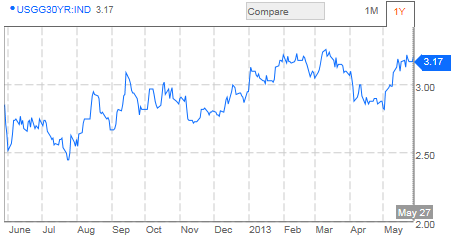 As you can see, the U.S. Treasury 30-year bond yield took a dip in the first part of Q2 2013, but it has since recovered nicely. Plus, it is up considerably from its lows of 2012. Presuming U.S. Treasury 30-year bonds do not fall dramatically between now and the end of Q2 2013, this should translate into slightly higher book valuations for ARR's agency fixed-rate RMBS. These fell in value from the end of Q4 2012 ($7.29 per common share) to the end of Q1 2013 ($6.69 per common share) by approximately -8.2%. ARR should see a rebound in book value in Q2 2013.
Other mortgage REITs with large holdings of U.S. agency fixed-rate mortgages have predicted rebounds in book value for Q2 2013 of 30%-70%. More seemed to espouse the low-end figure. Regardless, it seems likely that ARR's agency fixed-rate RMBS will rebound by 30% or more. This would put the book value at approximately $6.90 per common share. Of course, ARR may lose a little bit of book value on its ARMs, which are pegged to the more slowly bottoming LIBOR rates. Still at a stock price of $5.55 per share, ARR appears to be significantly undervalued. It is a buy.
When you look at the CPR (constant prepayment rates) for the previous two quarters and Q2, the current quarter, the charts below of these rates tend to confirm that thinking.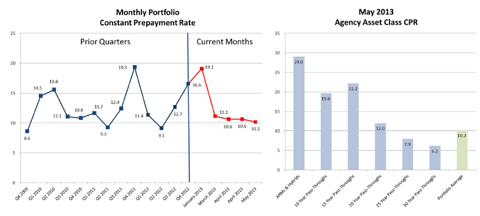 The overall portfolio chart on the right shows that the CPRs topped out in the January-February time frame of 2013. They have since fallen to much lower levels. The portfolio average annualized CPR for Q4 2012 was 14.1%. For Q1 2013, the average annualized CPR was 15.7%. This rise no doubt contributed to ARR's book value loss during Q1 2013. However, the average CPR values for Q2 have been in the 10.0 to 11.0 range. An implied average annualized CPR of approximately 10.5 for Q2 2013 should help book value rise nicely in Q2 2013. To finally put all of the above argument in context. The table below of ARR's holdings as of May 8, 2013, gives a good overall view of ARR's holdings.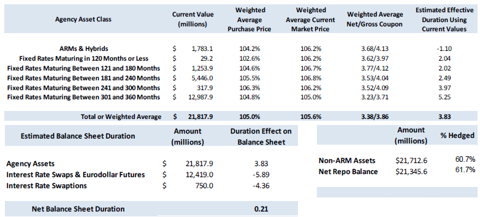 While the above table is slightly more accurate that simple information, it is also a bit hard to decipher. As of March 31, 2013, ARR's portfolio consisted of 92.2% fixed-rate agency securities and 7.8% ARMs and hybrid ARMs (longer than 18-month resets). These last general figures should give you good figures to use to ballpark the arguments made above about ARR's likely book value rebound in Q2 2013.
All of the above is critical to understanding what ARR's performance is likely to be in the future. However, one must also keep in mind that ARR has still performed well. In Q1 2013 it had estimated taxable income of approximately $86.0 million. This represented a 13.8% annualized yield on Q1 2013 weighted average paid-in-capital. The common dividend was $0.24 per share in Q1 2013. This was approximately 17.3% annualized at the closing stock price on May 24, 2013, of $5.55 per share. The currently declared $0.07 per common share per month dividend is a 15.1% annual dividend at that same stock price. These are both great dividends.
The core income was approximately $79.8 million, or $0.24 per common share. The GAAP income was approximately $102.3 million, or $0.27 per common share. Realized gains on agency securities sales were $18.5 million, or $0.05 per common share. Average yield on assets was 2.33%, and average net interest margin was 1.35%. Admittedly, ARR's net interest margin is lower than major agency RMBS mortgage REIT, American Capital Agency Corp. (NASDAQ:AGNC). AGNC had a net interest spread of 1.87% (or 1.52% without dollar roll income) in Q1 2013. However, ARR's net interest margin is higher than another major agency RMBS mortgage REIT, Annaly Capital Management Inc. (NYSE:NLY). NLY had a net interest spread of only 0.91% in Q1 2013. To me this means ARR is a good, if not great, performer. At a stock price of $5.55 per share, it is trading at a 24% discount to my ballpark book value estimate of $6.90 per share. ARR is a buy at its current stock price.
The two-year chart of ARR provides some technical direction for this trade.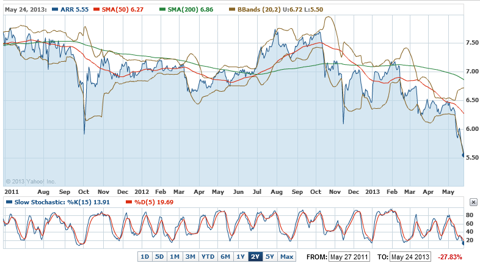 The slow stochastic sub chart shows that ARR is at oversold levels. The main chart shows that ARR is touching its lower Bollinger Band (oversold). It is also far oversold when compared to both its 50-day SMA and its 200-day SMA. This means now is likely a good time to buy ARR. The fundamentals are not deteriorating at the moment. In fact, they are improving in the near term. There is a lot of scare rhetoric about the Fed behavior out there, but that's what it is so far -- rhetoric. The economic situation in Europe seems to be worsening. This could easily hurt the U.S. economy. That would mean that the Fed would continue to be involved heavily with QE for an extended period.
You will always be given ample opportunity to sell ARR and other mortgage REITs, especially if you are following the U.S. and world economies. The 15.1% dividend payout is too attractive to ignore, especially when much of the rest of the stock market is overbought. The most of the rest of the market also pays far lower if any dividends. This article has covered the logic of the dividend cuts. You should be able to see for yourself that another one is unlikely soon. Rather, a raise in the dividend rate is more likely in the near term. This means the stock price, which is at an approximate 24% discount to book value, is likely to go up near term. Even traders might want to invest in this stock.
The one caveat is that the overall market is still overbought. A significant pullback has not occurred recently. Yet much of the economic news in the U.S. and around the world has been negative. A significant pullback in the U.S. equities markets is likely soon. If this occurs, ARR's stock price would likely fall in sympathy with other equities. Still, it would also probably rebound quickly. At its far oversold state, ARR is a buy. If you want to be safer, you can average into ARR over the next year or so. This would tend to average out any economic hiccups world economies may go through. The average analysts' recommendation for ARR is 2.4 (a low buy). CAPS gives ARR four stars (a buy) rating. Remember, "Don't fight the Fed." ARR stock looks set to rebound nicely.
Note: Some of the above fundamental financial data is from Yahoo Finance.
Disclosure: I have no positions in any stocks mentioned, but may initiate a long position in ARR over the next 72 hours. I wrote this article myself, and it expresses my own opinions. I am not receiving compensation for it (other than from Seeking Alpha). I have no business relationship with any company whose stock is mentioned in this article.