In my opinion, Lorillard (NYSE:LO) is currently one of the best tobacco companies in the world. It is certainly the best company in the US and is outperforming its larger, international peer Philip Morris (NYSE:MO), on both sales volume, margins and shareholder returns.
In addition, Lorillard has one of the strongest yields on offer out of the four public US listed tobacco companies. So, without further a do here is the investment case for Lorillard laid out in six charts.
Throughout this piece, I will have to assume that menthol tobacco products do not get banned by the federal government. If menthol is banned then it could be game over for Lorillard but currently, not many analysts see this as a near-term risk.
Growing share of the market

Across all metrics, Lorillard's share of the tobacco market has grown during the past three years. In addition, amongst its peers, Philip Morris, Reynolds American (NYSE:RAI) and Altria (MO), Lorillard has been the only company to have achieved compounded growth in the volume of tobacco sold during the last year.
| | |
| --- | --- |
| Company | YoY Change in Tobacco Volume Sold |
| Philip Morris | -6.5% |
| Lorillard | 3.6% |
| Reynolds American | -8.6% |
| Altria | -5.3% |
Even Philip Morris, with its international exposure, has not been able to achieve the same kind of volume growth that Lorillard has during the past year.
Moreover, Lorillard's leading brand, Newport, continues to capture a larger portion of the retail tobacco market.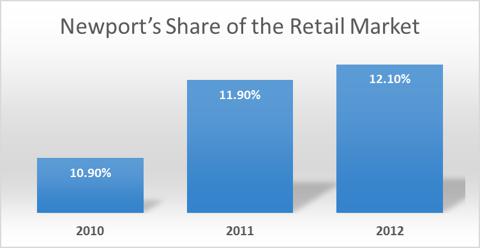 Rising net income
With growing sales come rising profits and as Lorillard is not suffering the same decay in its sales volume as other brands, the company is able to pocket higher profits as its increases its prices in-line with those of its competitors.
(As tobacco is relatively price inelastic, producers are able to increase prices in order to offset a fall in demand and maintain their level of profitability. Lorillard is scoring a home run with this strategy as the company's volumes are rising, not falling, and the company is increasing prices inline with competitors, which is driving profits higher.)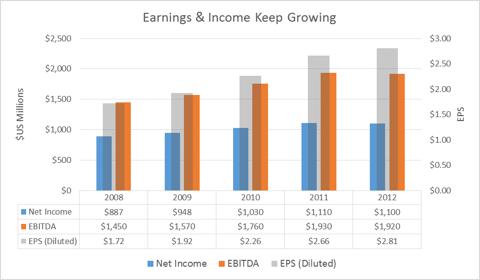 Lorillard's net income has expanded by 24% during the last five years, however, EBITDA has grown 32% and EPS have grown just under 50%. The majority of the earnings-per-share growth is due to the reduced number of shares in issue.
Shareholders are reaping the benefits from the company's rising EBITDA.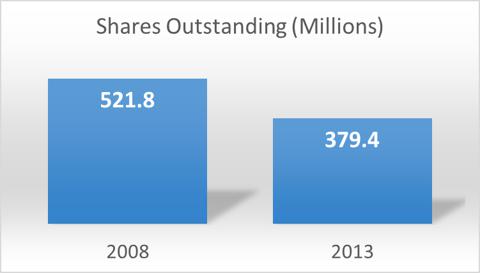 A strong free cash flow has given Lorillard plenty of cash to return to shareholders. Indeed, through a mixture of borrowing and retained profits, the company has brought back 27% of its issued share capital during the last five years and returned on average 80% of its net income to shareholders.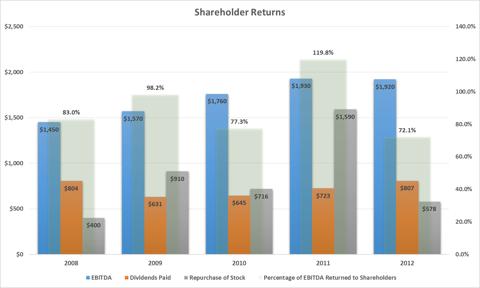 Lorillard had a solid cash balance when it was spun off in 2008 but the company has used low interest rates to increase borrowing and return additional cash to shareholders.
Lorillard's debt
| | | | |
| --- | --- | --- | --- |
| | Maturity | Value (Millions) | Coupon |
| | 06/23/2019 | $750 | 8.125% |
| | 05/01/2020 | $750 | 6.875% |
| | 05/20/2023 | $500 | 3.75% |
| | 08/04/2016 | $500 | 3.5% |
| | 08/21/2017 | $500 | 2.3% |
| | 08/04/2041 | $250 | 7% |
| | 05/01/2040 | $250 | 8.125% |
| Average | | $3,500 | 5.66% |
Currently, with a total debt pile of $3.5 billion, Lorillard has a debt to EBITDA ratio of 1.8 times, and an average interest rate on its debt of 5.7%, or $198 million, which is covered slightly less than ten times by EBITDA. However, when taking into account the company's earnings yield, the debt funded buybacks appear to be significantly beneficial for the company.
Earnings Yield
Earnings yield as defined by Investopedia:
"The earnings per share for the most recent 12-month period divided by the current market price per share. The earnings yield (which is the inverse of the P/E ratio) shows the percentage of each dollar invested in the stock that was earned by the company…Money managers often compare the earnings yield of a broad market index (such as the S&P 500) to prevailing interest rates, such as the current 10-year Treasury yield. If the earnings yield is less than the rate of the 10-year Treasury yield, stocks as a whole may be considered overvalued. If the earnings yield is higher, stocks may be considered undervalued relative to bonds."
In addition:
"With the after-tax cost of borrowing equal to the earnings yield (E/P) of the shares, the share repurchase has no effect on the company's EPS. However, if the after-tax cost of borrowing is greater (less) than the earnings yield, EPS will be less (more) than its pre-repurchase level."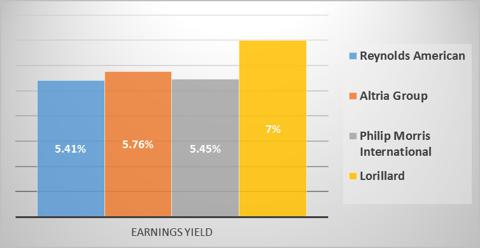 Lorillard's earnings yield is the highest of its three major peers, indicating that the company is undervalued vs. the rest of the group. Moreover, the company's earnings yield is higher than its average cost of borrowing, suggesting that EPS will continue to be pushed higher by debt funded buybacks as long as the rate of interest remains below 7%.
Conclusion
So overall, the investment case for Lorillard is simple, the company continues to take market share from its competitors, which is driving earnings higher and supporting the company's solid free cash flow.
On average, Lorillard is returning 80% of its income to shareholders per year based on a combination of dividends and debt-funded stock buybacks.
Additionally, Lorillard has the lowest earnings yield of its competitors indicating the company could offer the best value in the sector right now.
Disclosure: I am long LO. I wrote this article myself, and it expresses my own opinions. I am not receiving compensation for it (other than from Seeking Alpha). I have no business relationship with any company whose stock is mentioned in this article.