In my never-ending search for dividend-paying stocks, Waste Management, Inc. (NYSE:WM) caught my attention with its dividend of 3.4%. In this article, we will be looking into WM's results over the past 5 years. At several points, we will use Stericycle Inc. (NASDAQ:SRCL) and Waste Connections, Inc. (NYSE:WCN), for comparison.
Let's start by looking at WM's revenue and income over recent years.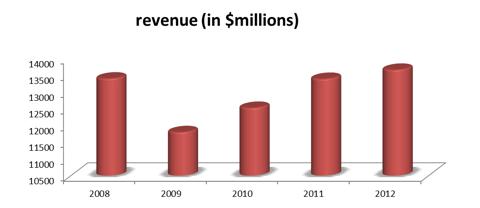 Click to enlarge
(Click to enlarge)
As we can see, revenue dropped severely in 2009, when it dropped to 11.8 billion dollars (compared to $13.4 billion in the previous year. Since then, revenues have been climbing, reaching $13.6 billion in 2012.
However, net income hasn't shown the same recovery, as we can see in the next graph.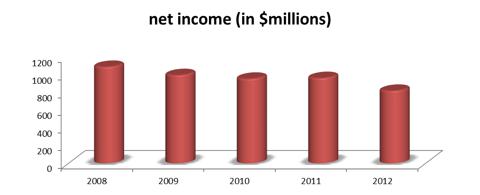 Click to enlarge
(Click to enlarge)
Over the past 5 years, net income has been dropping year after year. In 2012, net income came in at only $817 million, almost 25% lower than in 2008, when it was at $1087 million. Earnings per share have dropped to $1.76, which is almost 20% lower than in 2008.The explanation for this is simple: WM's operating costs have gone up dramatically.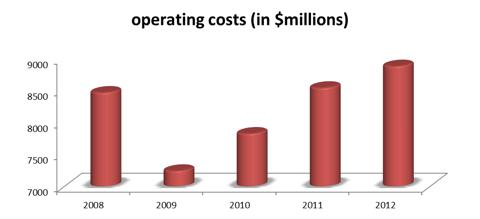 Click to enlarge
(Click to enlarge)
In 2012, operating costs went up by $338 million compared to 2011, reaching $8.879 billion. One explanation for this is the rise in Diesel prices. This is a continuing risk for WM, as is mentioned in its 2012 10-K:
"Significant shortages in fuel supply or increases in fuel prices will increase our operating expenses.

The price and supply of fuel can fluctuate significantly based on international, political and economic circumstances, as well as other factors outside our control, such as actions by the Organization of the Petroleum Exporting Countries, or OPEC, and other oil and gas producers, regional production patterns, weather conditions and environmental concerns. On average, diesel fuel prices increased 3% and 29% for 2012 and 2011, respectively. We need fuel to run our collection and transfer trucks and our equipment used in our landfill operations. Supply shortages could substantially increase our operating expenses"
Giving back money to shareholders: dividends and share buybacks
So far, WM doesn't really look like the kind of sustainable dividend payers I like to invest in. However, the dividend of well over 3% still sounds very appealing. WM also regularly purchases its own shares, thus returning more money to shareholders.
Let's look at the dividend first. At 3.4%, it's a lot higher than WCN's 1%. SRCL doesn't pay any dividends. But can WM continue to pay this much in dividends when its net income has been going down year after year?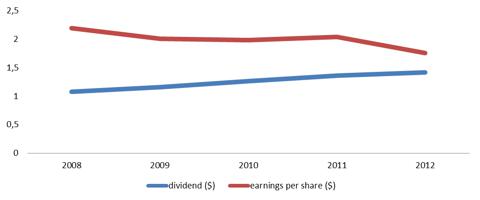 Click to enlarge
(Click to enlarge)
Despite the drop in earnings over recent years, WM hasn't lowered its dividend. Instead, it has chosen to raise the payouts to shareholders. This has caused WM's payout ratio to go from 49.3% in 2008 to 80.7% in 2012.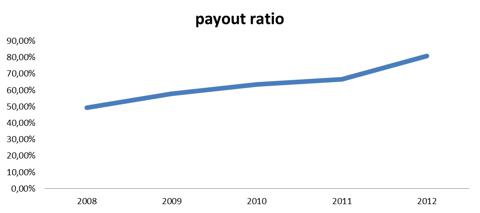 Click to enlarge
(Click to enlarge)
Of the 3 companies in this article, WM is the only one that has managed to reduce its number of shares. Share repurchases are positive because as the total number of shares goes down, each remaining share represents a bigger piece of the company. Between 2008 and 2012, WM's share count has gone down by 31 million, from 495 million to 464 million.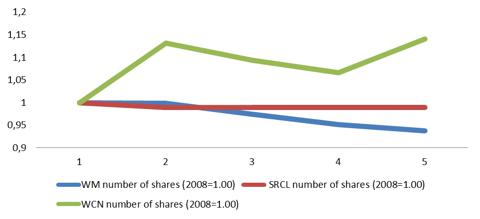 Click to enlarge
(Click to enlarge)
Valuation
To determine if WM's current valuation is justified, we will start by looking at its price to book ratio. As we can see, with a p/b ratio of 3.1, WM is a lot cheaper than SRCL. However, WCN's p/b ratio is at only 2.6.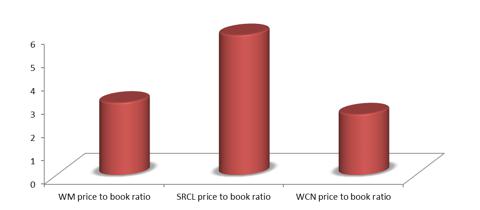 Click to enlarge
(Click to enlarge)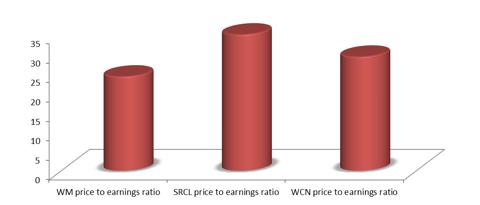 Click to enlarge
(Click to enlarge)
When we look at the p/e ratios for these 3 companies, WM appears to be cheaper than the others, with a p/e of 24.2, compared to SRCL's 35.0 and WCN's 29.3.
However, a few at WM's historical price to earnings ratios shows us WM is far above both its 5- and 10-year averages.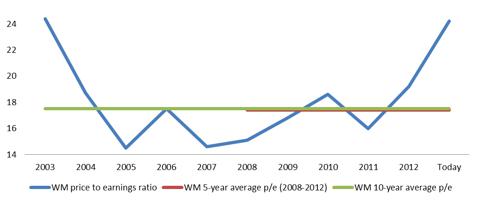 Click to enlarge
(Click to enlarge)
WM's 5 year average p/e might be hard to see in this graph as it is almost identical to its 10-year average. (17.4 for the 5-year average and 17.5 for the 10-year average.)
Conclusion
WM has seen its income go down year after year, but is still increasing its dividend. The payout ratio has already gone over 80%. At some point, WM will have to cut costs or increase its income, or the dividend will become unsustainable. Fuel prices can be a serious risk, as a rise in fuel costs would leave WM with even less profit.
Despite the dividend of 3.4%, at a p/e that is much higher than both its 5- and 10-year averages, WM is not the stock for me.
I'd love to hear your thoughts on WM, SRCL and WC. Feel free to comment below.
Disclosure: I have no positions in any stocks mentioned, and no plans to initiate any positions within the next 72 hours. I wrote this article myself, and it expresses my own opinions. I am not receiving compensation for it (other than from Seeking Alpha). I have no business relationship with any company whose stock is mentioned in this article.