This is Part 5 of a series of articles that will compare the risk profiles for the 25 business development companies ("BDCs") recently covered in my "The Good, The Bad, And The Maybe" series. This article focuses on the amount of industry diversification in each BDC portfolio compared to the recommended sector weightings provided by various independent research firms, given the current phase of the U. S. economy, as well as investing specifically in the financial sector.
Previous Risk Profile Articles:
When evaluating BDCs, I focus on five general criteria: profitability, risk, payout, analyst opinions, and valuation. When assessing risk relative to other BCDs, I take into account many factors including: portfolio credit quality, investment asset classes, diversification, non-accrual rates, portfolio yield, fixed/variable rate loans, leverage, volatility ratios, market capitalization, insider ownership and trends, institutional ownership and trends, and management/operational history. I will cover each of these areas as well as the other factors I use to rank the risk profiles for each BDC. Below are the current risk rankings for each BDC and for the most recent overall rankings see "Latest BDC Rankings For Q1 2013".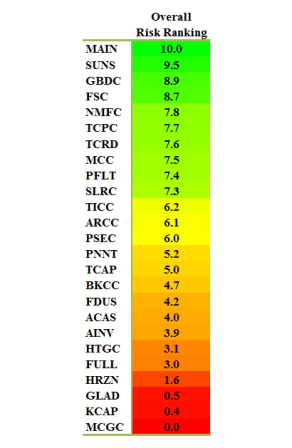 U. S. Economy and Business Cycle
There are four phases that reflect fluctuations in the economy, and each phase may have an effect on sector performance. The chart below indicates that the U.S. economy is currently in mid-cycle expansion, based on various analyses of historical trends, and most economists believe we have been in this phase since the second half of 2010.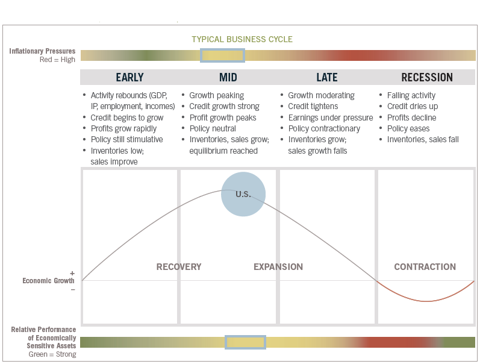 * Source: Fidelity Investments
Sector Recommendations
Recommended sector weightings change according to perceptions of the current position in the business cycle. Asset performance is often driven largely by cyclical factors tied to the state of the economy such as interest rates, corporate earnings, and inflation. The business cycle, which encompasses the cyclical fluctuations in an economy, can be a critical determinant of the performance of equity sectors. The mid-cycle phase is the longest (typically 4 years) and the technology and industrial sectors have historically been the best performers. Moving into the late-cycle phase (which is hopefully years away), energy and materials outperform due to inflationary pressures, and defensive-oriented sectors such as utilities, healthcare, and consumer staples, generally perform well. Below are two examples of expected sector performance by phase.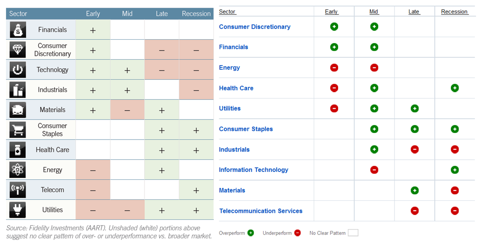 The chart below shows sector recommendations by two research firms on a relative basis, with performance measured relative to the S&P 500 Index benchmark.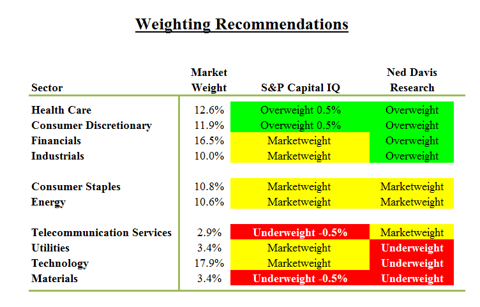 The Financial Sector
The financial sector (including BDCs) benefits from low interest rates and growing credit during the early and mid-cycle phases. Assuming we are in a four year mid-cycle that would end in late 2014 and then an 18 month late-cycle, the BDC industry has a few years before a potential recession, but as we have already seen, there will be yield compression and eventually a tightening of credit. However, there is not always a chronological progression in this order, and there have been cycles when the economy has skipped a phase or retraced an earlier one.
Some analysts are overweight the financial sector based on an outlook for improving credit conditions, moderate economic growth, and a favorable stock market environment. The sector also ranks high in both fundamentals and technicals. Outperformance relative to the S&P 500 over the past three months has come from Diversified Financials and Insurance.
BDC Portfolio Weightings
Obviously BDCs are in the financial sector, but have portfolio companies in various industries that should be taken into account when assessing risk. Many of the non-accruals have been occurring in the education and defense industries. Education is usually lumped in with healthcare, and defense is included in industrials, both of which have overweight recommendations, making it necessary to dig into the industry breakdown. Some BDCs have excellent diversification and are weighted toward sectors that should benefit, given the current economic phase such as Fidus Investment (NASDAQ:FDUS), Ares Capital (NASDAQ:ARCC), and Medley Capital (NYSE:MCC), all with large amounts of healthcare, consumer discretionary, and industrials as seen in the charts below.

The two BDCs with the least amount of industry diversification are Horizon Technology Finance (NASDAQ:HRZN) and Hercules Technology Growth Capital (NASDAQ:HTGC) that focus on healthcare, technology, and energy efficiency as seen in the charts below. HRZN targets development-stage companies in the technology, life science, healthcare information and services, and "cleantech" industries. For the environment friendly investors, "cleantech" includes alternative energy, water purification, energy efficiency, green building materials and waste recycling. Many of these companies may have limited operating histories and conduct business in regulated industries that could be affected by changes in government regulations as discussed in this article.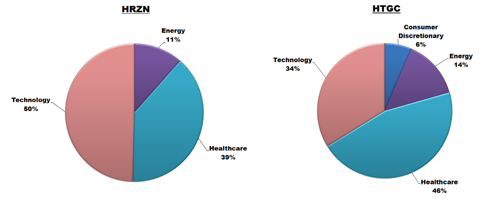 The chart below ranks each BDC, taking into account the overall diversification as well as the sectors that are likely to outperform. I consider a rank above 7 to be adequately diversified and above 9 to be exceptional including FDUS, ARCC, MCC, Main Street Capital (NYSE:MAIN), Fifth Street Finance (NYSE:FSC), and THL Credit (NASDAQ:TCRD).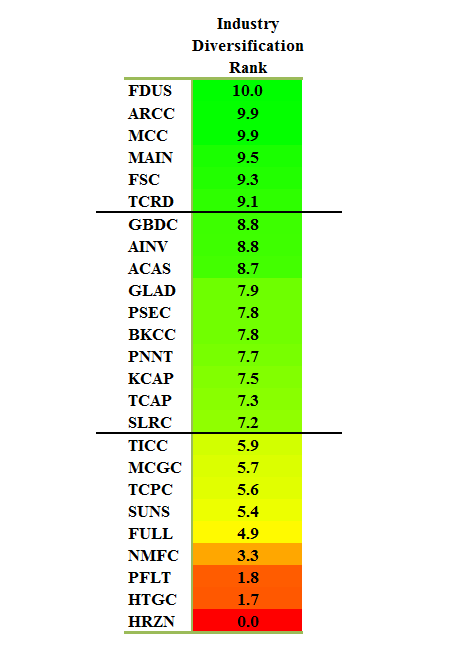 I am far from an expert in analyzing economic cycles and trends, and rely on the research of others. Industry diversification is a small part of the overall BDC risk ranking, and I put much more emphasis on the factors covered in previous articles as well as the ones to come. I take into account sector recommendation for my portfolio as a whole, of which BDCs are a portion.
Industry diversification, market capitalization, insider and institutional ownership, leverage, volatility ratios, portfolio investment grades, and non-accruals are just some of the many considerations when evaluating risk for BDCs and I will try to cover the basics in the remainder of this series.
For more information about BDCs and how I evaluate them, please see this article.
Disclosure: I am long TCPC, MAIN. I wrote this article myself, and it expresses my own opinions. I am not receiving compensation for it (other than from Seeking Alpha). I have no business relationship with any company whose stock is mentioned in this article.