Tim McAleenan just published a great article titled "4 Steps To Disaster-Proof Your Dividend Portfolio." Tim points out that while the S&P 500 returns on average 7% a year, quite unfortunately the typical investor realizes only about 3%. Tim rightly cites the main issue that keeps the average investor from obtaining less than average returns, selling too low. This article presents a portfolio created by applying Tim's 4 steps and outlines the methodology to create a similar construct yourself.
We sell too low because of anxiety, often because we have not constructed a portfolio in which we can have faith. If we own a collection of shaky companies with histories of uneven results, when economic disasters hit and the market plummets, those fears may be justified. The highly levered company with a large payout ratio may garner us a high yield, temporarily. However, that kind of company will decline the fastest and the most in times of economic hardship. Tim proposes that we select our stocks using four rules, which will make our portfolios as disaster proof as is possible. In addition, knowing the resilience of our holdings, their history of providing dividend income through good times and bad, we can brace ourselves against the temptation to sell in a panicking market.
Tim says, "Almost all misery in the stock market for income investors could be avoided if you:

Limit your exposure to the financial industry to 10% or below.
Own companies that have been raising dividends for 20+ years.
At the time of purchase, own companies that have been growing earnings and dividends by 5% annually for the past decade.
Diversify into 20+ holdings across 6+ sectors that share those characteristics (20+ years of dividend growth, and 10-year track records of at least 5% earnings and dividend growth) with limited exposure to the financial sector."
Using David Fish's CCC Spreadsheets, I first selected all the Champions, the stocks with histories of paying increasing dividends for over 25 years. Then I added all the Contenders with 20 to 24 years of increasing dividends. Next, I sorted by 10-year average DGR and eliminated all those that were under 5%. The remaining list I sorted by yield. Not wanting to have more than 10% of the portfolio in financials, I eliminated all but the top two in that category.
Please find below the Disaster Proof Dividend Growth Portfolio, or at least a version of it based on Tim's 4 rules. Certainly, this collection of 20 stocks should provide a fertile field in which to look for stabilizing influences for your portfolio. Indeed, after doing your due diligence on the stocks, you might decide to adopt it as it is.
Some of the stocks selected are very popular with Dividend Growth Investors: AT&T (NYSE:T), Kimberly-Clark (NYSE:KMB), McDonald's (NYSE:MCD), Procter & Gamble (NYSE:PG) and Johnson & Johnson (NYSE:JNJ), for example. Others are less well known. Meredith Corporation (NYSE:MDP) is the publisher of the venerable Better Homes and Gardens and 17 other well-known titles such as Family Circle, Ladies Home Journal and Country Life. McGrath RentCorp (NASDAQ:MGRC) is in the business of supplying portable classrooms, storage containers and renting electronic test equipment.
The lowest yield on the list of 20 is 2.89%. However, there is no "yield" criterion in the rules. If you wanted to you could add some stocks with lower yields and create a larger portfolio. If we set a yield hurdle at 2.5%, these could include Pepsico (NYSE:PEP), Coca Cola (NYSE:KO), General Parts Corporation (NYSE:GPC), Exxon-Mobil (NYSE:XOM), Wal-Mart (NYSE:WMT) and Automatic Data Processing (NASDAQ:ADP), to name a few.
It is heartening to see that even with the high criteria for longevity of dividends we still have a very respectable average yield of 3.73%. This, coupled with a Dividend Growth Rate of 11.31 totals 15.04, in excess of the often sought after Chowder factor of 14. These stocks are wealth builders.
Thanks Tim. We can all sleep a little better at night by applying these four principles.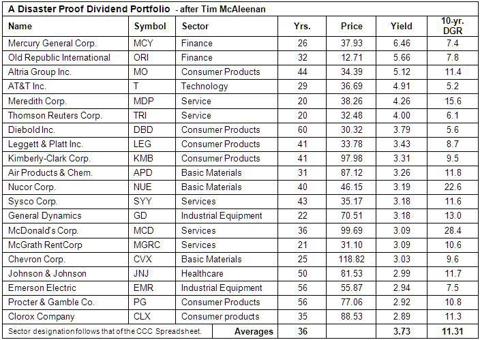 Addendum- May 29, 2013: There was a flaw in my methodology, which had unintended consequences. I made the selections for the original table with one of the screens being simply the 10-year average Dividend Growth Rate. That did not eliminate a number of companies, which had a 10-year DGR that averaged over 5%, but had done much less well in the last 5 years.
In the below list, they all have both a 5-year and 10-year dividend growth rates of over 5%. In addition, none has a 3-year and 1-year DGR that are both under 5%. Further, they all have an average EPS growth rates of over 5% for a 15-year period.
My apologies to Tim McAleenan Jr. for the unintentional misapplication of his ideas and to David Fish, for not using his CCC Spreadsheet in a more intelligent manner. My apologies also to the SA editors and readers.
I am sure the below list is much more representative of what Tim had in mind. Additional details will be presented in a follow-on article.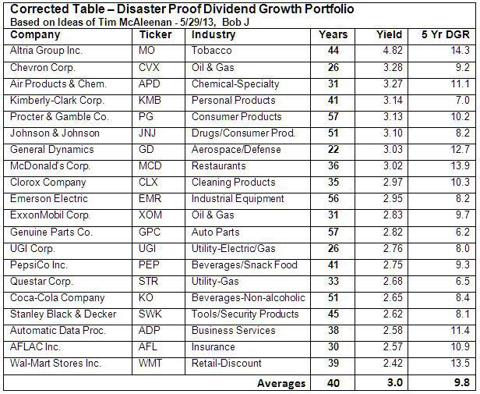 Disclosure: I am long JNJ, KMB, MCD, PG, T. I wrote this article myself, and it expresses my own opinions. I am not receiving compensation for it (other than from Seeking Alpha). I have no business relationship with any company whose stock is mentioned in this article.