Joy Global, Inc. (NYSE:JOY) will announce quarterly earnings on Thursday, May 30 before the market opens. The company manufactures and services mining equipment for the extraction of coal, copper, iron ore, oil sands, and other minerals. It has a large presence in China, and the stock often seems to fluctuate in accordance with the latest reading on the Chinese industrial situation.
In early April, China announced that economic activity had improved significantly. Imports grew 14% year-over-year as exports rose 10%. The import number blew past expectations, which were only calling for an increase of 5%. Alcoa (NYSE:AA) and Ford (NYSE:F) also reported that they expected good growth this year in China. In spite of this positive news for companies like JOY and Caterpillar (NYSE:CAT), their stock has hardly budged since these encouraging reports.
JOY sports a trailing P/E of only 7.8 and a 20% long-term growth rate, and a well-covered 1.3% dividend rate (pay-out ratio only 10% which means that an increase could be in order at any time). A recent Seeking Alpha article reported that the company was currently undervalued according to several valuation models, and I would agree with those findings.
What might we expect for JOY when earnings are announced this week? Let's check the results after the earnings announcement for the past five quarters, with the stock price change from the close on the day before the announcement until the closing price on Friday (when the weekly options expire):

Options are predicting a change of 6.4 % for this announcement which seems to be exactly in line with the largest percentage changes that have taken place over the past five quarters. The largest change was 6.5% after the company bested estimates by 4.7%. In the most recent quarter it clobbered estimates by 14.9% but the stock moved up by only 3.5%.
Over the last several months, I have been testing the proposition that the level of expectations prior to an earnings announcement is a better indicator of what the stock price will do than the actual earnings themselves. I summarized the variables that I used for this Expectation Model in a Seeking Alpha article - A Remarkably Reliable Way To Predict Post-Earnings Price Moves.
The basic premise of the model is that if expectations are usually high, there is an excellent chance that the stock will be flat or fall after the announcement, regardless of how much the company might surpass estimates, and conversely, the stock is more likely to move higher when expectations are low, even if estimates are merely met.
I have had some serious success with this model, including ten consecutive winning pre-earnings calls (average gain about 20%) without a loss - see results and update. Five of the earnings plays were published in Seeking Alpha before the announcement - see examples JPMorgan (NYSE:JPM) or Green Mountain Coffee (NASDAQ:GMCR).
So where does JOY stack up by these measures? Expectations seem to be on the low side. The stock is trading below its 50-moving average and has fallen about 5% during the last week leading up to the earnings announcement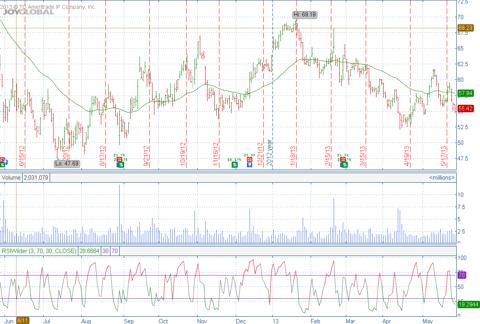 This recent stock action is a strong sign that expectations are not especially high at this time. With such good fundamentals and a relatively low level of expectations, it seems unlikely that there will be a big drop in the stock price after the announcement.
Another indication that the stock might be headed higher is that RSI has fallen to 19, putting it in oversold territory. The company has a consistent record of moving higher after becoming oversold. Even more significant, the stock gapped down a few days ago and needs to move up $1.25 to fill that gap. Every gap move for the last year has eventually been filled. Of course we can't be certain that the fill will take place next week, but it is further support for the contention that the odds favor an upward move.
A recent Seeking Alpha article paints a rosy picture for JOY - "Given JOY's current levels of backlog and still solid international aftermarket demand, the company has relatively good visibility in 2013." - Can Joy Global Continue To Enjoy Success In The Aftermarket? This article gives further assurance to our conclusion that a big drop in the stock price is unlikely.
One disquieting note concerns the large number of institutional sales over the past quarter - over 14 ½ million shares were sold out of a total 106 million shares outstanding, or about 14% of the total. I suspect that much of this selling was a response to the rumors of a deterioration of Chinese industrial activity, and selling JOY was an easy way to reduce institutional exposure in that country.
There is also a relatively high short interest ratio (9.5%) for a stable and dividend-paying company such as JOY (this raises the possibility of a short squeeze if estimates are exceeded).
We might learn something by looking at the Caterpillar experience when they announced earnings a few weeks ago. Check out the remarkably similar price moves for JOY and CAT over the past year: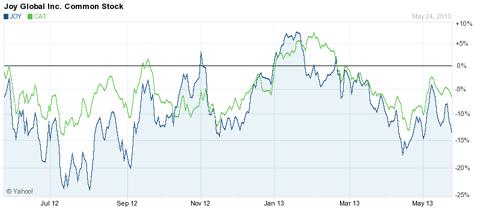 What CAT announced on April 22nd before the market opened, expectations were low, mostly on fears of the weakening economy in China. The stock had traded steadily down for over a month. When earnings were announced, they were disappointing. The company missed, reporting $1.31 while estimates were $1.34. In spite of the miss, the stock rallied from $54.21 before the announcement to $56.60 at the close on Friday, an increase of 4.4% after the company missed estimates. If expectations had been the least bit high, the stock surely would have tanked with an earnings miss. (This was further proof for our hypothesis that expectations are more important than the actual results when it comes to where the stock heads after the announcement.)
My conclusion is that with expectations so low and with an attractive fundamental valuation at present, there is a very good chance that JOY will be trading higher after the announcement. If you like JOY I would recommend buying it now rather than waiting until after the announcement. With the high pre-earnings option prices that exist right now, a buy-write strategy should be good for some short term gains as well.
If you prefer options (as I do), with JOY trading about $55.24 I would buy an equal number of July-13 - May5-13 (expiration 5/31/13) calendar spreads at the 52.5 and 55 strikes using puts and at the 57.5 and 60 strikes using calls. If you bought 5 calendar spreads at each of those strikes, you would shell out about $3000 and this is what the risk profile graph would look like assuming that IV of the July options would fall from its present 38 to the 35 it sported after the last announcement:

The graph shows that a gain should be made if the stock falls by less than 5% on the downside, and it can go up by about 8% before a loss situation would occur on the upside. A small upside change consistent with the 6.5% maximum change over the past five quarters should result in a gain in the neighborhood of 20%.
I am confident that this strategy will add to my string of consecutive successful earnings announcement plays. My record of ten straight profitable trades without a loss must mean that either I have been incredibly lucky or there is some merit in my Expectation Model (and the real truth probably lies somewhere in between). In any event, we will know more in just a few days.
Disclosure: I have no positions in any stocks mentioned, but may initiate a long position in JOY over the next 72 hours. I wrote this article myself, and it expresses my own opinions. I am not receiving compensation for it (other than from Seeking Alpha). I have no business relationship with any company whose stock is mentioned in this article.