When Facebook's (NASDAQ:FB) IPO was launched last year, I was surprised at the pricing and the excitement. I personally love Facebook as a social networking platform. However, the pricing did not justify the fundamentals one iota. More than a year after its IPO, I am more hopeful about Facebook. This article discusses the reasons for considering that the Facebook story is not over.
The trigger point of writing this article was when two of my friends, who have a small business (in Asia), discussed with me the positive benefits derived out of having a Facebook page for their business. More importantly, they were happy that their business could gain visibility and more page likes just by paying a nominal 5-10 dollars on a daily basis for advertisement. There is no doubt about the fact that average revenue per user of $1.35 is still minimal. However, the revenue per user is on an uptrend and new advertising initiatives by Facebook might just make things better in the future.
I have a few important observations from Facebook's first quarter presentation. I believe these factors will be revenue drivers for the social networking platform going forward.
The first chart gives the daily active users for the last nine quarters. The daily active users have increased from 372 million in the first quarter of 2011 to 665 million in the first quarter of 2013. What I want to highlight here is the growth in the number of users excluding US, Canada and Europe. Asia and the rest of the world constituted 39% of Facebook users in 1Q11. This has increased to 52% in 1Q13. As the trend suggests, growth in daily active users has primarily come from Asia and the rest of the world. I am of the opinion that growth for Facebook will come from emerging markets more than the developed markets. I must mention here that the trend is similar for monthly active users.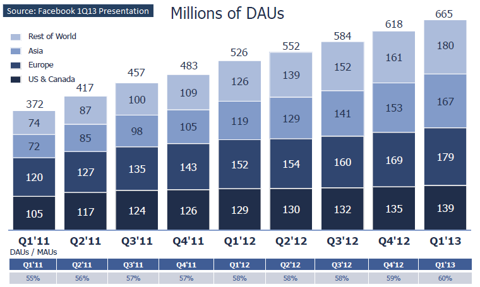 Click to enlarge
Investors will point out that user growth was always there and revenue growth is what matters at this point of time. I completely agree and I would shift focus to the geographical revenue growth trend. The chart below gives the advertising revenue for nine quarters in terms of geographical divide.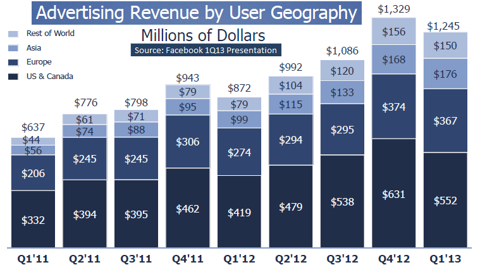 Click to enlarge
For 1Q13, nearly 76% of the revenue contribution came from the US, Canada and Europe. This is significant considering the monthly active users from this region. It is also natural as the online advertising trend and spend still has significant upside in the emerging markets. What is important to note is that the revenue contribution from US, Canada and Europe for 1Q11 was 85%. Therefore, there is a gradual increase in advertising revenue from emerging markets.
To put things into perspective, the advertising revenue per user in Asia has increased to $0.64 in 1Q13 from $0.53 in 1Q12. Also, the ARPU for the rest of the world has increased to $0.5 in 1Q13 from $0.37 in 1Q12. Again, this is marginal when compared to US and Canada ($3.5 for 1Q13) and Europe ($1.6 for 1Q13). The important point is that there is a gradual uptrend and it is in sync with gradually higher internet penetration in Asia and other emerging markets.
Another glimmer of hope for Facebook comes from its mobile advertising revenue growth. For the first quarter of 2013, mobile advertising revenue was nearly 30% of the total advertising revenue and monthly mobile active users grew by 54% y-o-y to 751 million.
While discussing these positives and glimmers of hope for Facebook, I am certainly not suggesting that the stock is a buy on an immediate basis or commands cheap valuation with respect to its future growth. The major difference between Facebook at the time of the IPO and now is that the company has finally found some direction and is working on monetizing the huge user base. New advertising products are being launched every quarter and Facebook has also partnered with Datalogix, Epsilon, Acxiom, and BlueKai to enable marketers to incorporate off-Facebook purchasing data in order to deliver more relevant ads to users.
I had discussed the reasons for believing that markets might correct steeply over the next 3-6 months in one of my earlier articles. If Facebook does trend down along with a broad-based market correction, the stock would certainly offer a near to medium-term trading opportunity. For the long-term, investors need to wait with a lot more patience. For now, Facebook would be more of a trading play for me than a buy and hold stock. However, the Facebook story is certainly not over. On the contrary, the best might be yet to come for investors.
Disclosure: I have no positions in any stocks mentioned, and no plans to initiate any positions within the next 72 hours. I wrote this article myself, and it expresses my own opinions. I am not receiving compensation for it (other than from Seeking Alpha). I have no business relationship with any company whose stock is mentioned in this article.