A growing dividend is often a desirable attribute for the income investor, however for some companies this can be difficult to maintain over the long term especially when earnings growth plateaus. Microsoft (NASDAQ:MSFT) has disappointed many investors over the years providing little capital growth since joining the Dow Jones Industrial Average, however after 10 years of dividend payments, is this company worth holding for its dividend alone?
Microsoft first introduced their dividend in 2003 and since then they have been fairly consistent in growing dividends. Dividend increases took a yearly break after the credit crisis hit, however since then dividends have risen by over 15% per annum. The dividend has held at a yield of between 2.5% and 3% for the past five years as dividend growth has offset share price appreciation, and with a current yield of 2.7% it is a nice addition to any capital appreciation this company has to offer.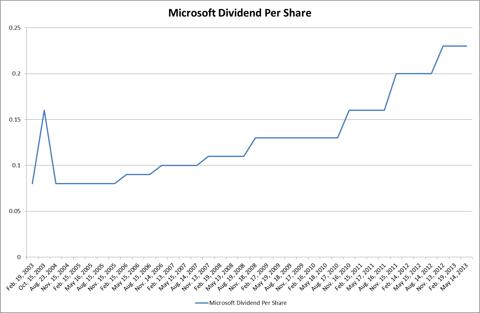 Microsoft's dividend is supported by a strong free cash flow, however as dividends grow, this eats into the amount of free capital available. The current payout ratio is 45%, well above the historical average of 28.52% however with such a strong free cash flow and high cash balance there is plenty of room for dividends to grow before any funding issues will arise.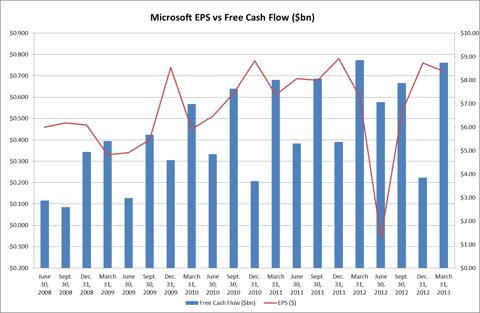 To maintain this strong dividend growth rate at 15% over the long term, earnings are required to grow. Earnings may look to take a leap forward over the coming year as Windows 8 may finally gather pace as the software becomes more widely accepted, and the new Xbox One will undoubtedly cause a substantial boost in revenues once released later this summer.
Strong Cash Balance
Current cash levels are approaching $74bn leaving Microsoft with the flexibility to return further money to their shareholders. Microsoft paid a special dividend of $3 a share back in 2003, and this could be another option for them going forward. This option becomes more likely as their share buy-back program of $40bn, established in 2008 looks to come an end this September freeing up capital usage for other things.
Technology stocks yields have been steadily rising over the past few years and they recently reached a new high, however Microsoft's yield of 2.7% is well above the sector average of 1.56%. Despite the share price rising 28% year to date, the prospects for this company still look attractive, and as clarified from the analysis above, their dividend looks healthy and worthy on its own merit.
Disclosure: I have no positions in any stocks mentioned, and no plans to initiate any positions within the next 72 hours. I wrote this article myself, and it expresses my own opinions. I am not receiving compensation for it (other than from Seeking Alpha). I have no business relationship with any company whose stock is mentioned in this article.