Visa (NYSE:V) and MasterCard (NYSE:MA) -- along with several giant banks, including Citigroup (NYSE:C), Bank of America (NYSE:BAC), and JPMorgan Chase (NYSE:JPM) -- have asked a federal judge to declare that setting fees paid by merchants that accept credit and debit cards aren't in violation of antitrust laws. What the request is about is providing a tool that can be used against a number of retailers that have opted out of a proposed settlement of $7.2 billion, which has been preliminarily approved. The original legal battle began eight years ago over allegations that Visa and MasterCard were inflating the fees retailers must pay for receiving the cards as payment for goods and services.
Retailers Opting Out of the Settlement
Since retailers involved in the original suit had until May 28 to opt out of the agreement, a number of them have already done so. The major reason many retailers are opting out of the suit is because of the inclusion of a provision that would not allow future lawsuits over antitrust violations. If retailers don't opt out of the settlement, it will be legally considered that they have accepted it.
Target (NYSE:TGT), TJX Companies (NYSE:TJX), Saks (NYSE:SKS), Office Depot (NYSE:ODP), Kohl's (NYSE:KSS), Abercrombie & Fitch (NYSE:ANF), Macy's (NYSE:M), and J.C. Penney (NYSE:JCP) have already opted out of the settlement, and others like Gap (NYSE:GPS), Wal-Mart (NYSE:WMT), and Starbucks (NASDAQ:SBUX) said they're going to opt out as well. Target, Macy's, Saks, TJX Companies, Office Depot, Kohl's, Abercrombie & Fitch, and J.C. Penney filed a lawsuit against Visa and MasterCard last Thursday, alleging the companies continue to engage in antitrust behavior. Wal-Mart, Starbucks, and Gap -- among others -- have said they may bring more lawsuits against Visa and MasterCard as well.
They contend they are not being compensated enough for past alleged wrongs by the two companies, while being forced to accept releases for Visa and MasterCard concerning future lawsuits over antitrust issues. Visa and MasterCard have the option of ending the proposed settlement if the merchants opting out reach 25% or more of credit card volume. The National Retail Federation, which represents over 9,000 retailers, has asked its members to reject the settlement.
Visa
Click to enlarge images.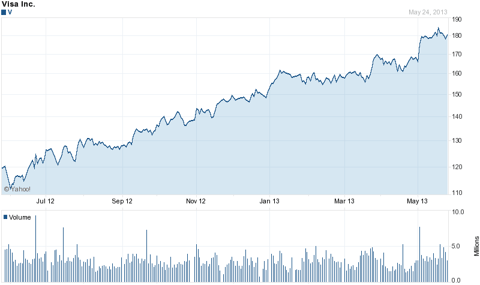 MasterCard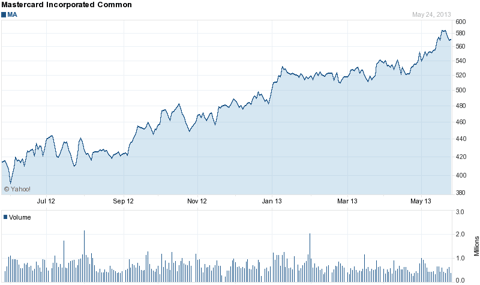 Implication if Judge Rules Fees Don't Violate Antitrust Laws
The complaint filed by Visa and MasterCard on Friday would have a significant impact on the companies if the judge rules that setting fees aren't in violation of antitrust laws. If the judge rules on behalf of Visa and MasterCard, it could stop retailers from pursuing damages in separate lawsuits. It may also stop retailers who opt out from seeking damages concerning swipe fees. In other words, Visa and MasterCard aren't just trying to stop future action against them -- they're attempting to stop damages being inflicted on them from alleged past violations.
Included in the complaint were the National Grocers Association, National Restaurant Association, National Association of Convenience Stores, and National Association of Truck Store Operators -- among others. Along with Visa and MasterCard, plaintiffs in the complaint include the big banks mentioned earlier.
Implications for Visa and MasterCard
If Visa and MasterCard don't reach a settlement with the retailers, it could open a floodgate of lawsuits in the future, which would do some serious damage to the companies. It would be extremely difficult for shareholders and investors to accurately predict the health of the companies if endless legal uncertainties linger over them.
Considering that the two companies are profitable, based largely on swipe fees, it would be extraordinary if they were to be considered illegal (or potentially illegal) and the door to future lawsuits left open indefinitely. The complaint by the plaintiffs said the following: "A declaration in plaintiffs' favor against the defendants is necessary to prevent the continuation of endless, wasteful litigation between defendants and plaintiffs."
That pretty much sums up what Visa and MasterCard face if nothing is really resolved, other than paying out settlement money. Both companies would consider the damages a cheap price to pay to end the ordeal. Those merchants still supporting the settlement, as well as Visa and MasterCard, believe the settlement will be approved.
Conclusion
This is of vital interest to all parties involved, but even more so to Visa and MasterCard, as the fees are their moat. When a company can set prices with little competition, it's like owning the rights to a toll bridge -- all they have to do is sit back and collect the money.
Visa and MasterCard assert if the judge doesn't rule in their favor, the merchants can bring "essentially the same claims" over and over again in new litigation. The fact the retailers are opting out over the ability to file future lawsuits appears to confirm that this is what would probably happen. What the retailers are trying to do is sue Visa and MasterCard in an effort to pressure them to require lower fees. If they sue enough times, both companies would have to lower swipe fees in order to remain viable businesses.
Profitability is what's at stake here with Visa and MasterCard, and whether or not they'll be as attractive in the future as they have been in the past is what is close to being determined. Looking at their terrific performances over the last 12 months, billions are at stake in the battle. For retailers, it's the issue of how much of higher fees they'll have to eat if they are ruled against. There is only so much they can absorb before having to pass it on to consumers. Either way it's not a positive outcome for them, because margins could come under pressure. As usual, larger retail companies will be able to perform better in that environment.
These two scenarios on the opposite sides of the issue is why they have dug in so hard in the battle. One way or the other, the major plays here will be Visa and MasterCard, as the share prices of the companies will move quickly whichever way the decision goes.
Disclosure: I have no positions in any stocks mentioned, and no plans to initiate any positions within the next 72 hours. I wrote this article myself, and it expresses my own opinions. I am not receiving compensation for it (other than from Seeking Alpha). I have no business relationship with any company whose stock is mentioned in this article.