Fortuna Silver Mines (NYSE:FSM) is a primary silver producer with two operating mines in Peru (Caylloma since 2007) and Mexico (San Jose since 2011). The company has been growing production for six years in a row and guidance is for another 10% growth in 2013 to 4.4M ounces of silver and 23,300 ounces of gold. At present the company has a market capitalization of $367M and shares of the company trade for $2.93, a price level last seen late in 2010. Analysts seem to put greater faith in Fortuna than in its peers at the moment with the median analyst price target listed at $5.36 on yahoo.com. The company has $65M in cash plus an untapped $40M credit facility along with no long term debt.
Some time ago we collated an article on country risk exposure of silver mining companies which was based on 2011 data. We are now updating our study using current 2012 year-end data and would like to present our updated results for Fortuna Silver in this article.
The table below provides a summary of production, reserves and resources for Fortuna Silver. We used a silver-to-gold ratio of 50 and only considered precious metals for the assembly of the data for this table.

Click to enlarge
Country risk ratings for numerous countries were collated from eight different sources and averaged into compounded country risk scores. These compounded country risk ratings range from 0 to 100 with low numbers indicating low risk and high numbers indicating high risk. The most recent results from this work can be found in this article. Most definitions of country risk include factors such as political risk, exchange rate risk, economic risk, sovereign risk, transfer risk, socio-economic risk and others. Depending on the source, various contributing factors of country risk are weighted differently. Readers interested in the specific definitions are encouraged to follow the links to our sources given in this article.
Expressing the asset profile above in summations for each country of exposure results in the table below. The data is already calculated in percentages of gold-equivalent ounces. Country risk ratings as documented here are also shown in the central column of the table. The right side of the table shows the weighted risk contributions for each country separately for production, reserves and resources with summarized scores in the bottom line. The individual ratings can be interpreted as ratings going from present risk (production) into the future (inferred resource).

Click to enlarge
Observations
All rating categories yielded similar results ranging from 37.74 to 38.37 indicating moderate country risk exposure throughout. Near term growth is hinges on expansionding production at the Mexican San Jose mine and therefore no dramatic change in country risk exposure is expected. However, as noted in a recent presentation by CEO and President Jorge Ganoza, the company is prepared to use the strong balance sheet to their advantage should an opportunity for a development project present itself.
At the moment Fortuna Silver is one of the safer bets in the silver space when considering exposure to country risk owing to operations in relatively low-risk jurisdictions. As can be seen in the diagram below this situation is practically unchanged from last year's analysis.
Note: last year's statistics did not differentiate between different resource classes.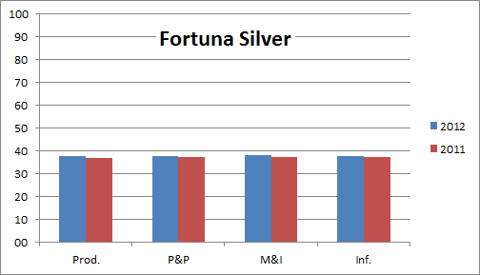 Click to enlarge
Disclosure: I have no positions in any stocks mentioned, and no plans to initiate any positions within the next 72 hours. I wrote this article myself, and it expresses my own opinions. I am not receiving compensation for it (other than from Seeking Alpha). I have no business relationship with any company whose stock is mentioned in this article.