Since the start of the year silver investors have seen value evaporate from the white metal itself and even more so from primary silver mining stocks whose profit margins have been cut severely by the ongoing precious metal price correction. One stock that might be able to offset a large portion of revenue reduction caused by the silver price decline with increased output in 2013 is First Majestic Silver (NYSE:AG).
First Majestic Silver operates five producing primary silver mines in Mexico: the La Parrilla Mine, the La Encantada Mine, the San Martin Mine, the La Guitarra Mine, and the most recent addition to the operations portfolio, the Del Toro Mine. The latter three of these mines are subject to significant expansion projects forecasted to lift year-on-year production by 40% to 12.3M - 13.0M silver equivalent ounces in 2013 and 16M in 2014. Q1/2013 production of 2.73M silver equivalent ounces has been achieved as released on April 15. With Del Toro production reaching commercial levels in the second quarter the company is well on its way to reach guidance in 2013.
First Majestic Silver has a market capitalization of $1.2B and according to Yahoo.com the P/E ratio currently stands at 6.17. Last year's profit margin was a peer-leading 34.73% which was driven by low cost production and disciplined spending; two traits that will be important in 2013 as well. The company is carrying just over $70M in debt, and had $110M in cash and cash equivalents at the end of Q1/2013. First Majestic Silver has managed to create value per share while increasing the share base to finance acquisitions which unfortunately is a rare feat in the silver mining space. With operations all located in Mexico the company's exposure to country risk is comparatively low.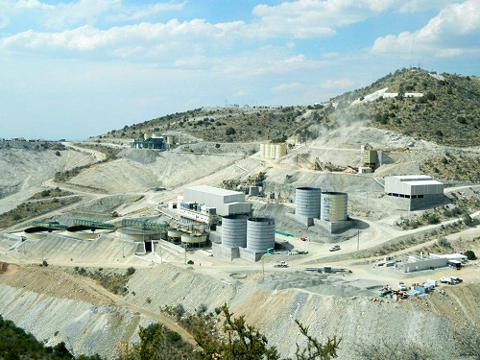 Click to enlarge
(Click to enlarge)
(Del Toro)
Continuing on from our last article we would like to give an update on the company in the present piece.
On April 9 the company announced that the Del Toro flotation circuit was deemed commercial, effectively putting the fifth mine into production at 1000 tpd. This flotation circuit will be supplemented by a 1000 tpd cyanidation circuit for which construction is under way and scheduled to be completed early in July. The announcement also states that "The third and final phase of construction consisting of 2,000 tpd flotation and 2,000 tpd cyanidation circuits remain on schedule and on budget, for initial production by the third quarter of 2014. At the combined rate of 4,000 tpd, Del Toro is estimated to produce approximately 6 million ounces of pure silver, plus significant amounts of lead and zinc annualized, becoming the Company's largest producing silver mine." Del Toro is an important piece of the puzzle for First Majestic Silver to achieve the stated goal of entering the ranks of senior silver producers and producing 16M ounces by 2014.

Click to enlarge
(Click to enlarge)
The La Guitarra mine was acquired by First Majestic Silver in 2012. On May 2 2013 the company informed the market on progress of the expansion program initiated after this purchase. Most importantly, the processing plant has been upgraded to a capacity of 500 tpd from its original 350 tpd. This improvement was achieved without disruptions to production and will lift mine output to 1.2M silver equivalent ounces annually in line with guidance. Planning for further improvement is underway which should more than double output again in 2014. These improvements include the implementation of a leaching facility that will enable the production of dore bars from the concentrates that are produced at present. These measures should also reduce production costs at La Guitarra which are the highest within the company at present.
The San Martin mine currently has a 950 tpd plant that is operating at 850 - 900 tpd. Incidentally, cash costs at San Martin are presently not much lower than cash costs at La Guitarra. A plant expansion is currently underway that will see the production rate increase to a planned throughput of 1,300 tpd. Construction is scheduled to be finalized by late June and commercial production of the expanded mill is anticipated by September 2013. This expansion project will lead to significant cost reductions at San Martin along with 50% increased output of around 1.5M ounces of silver dore per year. On May 28 an updated NI 43-101 report was announced detailing this expansion project and also reporting on a reserve update at San Martin with an increase of 224% in proven and probable reserves.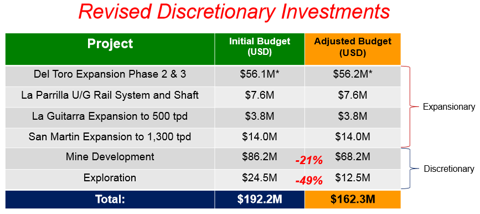 Click to enlarge
(Click to enlarge)
In response to the recent decline in silver prices, the Company has re-evaluated its capital investments for the first half of 2013 and has elected to make several cuts. Global exploration was almost halved; global mine development was reduced by 21%; and "Total budgeted capital growth requirements including priority construction and expansionary activities at various mines" was reduced by 16%. If silver prices do not show improvement prior to the third quarter, further cuts in capital commitments are foreshadowed. The company went to some length explaining that these spending cuts will not impede expansion at the three mines as summarized above.
On April 24 a court ruled in favor of First Majestic Silver and granted the company an opportunity loss of $89.6M in a case that had been filed in 2007 by the company. An appeal was filed last Friday, so the company will have to wait a little longer before hopefully collecting the windfall from this ruling.
And as a final bit of news from First Majestic Silver it should also be noted that a share repurchase program has been initiated with the goal of canceling 5% of the outstanding common shares of the company.
In summary, we believe that First Majestic Silver is showing strong performance under difficult circumstances. While the time might not be quite right just yet to invest in the beaten down silver sector we believe that coming months will provide buying opportunities, with First Majestic Silver being one prime candidate for investors seeking exposure to a possible silver rally in the second half of the year.
Disclosure: I am long AG. I wrote this article myself, and it expresses my own opinions. I am not receiving compensation for it (other than from Seeking Alpha). I have no business relationship with any company whose stock is mentioned in this article.