(Editors' Note: This article covers a micro-cap stock. Please be aware of the risks associated with these stocks.)

A lot of people like to talk about being contrarian investors.
Actually practicing a contrarian investing style is much more difficult than talking about it. Ask legendary fund investor Bruce Berkowitz who had billions of dollars in redemptions after making a very contrarian bet on unpopular names such as AIG (NYSE:AIG) and Bank of America (NYSE:BAC).
When you make a contrarian investment you are going against the crowd, and chances are the price of the contrarian investment you make is going to continue to be influenced by the crowd for longer than you expect.
That means that the contrarian investor is likely going to have to ride out some paper losses before eventually being proven correct.
Berkowitz by the way, after having investors pull billions of dollars of cash from his fund has been proven exactly correct on his contrarian bets. The investors who deserted him did so at exactly the wrong time. His big bet on AIG is working out very well: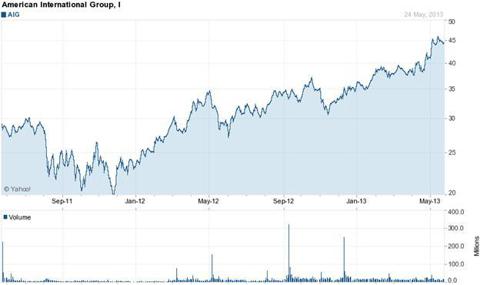 I kept a pretty keen eye on Berkowitz and his contrarian financial bet from start to finish. It has worked out so well I'd like to follow another successful contrarian investor I respect into a new trade.
Except this time, I've got two great contrarian investors suggesting the same trade. Both of these contrarians think that looking to the junior gold mining sector is a smart idea today.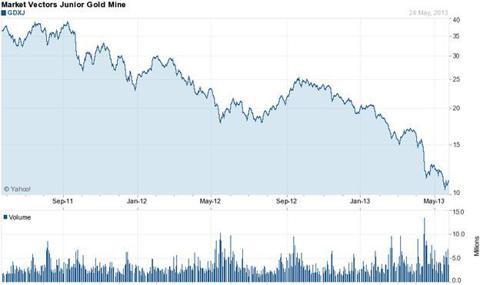 The above chart depicts the movement in the Market Vectors Junior Gold Miners ETF (NYSEARCA:GDXJ). From almost $40 in 2011 this ETF has plunged to barely over $10 today.
I would say it takes a contrarian to wade in here today. Both Jim Grant and George Soros are doing just that.
George Soros recently purchased call options on the Junior Gold Miners Index. Meanwhile, respected contrarian Jim Grant recently said:
"I think Gold Mining shares which are universally despised represent a call on the surviving monetary asset and is one area of absolute compelling value."
Those are two pretty sharp minds investing in one very beaten down sector.
Now that I've narrowed down the sector to look for a contrarian idea in, the next step involves finding the best vehicle to invest in.
Pershing Gold - An Acquisition By Coeur d'Alene Mines Corporation Appears Inevitable
Rather than making a broad bet on the junior gold mining sector I think it might be even more profitable to narrow down an investment to a specific company.
Pershing Gold Corporation (NASDAQ:PGLC) is a company with a $110 million market capitalization that I've had my eye on for almost a year. I'm a lot more interested in the company today than I have been at any point in time.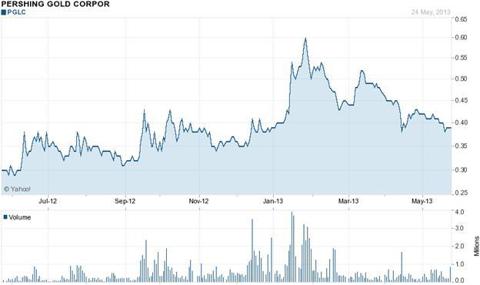 What has perked my interest in Pershing Gold is what I heard from Coeur d'Alene Mines Corporation (NYSE:CDE) in a presentation last week. Coeur d'Alene presented at the Barclays High Yield Conference last week and made the following comments which should be of great interest to Pershing Gold shareholders:
I had mentioned earlier, the U.S. is becoming a bigger part of our overall mix.

In Nevada, I mentioned Rochester that's actually our oldest mine. It has been running for 25 years. If you ask me which asset of ours I'm most excited about? I would say, Rochester, even though it has been around that long. What we are now finding is that, the highest return opportunities we have within our portfolio and really looking outside at the industry in a larger sense, Rochester represents some great high return growth for us.

The brown boxes (in the slide below) represent some of these junior companies that I just mentioned where we have an ownership position anywhere from 5% to 15% of the shares of these companies.

Typically, their market caps are in the $50 million to $100 million range. They have projects that we think we ultimately would one day like to own, build and operate ourselves. And so taking most toehold positions has been something that has made up a piece of overall external growth strategy. It's not our internal growth strategy, but it's a piece of it, and we have some real interesting opportunities there we think.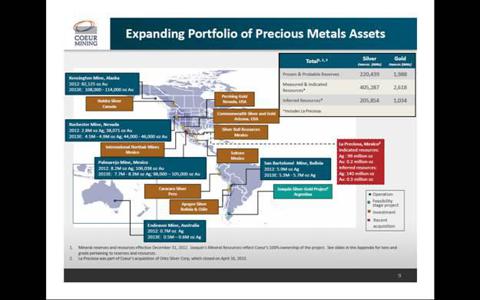 Coeur d'Alene owns almost five percent of Pershing Gold and in the presentation above doesn't beat around the bush. The position that Coeur d'Alene has taken in Pershing Gold is a toehold position that will someday lead to taking control of the entire asset/company.
With a market capitalization of well over $1 billion Coeur could certainly manage the couple hundred million dollars that would likely be needed to acquire Pershing Gold.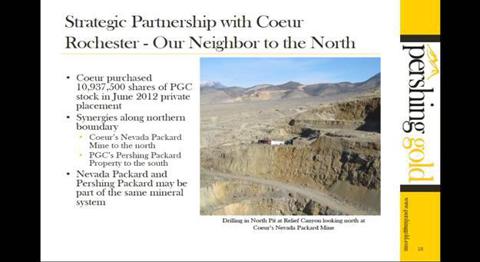 In the presentation Coeur mentioned how its Rochester property is going to be a key focus in the near term. Pershing's deposit is located directly to the south of Coeur's Rochestor Nevada Packard deposit. Adding the Pershing deposit to Coeur's Nevada development would seem to offer the possibility for a very accretive acquisition for Coeur and its shareholders.
My Ideal Scenario For A Pershing Gold Shareholder
Pershing Gold is a company operating in the sector of the stock market that has been battered over the past year like it is 2008 all over again.
Pershing's share price has actually held up a lot better than most of its peer companies because of the very large increase in the size of the Relief Canyon deposit announced earlier this year:
Pershing Gold Corporation (PGLC) is pleased to announce that it has completed an in-house calculation of mineralized material in the Company's model for the Relief Canyon Mine in Pershing County, Nevada which estimates 32,541,000 tons of gold mineralized material at an average grade of 0.017 ounces per ton gold ("opt Au"). The Company's in-house technical staff calculated the estimate under SEC Guide 7, and the in-house estimate does not include identified material that is currently in the inferred category.

When Pershing Gold acquired the Relief Canyon Mine in August 2011, based on the 2010 Technical Report that Mine Development Associates ("MDA") prepared for the previous owner, Relief Canyon had an in-situ resource equivalent to mineralized material under SEC Guide 7 of 6,533,000 tons at an average grade of 0.017 opt Au. As such, mineralized material reported by Pershing Gold today represents a nearly five-fold increase in the size of the Relief Canyon deposit.
That was a five-fold increase in the size of the deposit. While it has helped Pershing's share price I don't think that news has been fully recognized by the market.
Jim Grant and George Soros seem to think the junior gold miners are cheap. The ideal scenario for Pershing Gold shareholders is for a sharp rebound in this beaten down sector prior to any takeover offer from Coeur.
A takeover offer after a decent recovery in the gold mining sector could then come at a price significantly higher to where the shares trade today.
Disclosure: I have no positions in any stocks mentioned, and no plans to initiate any positions within the next 72 hours. I wrote this article myself, and it expresses my own opinions. I am not receiving compensation for it (other than from Seeking Alpha). I have no business relationship with any company whose stock is mentioned in this article.