By Paul Amery
Study after study on equity investing has shown the importance of dividends for long-term returns. A recent presentation by James Montier, co-head of Societe Generale's strategy team in London, showed that, while changes in equities' valuations are the predominant factor influencing returns over a one-year time horizon, over five years the dividend yield and any change in dividend income account, together, for 80% of the return. If you're investing over 10 or 20 years then the dividend yield you invest at, plus earnings growth, dominate your outcome.
But just picking the highest-yielding stocks or sectors as an investment strategy can be very dangerous. Investors in dividend-weighted ETFs suffered huge losses over the last two years as the companies with the highest payout ratios started to cut or even eliminate their dividends, leading to major stock price declines.
The trend may continue: 2009 is expected to see the largest percentage decline in US equity dividends since 1938, for example. In Europe, a recent calculation by Bloomberg showed that dividends are expected to fall by 28% this year from 2008 levels, and then by another 32% in 2010 (these levels are derived from Eurex's dividend futures contract on the DJ Euro Stoxx 50 index).
While no one has a crystal ball to predict the level of companies' future payouts, a sector-based look at recent European dividend history is a revealing exercise. Some sectors show a steady increase in dividends, while others have witnessed great variability in their constituent companies' distributions, and dramatic recent drops.
Methodology
IndexUniverse.eu obtained the dividend data for the 19 Dow Jones Stoxx 600 supersector indices, starting from the beginning of 2005. These data show the dividends accumulated, month by month, by the constituent stocks in each supersector, net of withholding taxes, and excluding any special distributions. In order to smooth any seasonal variations—many European companies make their payments in the April-June period—we calculated a 12-month rolling total for each supersector's dividends. Finally, we divided each rolling 12-month total by the closing value of the relevant supersector price index as at Friday June 26 to give a dividend yield figure, shown in each chart below.
This means that we are comparing historical dividend data with a single—current—snapshot price of the equity market, rather than examining historical equity yields, where dividend payments are usually compared to the stock prices prevailing at the time. The latter, of course, have varied significantly. There is the caveat that the composition of the relevant indices may have changed over time. Nevertheless, our methodology allows us to review the historical payout trends from sectoral baskets of stocks at their current price levels.
In the charts below we have grouped the 19 Dow Jones Stoxx supersectors into ten industry groupings, according to the categorisation rules of the ICB.
Sector By Sector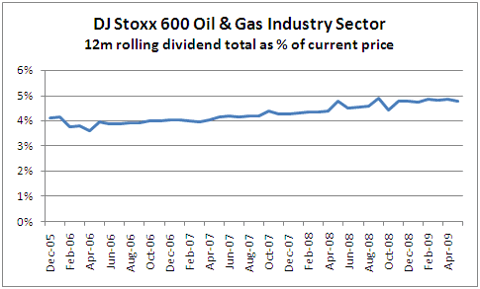 Click to enlarge
Of all the DJ Stoxx supersectors, oil and gas is the one that has so far come closest to showing the desirable characteristic of a steady and steadily increasing payout ratio. Its dividend yield is now close to 5% per annum, and the stocks in this sector index—BP, Shell (NYSE:RDS.A) and Total (NYSE:TOT) are the largest three, collectively accounting for nearly 60% in weight—form key holdings in many investors' equity portfolios. However, even here, dividends have been under some pressure. There was major speculation earlier this year that BP would be forced to cut its dividend for the first time since 1992. In the end the company maintained its payout in a 4 March announcement that was close to the equity market bottom. Coincidence? Probably not, in view of the importance of the companies in this sector to the market as a whole.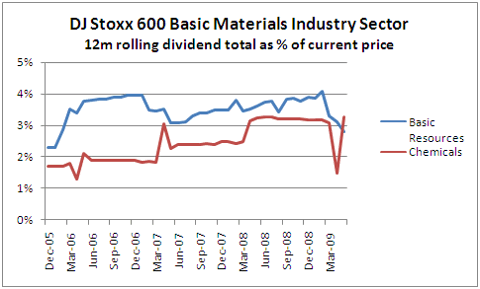 Click to enlarge
The basic resources sector, a great performer for much of this decade, has hit harder times since 2008. Of the big four stocks in the index—Anglo American (AAUK), ArcelorMittal (NYSE:MT), BHP Billiton (NYSE:BHP) and Rio Tinto (RTP), which collectively account for a 67% weighing—the first two have cut their payouts this year in response to the global recession. The result can be seen in the chart, with the yield ratio declining from over 4%, if calculated using the cumulative 12-month payout as at the end of 2008, to under 3% now. The chemicals sector now offers a better yield. Its recent chart blip is explained by a shift in the largest sector payouts from April last year to May this year, which affected the 12-month comparison. Bayer, the biggest company in the sector, increased its dividend by 3.7% this year.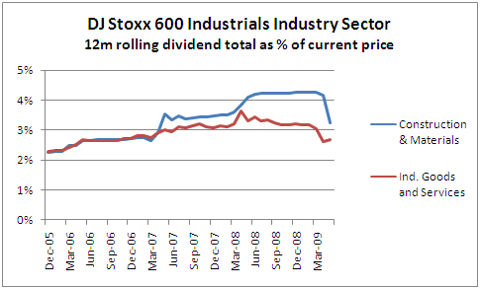 Click to enlarge
Recent dividend cuts are evident in both the DJ Stoxx 600 Industrials constituent sectors. In construction and materials the two French giants, Lafarge and Saint-Gobain, were forced to reduce payouts earlier this year, while raising further equity capital. Other companies in the sector have taken to paying dividends in shares, rather than cash. In the industrial goods and services supersector, while the two heavyweights, Siemens (SI) and ABB, have so far maintained their distributions, other, smaller companies have been cutting them.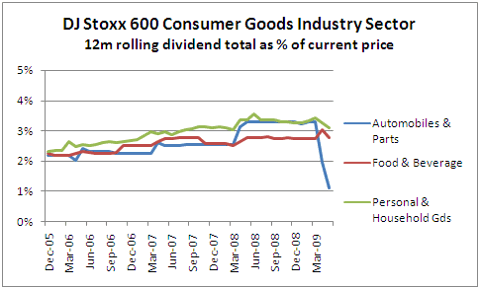 Click to enlarge
The travails of the global car industry have been headline news over recent months, and so it's no surprise that the automobiles and parts supersector, one of the three consumer goods industry constituents in the ICB classification, has shown one of the biggest declines in its dividend payout ratio. While Volkswagen has gone against the trend by increasing its ordinary share distribution this year, other carmakers have either cut (Daimler (DAI), BMW) or scrapped (Fiat, Renault) their dividends in 2009. The food and beverage and personal and household goods supersectors have shown themselves to be relatively recession-proof, so far, with steadily increasing dividends since 2005.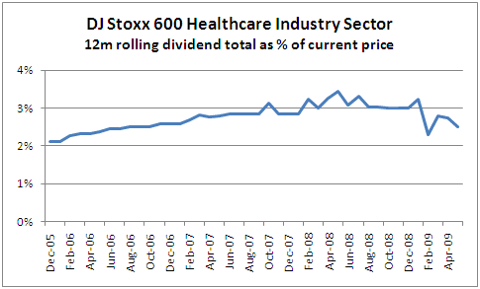 Click to enlarge
While healthcare has traditionally been seen as a relatively recession-proof industry sector, the slight decline in the payout ratio since the end of last year indicates that some companies are under pressure here, too. The major sector names—Novartis (NYSE:NVS), Roche (OTCQX:RHHBY), GlaxoSmithKline (NYSE:GSK)—have maintained their dividends so far during the credit crisis, but some smaller companies have been unable to do so.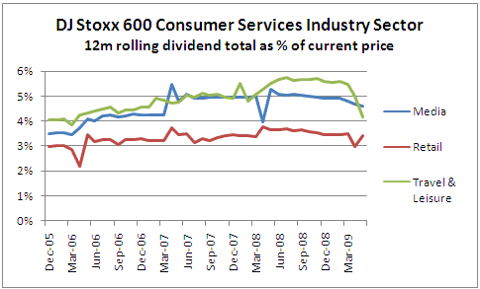 Click to enlarge
In the consumer services industry category, retail stocks have so far kept up their rate of dividend payouts, while media companies have shown a slight decline, and the average travel and leisure stock's dividend yield has declined by over a percent when measured against current stock prices. Airlines have been a key influence—Lufthansa (OTCQX:DLAKY) cut its payout this year, and British Airways (OTC:BAIRY), Air France-KLM (AKH) and Iberia (OTC:IBRLF) have all scrapped their dividends.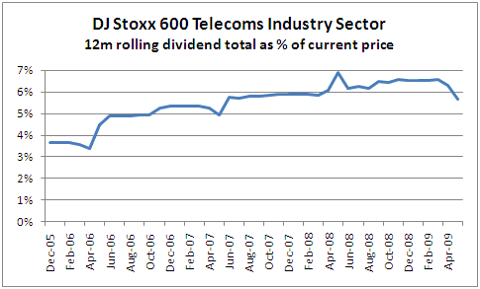 Click to enlarge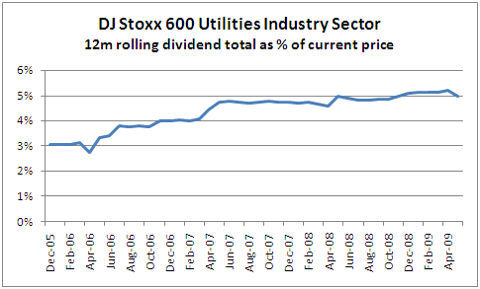 Click to enlarge
Telecommunications and utilities companies remain a popular choice for defensive investors, and steady increases in dividends since 2005 have added a couple of percentage points in yield to both sectors, when measured against current share prices. Telecom stocks' payouts have dipped a little recently, reflecting dividend cuts by some of the smaller index constituents, like Italia Telecom, but remain, in aggregate, near 6%.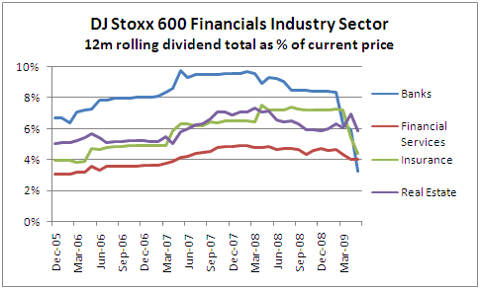 Click to enlarge
The financial sector has been the epicentre of the credit crunch, and the disappearing dividends of banks and other financial companies testify to their frantic attempts to conserve cash. The dividend yield on the DJ Stoxx European banks supersector index has fallen from 10%, when measured using the payouts of late 2007, to around 3% now. There's room to wonder whether, with the recent rise in banks' share prices, these stocks are really cheap any more. Other valuation metrics (price to book ratios, for example) may suggest so, but banks have relatively little yield support unless dividends start to pick up again quite quickly. The other three financial sectors show the same trend, but in a less extreme way.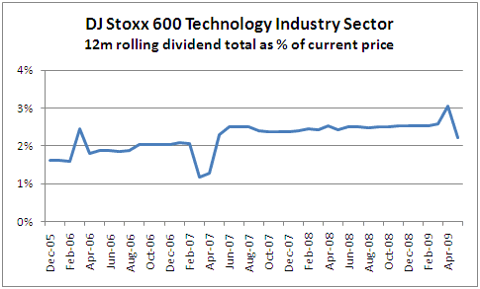 Click to enlarge
European technology stocks have given steadily increasing payouts over recent years, although in comparative terms this remains a relatively low-yielding sector. This is a partial legacy, perhaps, of the tech stock boom of 1999/2000, when dividends were considered old-fashioned and unnecessary. The recent drop in the payout ratio from over 3% to around 2%, when measured against current market prices, reflects Nokia's first dividend cut in seven years, which was announced in January this year. Ericsson, the third-largest company in the sector, also cut its dividend in January.
Summary
Comparing dividend payment histories to current stock market prices for different European industrial sectors reveals a great variety of trends. Sectors differ substantially, both in terms of previous dividend trends, the absolute levels of yields and the variability of past distribution policies. Given the importance of dividends for long-term equity returns, these histories can offer a useful first check when assessing whether current equity market prices offer attractive valuations.