Over the past year, as shown by the chart below, the world's two largest hard drive makers, Seagate Technolgy (NASDAQ:STX) & Western Digital Corporation (NYSE:WDC) have performed well. However, I believe the rally represents a selling opportunity for investors currently long both names and a possible short opportunity for more aggressive investors.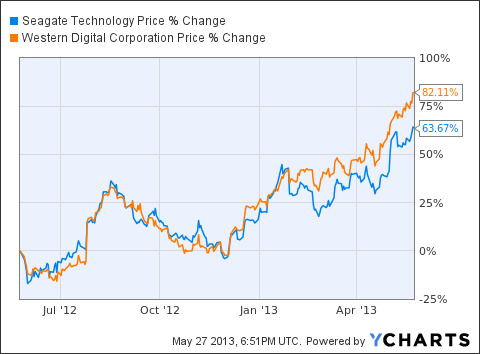 STX data by YCharts
Valuation Not The Main Problem
Despite the massive rally in share price, currently, both STX and WDC trade at single digit PE ratios. In the past, both stocks have traded at higher multiples. However, I believe both STX and WDC are value traps.
STX Forward PE Ratio data by YCharts
Over the years, due to cheap valuation, both STX and WDC have been talked about as possible private equity buyout targets. Perhaps, when both STX and WDC were trading below 5 times forward earnings, as recently as early 2013, a deal made sense. However, with both STX and WDC trading closer to 10 times forward earnings I believe a buyout is less likely.
Chanos Short Thesis
Noted investor Jim Chanos has recently turned bearish on the entire industry including STX and WDC in particular. In short, here is the Chanos thesis:
Disk drive makers tend to lag computer makers by about a year. (computer sales have been weak over the past year look no further than Dell and Hewlett Packard shares over the past year)
Samsung sold hard drive division to STX. Samsung is clearly betting that the future is not in hard drives.
Continued shift to cloud storage from physical storage.
PC sales will continue to decline over time.
As I have previously noted, Jim Chanos is someone worth listening to. That is not to say that I think investors should follow Chanos into every trade. For example, I do not agree with Chanos's view on Dell. However, I do agree with what he is saying about STX and WDC.
Insider Selling
Despite trading at single digit PE ratios, insiders have been aggressively selling both STX and WDC into the rally. Without question, this is a negative. To me, these large sales suggest that insiders do not believe the future is good for STX and WDC as they are selling at low valuations. In addition to the large number and size of stocks sales in both STX and WDC over the past six months there have been no insider purchases of stock.
Einhorn Reduces STX Stake
Noted hedge fund investor David Einhorn bought STX shares in 2011 around $16 per share. However, more recently, Einhorn has started selling shares. As I said before, investors should never solely make decisions based on what other "famous" investors are doing. That being said, Einhorn's selling should be viewed as a negative.
Conclusion & Action Plan
For the reasons discussed above, I am bearish on both STX and WDC. There are a variety of ways for investors to express this thesis:
Current STX & WDC holders can simply sell their shares.
Investors can sell calls or buy puts on STX & WDC.
Aggressive investors should look to sell short STX & WDC.
Disclosure: I have no positions in any stocks mentioned, but may initiate a short position in STX over the next 72 hours. I wrote this article myself, and it expresses my own opinions. I am not receiving compensation for it (other than from Seeking Alpha). I have no business relationship with any company whose stock is mentioned in this article.