The past year has been great for investors and investments. Over the past 12 months, the three major indices have risen between 21.9% and 25.2%, with many stocks outperforming the broader market. Year to date, major market indices have climbed nearly 15% with virtually no corrections, corporate earnings have climbed to record levels, and dividend payments have risen market-wide. In times like this, when the markets have performed so well, investors must be particularly prudent to identify and purchase stocks trading at favorable valuations.
As a dividend growth investor, one of my main objectives is to purchase stocks in high quality companies, with growing earnings and dividend payouts, at valuations favorable to long-term investment gains. Despite the outstanding performance of the broader stock market, a number of bargain dividend stocks can be had at investor-friendly valuations for long-term capital gains and dividend income growth.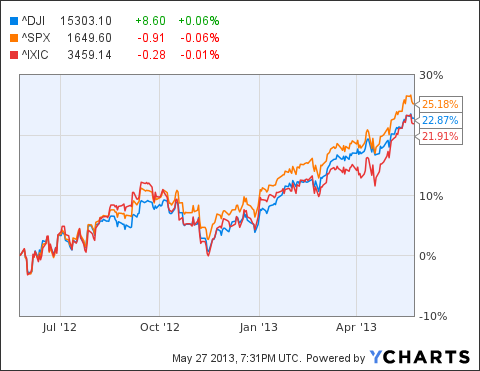 Currently, a number of great dividend growth stocks in the heavy equipment and the chemical industries offer the bargain valuations that DGI investors crave for long term capital gains and dividend income. Heavy equipment manufacturers like Caterpillar (NYSE:CAT) and Deere (NYSE:DE) trade at low valuations given the continued global economic uncertainty. Chemical companies like DuPont (NYSE:DD) and Stepan Chemical (NYSE:SCL) are trading at low valuations on the heels of mixed earnings and guidance, but offer long term gains for the patient investor. Over the past year, these stocks have all underperformed the broader market, with the top performer being SCL with a 19% gain and CAT being the biggest loser, coming in with a 4% loss.
Caterpillar
Caterpillar designs, manufactures, and sells machinery, equipment, and engines to customers around the world through its dealer network. The company is the world's largest provider of construction and mining equipment with annual revenue of $60B+. Caterpillar has underperformed the S&P 500 by nearly 30% over the past year and currently trades at a 11.6 TTM P/E ratio, versus the five year average of 17.2. Earnings for the full year are projected to come in at roughly $7 which would place a forward P/E of 12.3, still well below the five year average. While CAT has had its struggles this year, with earnings falling versus last year, the long term future for CAT investors appears bright. Earnings are expected to grow by 16% next year, and at an annualized rate of 14% for the next five years. Caterpillar currently pays a $2.08 annual dividend on just 26% of earnings, and has averaged 7.6% dividend growth over the past five years.
Continued growth in the global construction and mining industry should result in an uptick in the needs for heavy equipment, in turn benefiting manufacturers like CAT. In my opinion, as CAT continues to stabilize, and earnings begin to grow toward the end of this year and into 2014, CAT's stock should see significant growth. I believe CAT presents 20% capital growth upside over the next twelve months, with potential for additional dividend growth as well. While opportunities to buy in at slightly lower prices may exist, CAT represents a sound long term investment trading at its current level.
Deere
Deere manufactures agricultural, construction, and consumer equipment; with everything from tractors, to backhoes, to riding mowers, and everything in between. The company sells its products through its branded retail dealer network, as well as through additional major retailers. Deere has underperformed the market by roughly 10% over the past year, and currently trades with a TTM P/E ratio of 10.6, below the five year average of 14.8. Despite the challenging environment facing equipment and engine manufacturers, DE has been able to maintain EPS and Revenue growth of 12.7% and 11.7% respectively over the past 12 months. In addition, over the next five years DE anticipates continued growth of EPS by 10% annually. Deere pays a $2.04 annual dividend, yielding 2.36% at current prices with a 5 year CAGR of 15.3%. Paying out only 23% of earnings, DE has the strength and cash flow to grow dividends for years to come, as earnings and revenue continue to climb.
Over the next twelve months, I see opportunity for DE stock to rise by 10-15%, with continued opportunities for shares and dividends to grow in the years ahead. I think buying into DE stock at this price offers DGI investors a great entry point into a sound and solid company that represents a long term investment for any dividend growth portfolio.
DuPont
DuPont competes in many industries including automotive, agriculture, healthcare, energy and chemicals. DD has had a difficult year to this point; having revenue decline by 0.26% and EPS decline by 23% year over year. At the current levels, DD trades at a TTM P/E of 22 versus the company's five year average of 31.3. While the company has underperformed this year, management has stated that the company is "taking the necessary steps" to move into higher growth and higher margin businesses like biotech and nutrition. Over the next year, EPS are expected to grow 12.5%, with long term EPS growth in the neighborhood of 7.5%. DD pays an annual dividend of $1.80 yielding 3.25% at the current price, and recently implemented a 4.65% dividend increase. DD is currently paying out a large percentage of earnings as dividends (~70%), but as earnings growth kicks in, the payout ratio should come down to a more manageable level.
Over the next twelve months, I could see DD stock reaching the $65 level, representing a 17% increase from its current level. DGI investors who buy into DD at this level should experience significant growth in capital; however, the dividend growth of DD may not be what a long term dividend growth investor may be looking for. To maximize long term gains, I would look for an opportunity to buy into DD below $53, but I would feel confident that there is money to be made at the current price.
Stepan Chemical
Stepan Chemical is one of the best kept secrets in dividend growth stocks. The company competes across three primary product lines including surfactants, polymers, and specialty products for the food, beverage, and pharmaceutical industries. At the current price of $54.47, SCL trades with a TTM P/E ratio of 16.3, below the five year average of 20.0. SCL experienced a disappointing year for earnings, with EPS falling 15% y/y for the most recent quarter, and coming in roughly flat for the year. Despite this challenge, SCL earnings are expected to grow by 18% over the next year, and at a 10% annual rate for the next five years. The company has low debt, and pays out 25% of earnings as dividends. SCL pays an annual dividend of $0.64, representing a 1.17% yield, with a five year CAGR of 8.8% and a one year growth rate of 14.3%.
I expect SCL to continue to grow both the share price and the dividend for years ahead. The company has a great growth strategy focused on implementing value added product applications, refining processes, completing tactical acquisitions, and establishing manufacturing locations in appropriate areas to supply SCL customers. I believe that the dividend will continue to grow, and grow rapidly, and investors who buy in to SCL at this level will see gains of 10-12% this year with continued growth in the years to follow.
Conclusion
The past year has been an outstanding year to be an equity investor. Stock prices are up, dividends are up, and corporate earnings have continued to grow. Following the great performance of the stock market, DGI investors can find it difficult to find great long term investments to build both investment capital and dividend income. Despite these challenges investors can still identify stocks trading at favorable valuations to capture significant long term gains. While the stock market as a whole may appear overvalued at current levels, individual investors may still identify fantastic investment opportunities for growth.
Disclosure: I have no positions in any stocks mentioned, but may initiate a long position in SCL, DE over the next 72 hours. I wrote this article myself, and it expresses my own opinions. I am not receiving compensation for it (other than from Seeking Alpha). I have no business relationship with any company whose stock is mentioned in this article.