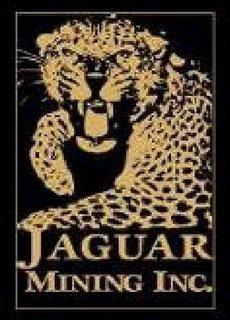 Yes that's a jaguar, but not the car. Rather, it's the best in class emerging Junior Miner with a unique set of attributes among its peers. I think of Jaguar Mining (JAG) as a junior hybrid of Agnico-Eagle (NYSE:AGM) (due to the extraordinary production growth over the next 3 years or so) and Yamana Gold (NYSE:AUY) (due to the location of their flagship mines in South America, not to mention their low cash cost profile). Jaguar has been around for a while but instead of the explosive growth it has set itself up for (2009-2013), it has displayed remarkable execution growing production at a consistent steady rate. Before I go into the details of why this is such a value among the junior mining industry, I will give a brief overview of its current mines and those which will come-on line in the not too distant future.
Mines in Operation:
The largest mine currently producing is Turmalina which produced about 19,000 oz in Q1 with cash costs below $350/oz. A ramp up in production is expected in its entire mining portfolio, so this will increase quarter after quarter.
Coming in at a close second is the Paciencia mine which came on-line Q2 of 2008. It is expected to past Turmalina in 2010 in regards to production. It currently has much higher cash costs of $490/oz, but that will decline to around $400-$425/oz next year.
The Sabara mine is the last currently producing mine, but relatively small to the first two. It also has high cash costs which are expected to moderate, but will still have the highest average cost per ounce of all their mines. It was also not in operation in the first quarter due to weather.
Finally, its Caete Mine will be a nice addition to the portfolio as it begins production in about a year (possibly Q3/2010).
It is nice to find an emerging miner that doesn't have all its eggs in one basket. Jaguar's Turmalina + Sabara make up about 1/3 of its NAV as well, and the other two mines account for another 1/3 give or take. It is very unique for a growing capital intensive company to have an extremely low debt of $70m and $55m in cash.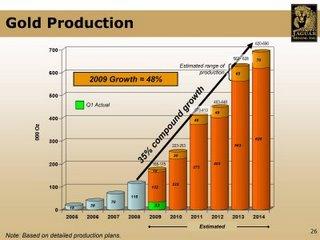 As mentioned previously, a meager 110k of production in 2008 will catapult to nearly 700k oz by 2014 assuming no additional reserves are found. A long term production growth rate of 35-40% is amazing on its own. But it also has low cash costs around $400-420/oz, and if you're in the inflation boat I'm in, this is extremely bullish for the company. I think gold will double during the next leg of the commodity bull market, mostly propelled by inflation (both in the U.S and around the world). If you aren't familiar with the term free cash flow, I will explain it very briefly.
Free cash flow is basically the real profit of the company to the shareholder, because in order for a company to keep operations going, a certain amount of capital has to be reinvested. That being said, because the value of any asset of the present value of all future cash flows, free cash flow is the real profit. It is calculated as Net Income (although I make sure no extraordinary items are mixed in) -+Depreciation (which was taken out as a non-cash charge) - Capital Expenditures (both increase in PPE and acquisitions if any occurred) - change in non-cash working capital (Non cash current assets in year T - current liabilities in year T).
Below is a chart of Jaguar's capital expenditures going forward: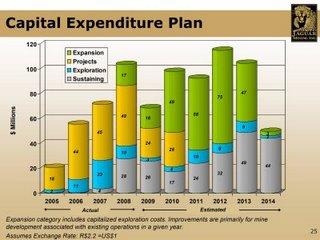 These are extremely low reinvestment needs for such strong growth, the likes of which I have yet to come upon for a miner with similar attributes. In other words this means Jaguar is well capitalized, has strong long term growth and needing little reinvestment to support that growth making it a huge free cash flow machine. I think instead it will be bought.
Above is an open for editing link to a Valuation I made for Jaguar, so you can change the projected gold price around. It also includes a sensitivity analysis.
Disclosure: Long Jag, Auy & Aem Jan '11 Calls