Initially it was thought that Starbucks (NASDAQ:SBUX) would do everything in its power to crush today's Zacks Rank #1 bull, Green Mountain Coffee (NASDAQ:GMCR) and their remarkable growth rate. But Starbucks, the world's largest coffee retailer, and Green Mountain recently signed an agreement that provides for the expansion of their successful partnership for the manufacturing, marketing, distribution, and sale of Starbucks- and Tazo-branded single serve packs for use in GMCR's Keurig single serve brewing systems around the world.
This changes the game quite a bit and shifts the balance to Green Mountain.
Starbucks and GMCR have actually been successful partners since March 2011. In that time, Starbucks has shipped more than 860 million Starbucks brand K-Cup packs. The recent expansion and 5 year partnership extension should only mean good things for Green Mountain as well; it also triples the amount of Stabucks products Green Mountain can sell.
Sure, Starbucks launched their Verismo coffee machines last year, which compete with the Keurig line, but Green Mountain's strength lies in their brands, diversity and loyal following. Now that you can still use your Keurig machine to drink Starbucks products, it seems like a win-win for Green Mountain as opposed to the lose-lose proposition that many anticipated.
Aside from Starbucks, the company partners with the strongest beverage brands to enhance consumer choice within the Keurig Single Cup Brewing System. GMCR has established manufacturing and distribution agreements with Dunkin' Donuts (NASDAQ:DNKN), J.M. Smucker Co. (NYSE:SJM) (owner of Folgers and Millstone brands); Newman's Own, and Conagra (owner of Swiss Miss brand).
The Company's Keurig brewing technology is also used in the third-party brewer brands Breville, Cuisinart and Mr. Coffee. Additionally, GMCR and Lavazza have jointly developed a new single-serve espresso machine and associated capsules called the Rivo Cappuccino and Latte System.
Green Mountain's earnings (and their share price) have reflected their robust health; but I think there may still be some upside in this sometimes volatile stock.
Strong Earnings Results
Green Mountain was one of our biggest winners in my Whisper Trader earning service this last quarter, as it leapt 27% after their last report. The stock beat the Zacks Consensus by over 21 cents or 27%. The company reported earnings of $0.93 for the quarter, on revenues totaling $1 billion for their fiscal second quarter. On average, analysts expected GMCR to earn 72 cents per share on revenue of $1 billion.
Gross profit increased 32.6% to $415.1 million. The reported gross margin jumped 590 basis points to 41.3% due to favorable green coffee costs, lower wastage cost of finished goods and raw materials, lower labor and overhead manufacturing costs.
Net sales of Single Serve Packs increased 21.2% year over year to $794.0 million, fueled by a substantial 26-percentage points surge in volume, partially offset by mix and pricing headwinds.
Net sales of Brewers and Accessories slipped 10.1% from the comparable prior-year quarter to $126.8 million.
Approximately 1.36 million brewers were sold during the period (9% lower shipments than the year-ago quarter), out of which, 1.23 million Keurig Single Cup Brewers were sold by Green Mountain and the rest by the company's licensed brewer partners. This was to be expected as competitors enter the space.
The World of Coffee
According to the National Coffee Association's 2013 survey, roughly 83 percent of adults drink coffee in the U.S., the world's biggest consumer of the beverage. Consumption is up from 78 percent last year.
63 percent of adults drink coffee every day; compared with 65 percent a year earlier and 58 percent in 2011, much of the decrease came from younger respondents.
About 13 percent of the U.S. population used the single-cup format, up from 4 percent two years earlier. The single-cup segment is growing and ownership of single-cup brewers increases to 12%.
Coffee is a $30 billion-a-year national industry, which goes beyond the need for caffeine. Coffee is part of our social fabric and recently has been cited for numerous health benefits.
Consumers are no longer vying for the ubiquitous hot black liquid in an un-marked carafe; they want their coffee to taste and smell exactly the way they want. Just as micro-brew beers have gained in popularity, we are seeing the same trends with coffee and Green Mountain is positioned well to take advantage.
Sur la Table, a chain of 100 stores nationwide, recently reported double-digit increases in the sales last year of its 600 + coffee products, from espresso makers, filters, grinders and most importantly, single-cup brewers like the Keurig.
Unfortunately, the industry is a slave to the price of coffee itself, which luckily (for companies like GMCR and SBUX) have been on the decline over the last two years. Coffee "C" contracts (traded on the ICE) are the world benchmark for Arabica coffee, the global gold standard for many brewers and consumers. Prices are down from peaks of over $3.08 per pound to $1.27 per pound; a very good thing if you are a brewer or distributor.
Goldman Sachs recently lowered its price forecasts for Arabica coffee, citing an improving production outlook in leading grower Brazil.
Goldman noted that Prices will be at $1.45 a pound in three, six and 12 months. That is down from previous forecasts of $1.55 a pound, $1.65 a pound and $1.75 a pound, respectively, the report said.
A growing thirst for coffee and stable input prices should help Green Mountain and their recent initiative to add a new line of brewers it has yet to name toward the end of 2014. They are also looking to create a products to combine their Vue and K-Cup products as well as a light commercial product (for use in small restaurants) to add diversity in 2014.
The Look Ahead
In recent months, analysts have gotten more optimistic about Green Mountain's long-term prospects. Recently, we've seen the majority of analysts move their earnings estimates higher. In the past 30 days, current quarter estimates have risen to 77 cents, which FY2013 estimates are up from $2.82 to $3.15 and FY2014 estimates are up 34 cents to $3.55.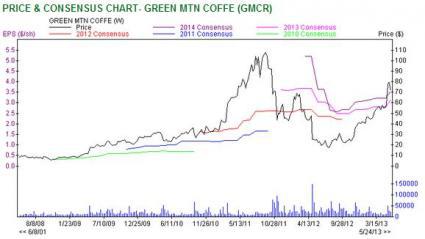 Even after the recent pullback, shares of Green Mountain are up almost 78% this year and current trade at just over 22 times forward earnings (2013).
I would like to see FY2014 estimates continue to move higher and give the stock a little break on its high multiple. I don't believe we are going to see a repeat of 2011 when shares broke so far away from their estimates as growth expectations soared.
A more realistic scenario would be a series of positive surprises (they have beat the Zacks Consensus 4 periods in a row by an average of 21.17%) followed by strong results from their ongoing Starbucks partnership and a cool, perhaps patentable new brewer lineup.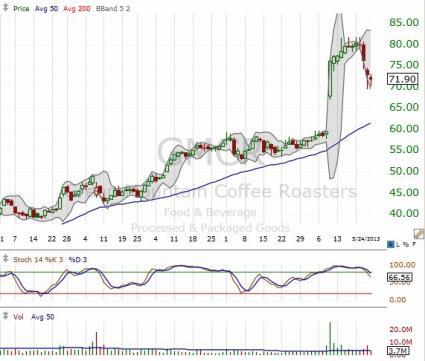 $67.00 and $61.32 will be support levels in the near term, with the latter being the 50 day moving average, a level that has not been violated since November of last year.
At 22 times earnings with a PEG ratio of 1.15, GMCR is not a stock I would mind owning here, especially given the positive earnings and news momentum.