Since April 18th, I have been introducing a new portfolio to my readers at Seeking Alpha. The goal of this portfolio is to beat the market by a large enough margin to ensure an early retirement. The portfolio makes use of price appreciations as well as writing covered calls on the positions it holds.
For those that missed part of the story, I will provide a walkthrough so that they can read my assessment of each company in the portfolio. The first company I introduced in the portfolio was Monster Beverages (NASDAQ:MNST). Feel free to read my assessment of the company here. The second company that made it in this portfolio was Statoil (NYSE:STO), which I discuss here. Next, I introduced two finance companies, namely American Express (NYSE:AXP) and Wells Fargo (NYSE:WFC) in the portfolio, which you can find here. After that, Disney (NYSE:DIS) was added to the portfolio. Hewlett Packard (NYSE:HPQ) became the sixth company to be introduced in our portfolio. Next, we added Smith & Wesson Holding Corporation (SWHC) which was followed by the addition of The Cheesecake Factory (NASDAQ:CAKE). Finally, two high performers of 2013, namely Santarus (NASDAQ:SNTS) and Hertz (NYSE:HTZ) made it into the portfolio. Now it's time to add the last but not least company to the `Retire Young` portfolio before we start tracking the performance of the portfolio.
Introducing First Solar (NASDAQ:FSLR)
In the investment world, it is often said that most solar companies are destined to go bankrupt because of inefficiencies and difficulties in the industry. For example, it is often said that solar energy is too difficult and expensive to obtain, which prohibits many consumers from utilizing it. True, many people will not be able to afford to energize their house through solar energy because of the high costs, and this trend will hurt many solar companies in the future. Then why am I recommending First Solar?
First, the company is doing an excellent job of reducing the cost of solar energy compared to the rest of the industry. Second, if most solar companies will go out of business in a few years, this leaves less competition for First Solar, which is even better for the company. First Solar continues to make money in an industry where it is very challenging to make money which proves to me that the company is being run efficiently.
In the first quarter of 2013, First Solar reported a revenue growth of 52% and a 7% increase in gross margin compared to the first quarter of 2012. The company's research and development costs were down by 17%, selling, general and administrative costs were down by 19%, production start-up costs were down by 66% and restructuring costs were down by 99%. As a result, the company's operating income was up from a loss of $449 million to a profit of $509 million, which is impressive. During the same period, First Solar's capital expenditures were down by 42% and cash reserves were up by 35%. The company had a very strong and efficient quarter overall.
Furthermore, the company's strong guidance for 2013 suggests that the good results will continue to occur for First Solar.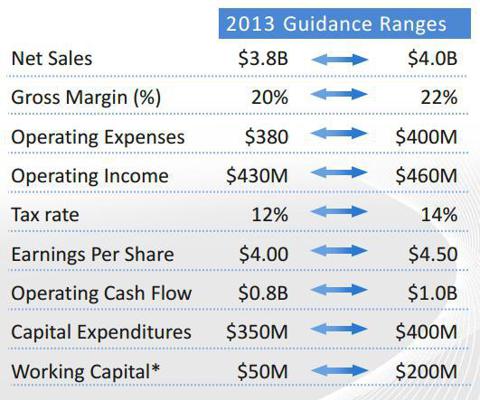 Year over year, the company is improving upon multiple different metrics. Since 2006, First Solar's sales were up from $135 million to $3.37 billion and it is expected to reach $4.0 billion this year. More impressively, between 2006 and 2012, the company was able to reduce the cost of each watt from $1.40 to $73. The main reason many solar energy companies are going bankrupt is because they are not that good at reducing the cost of energy; whereas, First Solar is really good at accomplishing this. Again, since 2006, the company was able to increase its average module conversion efficiency from 9.5% to 12.6%. The charts below show the progress made by First Solar in the last 6 years.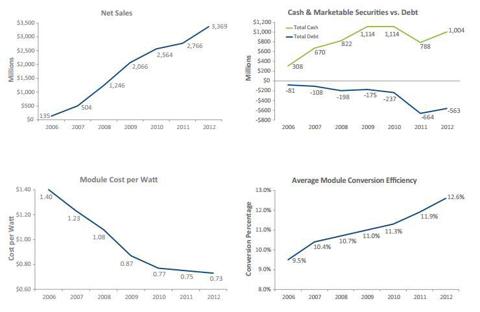 Excluding cash, First Solar is looking at single-digit P/E despite being a high growth company. It may be a while before people realize the true value of First Solar, but sooner or later it will happen.
We are adding 200 shares of first solar at $51.55 per share and we are writing covered calls expiring in August with a strike price of $55.00. This will give us a premium of $480 per contract, effectively reducing our breakeven price to $46.75, which is very attractive for this company.
In its final form, this is what our portfolio looks like:
| | | | | |
| --- | --- | --- | --- | --- |
| Stock Name | Ticker | Buy Date | Buy Price | Amount |
| Monster Beverages | MNST | 4/16/2013 | $56.49 | 200 |
| Statoil | STO | 4/19/2013 | $23.00 | 400 |
| American Express | AXP | 4/26/2013 | $67.75 | 100 |
| Wells Fargo | WFC | 4/26/2013 | $37.88 | 300 |
| Disney | DIS | 4/30/2013 | $62.75 | 200 |
| Hewlett Packard | HPQ | 5/3/2013 | $20.63 | 500 |
| Smith & Wesson | SWHC | 5/13/2013 | $8.77 | 1100 |
| The Cheesecake Factory | CAKE | 5/16/2013 | $40.74 | 200 |
| Hertz | HTZ | 5/23/2013 | $25.30 | 400 |
| First Solar | FSLR | 5/24/2013 | $51.55 | 200 |
In my next article, I will talk about the performance of this portfolio including the premiums we got from selling covered calls.
Disclosure: I am long AXP, CAKE, DIS, FSLR, HPQ, HTZ, MNST, SNTS, STO, SWHC, WFC. I wrote this article myself, and it expresses my own opinions. I am not receiving compensation for it (other than from Seeking Alpha). I have no business relationship with any company whose stock is mentioned in this article.
Additional disclosure: While I personally own every stock in this portfolio, I bought some of them at different times, different prices and different amounts than reported here.