Since I previously reported on the Short Side of Gold Miners, the price of gold and mining stocks continued their downward fall. This report is part of a series that will track the volume and changes in the short interest of some of the largest and most actively traded gold miners in the world. They have been selected because the short interest in these companies is at or near its 52-week high and keeping track of this market sentiment may help identify a bottoming of these stocks' large selloffs. To begin, the following two graphs of SPDR Gold Shares (NYSEARCA:GLD) and Market Vectors Gold Miners (NYSEARCA:GDX) collectively illustrate the fall of gold and the miners, respectively.
Like in the previous report, the following companies were screened and the companies in bold will be reviewed because they each had a significant change (more than 10%) in the short interest reported by Nasdaq, From April 30th to May 15th.
Companies Screened:
Goldcorp (NYSE:GG)
Barrick Gold (NYSE:ABX)
Newmont Mining (NYSE:NEM)
Yamana Gold (NYSE:AUY)
AngloGold Ashanti (NYSE:AU)
Rangold Resources (NASDAQ:GOLD)
Kinross Gold (NYSE:KGC)
NovaGold Resources (NYSEMKT:NG)
Before analyzing the short interest of the companies in bold above, here is a look at the short interest for each company as a percentage of the company's float: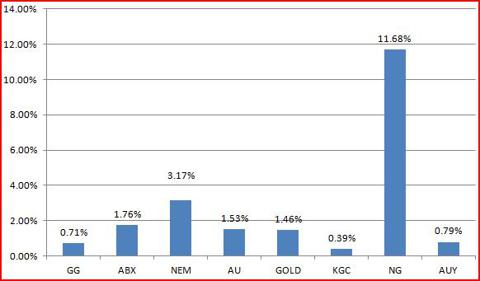 This is important to have in mind because a company with a larger percentage is more susceptible to a short squeeze.
And now for a look at the miners with the largest change in short interest:
Goldcorp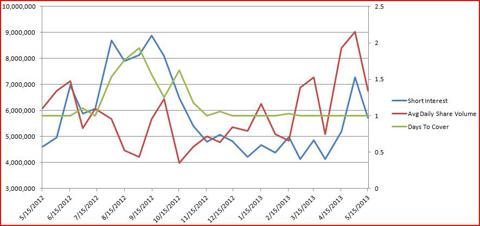 Short interest fell 21.6% down to 5.706 million shares over the first two weeks of May, days to cover stayed at 1. This movement compensated for most of the 40% increase we saw on the previous report. Shares of Goldcorp Inc. currently trade for $26.83 per share and are down 26% YTD. Short interest in Goldcorp now accounts for 0.7% of the company's float.
Barrick Gold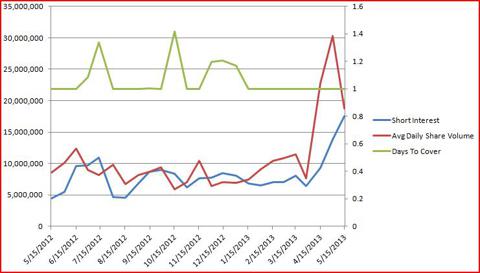 Short interest in Barrick Gold continued its rise and, even with a declining trading volume, it managed to increase another 26.99% to 17.55 million shares. This is the largest amount of short interest in the last 52 weeks and it is close to 4x's the amount held short on May 15th last year. As you can see from the graph below, Barrick Gold shares have somewhat leveled off around $20. They currently trade for $19.16 per share, down 44% YTD. Short interest in Barrick Gold is approximately 1.758% of the company's float.
AngloGold Ashanti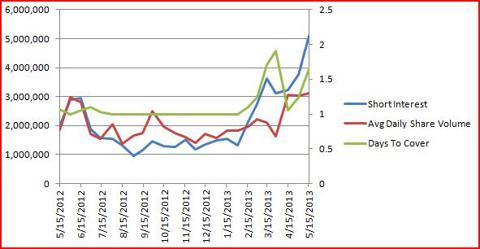 The short interest in AngloGold increased by 35.79% in the first two weeks of May, good for the highest percentage change of any of the companies covered in this report. At 5.1 million shares, the short interest now amounts to 1.53% of the company's float. AngloGold shares currently trade at their 52 week low of $16.34, down 47.8% YTD.
Yamana Gold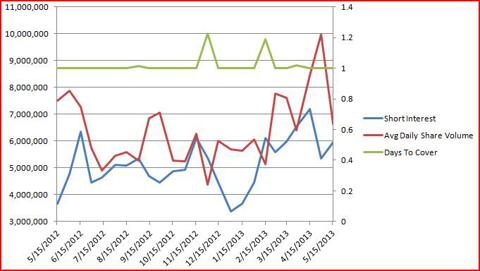 Yamana Gold also trades near its 52-week low at $10.82 per share, down 36.8% YTD. Short interest in Yamana increased by 11.36% in the first two weeks of May, to 5.966 million shares short. This amounts to 0.79% of the company's float.
Other Companies:
Newmont Mining: Short interest decreased 6.64% to 15.7 million shares.
Rangold Resources: Short interest decreased 1.7% to 1.32 million shares.
Kinross Gold: Short interest increased 9.88% to 4.4 million shares.
NovaGold Resources: Short interest decreased 0.67% to 18.14 million shares.
Bottom Line
Gold miners may just be the most actively shorted companies in the last 52 weeks and some believe they are the best contrarian play in the market right now. As is the case with most selloffs, there is a potential for overselling which is typically the best time to buy. Keeping track of the short interest is a good way to measure and look for changing sentiment, which is exactly why I put together this article for you. I hope it helps add to your own research, please let us know what you think.
Short Interest = number of shares sold short.
Days to Cover = number of shares sold short divided by the average daily trading volume.
An increase in the short interest and/or days to cover is a bearish indicator that may be caused by a fundamental business change, bad news or a short seller's bad investment. This information is supplementary to a more thorough business analysis and should not be acted upon alone. This information is only provided and should only be viewed as a monitor for new events and trends. Rethinking and monitoring your investments is just as important as acquiring them.
This data was compiled from information Nasdaq releases twice a month, follow me for updates. If there are any other companies you would like added to this list, please let me know via message on SeekingAlpha.com.
Sources:
Number of shares float was found at Yahoo Finance
Short interest information was found here.
Disclosure: I am long NG. I wrote this article myself, and it expresses my own opinions. I am not receiving compensation for it (other than from Seeking Alpha). I have no business relationship with any company whose stock is mentioned in this article.
Additional disclosure: I also have long calls in NG and ABX.