At first glance, the homebuilders' price to book ratios appear high, ranging from 1.6 to 4.1 - significantly greater than their 5-year average of 1 to 2 X book. KB Homes (NYSE:KBH) and PulteGroup (NYSE:PHM) are particularly high. Some have suggested shorting Ryland Homes (NYSE:RYL) because of its 4.1 price:book. I would argue that the current price to book ratios are distorted due to an accounting quirk. Homebuilder inventories have been written off and cannot be written back, even as land prices climb. As a result, the inventories and book value that appear on the balance sheet understate the true homebuilders' holdings.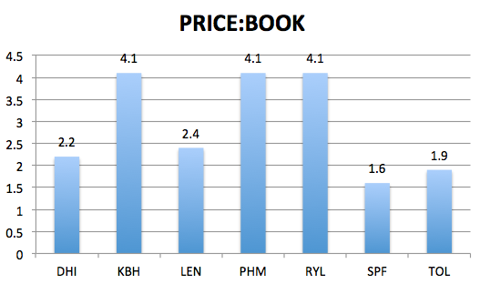 From 2007 to 2010, the homebuilders wrote off billions of dollars worth of inventory as the price of homes and land plummeted. That very same real estate is making a comeback, bidders are coming in, prices are rebounding, and yet, don't expect the inventory mark downs to reverse. Owing to accounting rules, companies can't increase the value of their land inventory, even if it's worth a bundle more. Once impaired, the balance sheet remains impaired, even if land prices shoot higher.
The homebuilders have written off inventory by the billions, erasing vast sums from their balance sheets. For instance, Toll Brothers (NYSE:TOL) took $2.2 billion in inventory impairments. Yet, most of its land is still owned. Toll mothballed 100 communities and has only recently been bringing them out of storage - 29 to date. Toll isn't alone; all the builders wrote-down their inventory. Ryland wrote-off over $1.1 billion. DR Horton (NYSE:DHI) wiped off over $3.2 billion. KB Homes knocked off more than $2.4 billion. Some of the write-offs were replaced by deferred tax assets, but those disappeared quickly as the homebuilders used their tax credits. While some of the impaired land was sold, most still sits on the balance sheets, and has been heavily discounted.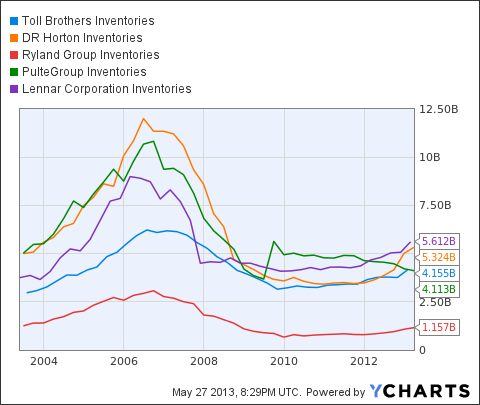 The result: The inventory figures that appear on the balance sheet are more of historical than practical significance. They reflect 2008 and 2009 pricing and have little to do with the "real" value of the inventory today and in the future. Consider Toll's startling stat this quarter:
We have raised prices this quarter approximately $26,000 per home on average.
Homebuilders have been aggressively purchasing lots in 2011 and 2012 believing that land would appreciate. And that has turned out to be a correct move. The value of land has been rising. Those Toll Brothers and DR Horton lots are more valuable today than they were in 2009. Unfortunately, while land inventory can be "written-down", it cannot be "written-up." Toll's $4.4 billion of inventory reported on its balance sheet is probably worth a great deal more.
Bottom Line
The homebuilders are cheaper on a price to book value than they would appear. When the builders sell their discounted inventory, they will realize larger than expected profits.
Disclosure: I am long TOL. I wrote this article myself, and it expresses my own opinions. I am not receiving compensation for it (other than from Seeking Alpha). I have no business relationship with any company whose stock is mentioned in this article.
Disclaimer: The opinions in this document are for informational and educational purposes only and should not be construed as a recommendation to buy or sell the stocks mentioned. Past performance of the companies discussed may not continue and the companies may not achieve the earnings growth as predicted. The information in this document is believed to be accurate, but under no circumstances should a person act upon the information contained within. We do not recommend that anyone act upon any investment information without first consulting an investment advisor as to the suitability of such investments for his specific situation.