I know, I will not make any friends writing something negative about Apple (NASDAQ:AAPL), especially with that headline. It sounds dramatic to say the least and I am starting already to hear you say that a giant such as Apple, which is one of the best money machines in American history, can't go bankrupt no matter how much times the prolific company experiences rough times.
After all, everybody likes Apple for its awesome products. In fact, we share a strong emotion towards this success story, how it changed our lives with its revolutionary products and so on. However, after a remarkable beginning, Apple hasn't been very good until Steve Jobs returned to Apple in 1996 to save the company from bankruptcy. Yes, bankruptcy.
Source: Ecch
First, I will go back in time and make a recap of Apple history. By doing this exercise, the readers will have a better understanding of how the Apple empire has been built and why it will fall ... again. Then, I will discuss the company's recent financial results and what makes Apple so special. Then, I will explain the reasons from which I believe Apple will decline in the next few years, doomed by its past success.
The Beginnings Of A New Era
The Fathers of Apple, Steven Wozniak and Steven Jobs were friends, back from their high school days. They were both interested in electronics and kept in touch after graduation. Then, dropping out of school from Reed College and UC Berkeley, respectively by 1975, they got a job in the electronics field. Wozniak got a job for Hewlett-Packard (NYSE:HPQ) while Jobs ended up working for Atari.
Wozniak's Apple I Circuit-Board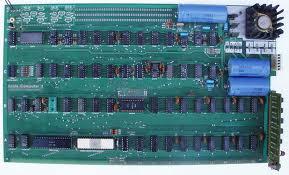 Wozniak had been working in computer-design for some time when he designed in 1976, the first model of what would become the Apple I, a computer only built in printed circuit-board form. The Apple I was based on the Mostek 6502 chip, whereas most other "kit" computers were built from the Intel (NASDAQ:INTC) 8080 at the time.
Wozniak completed the machine and took it to Homebrew Computer Club meetings to show it off. At the meeting, Wozniak met his old friend Jobs, who was interested in the commercial potential of the small hobby machines.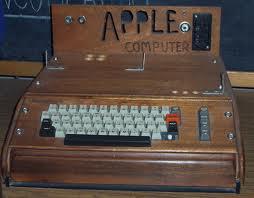 Jobs, insisted that he and Wozniak try to sell the machine. On April 1, 1976, Apple Computer company was born. Jobs dealt with a local computer store for an order of 50 Apple I computers in exchange for $500.
Although the machine was fairly simple, it was nevertheless a masterpiece of design, using far fewer parts than anything in its class, and quickly earning Wozniak a reputation as a master designer. After all, designing such a machine with limited amount of money was impressive. About 200 machines were built over time.
Apple II An Improved Machine
The income from the sales of Apple I enabled the duo to start construction of a greatly improved machine, the Apple II. The computer was presented to the public at the first West Coast Computer Faire in April 1977. The main difference between Apple I and Apple II internally was a completely redesigned TV interface, which held the display in memory while the exterior case was made of plastic instead of wood.
Furthermore, useful for simple text display, the Apple II included graphics and, eventually, color. Jobs pressed for a much improved case and keyboard with the innovative idea that the machine should be complete and ready to run out of the box. Apple II's ancestor needed parts to be plugged together for it to work. The Apple II revolutionized the industry by creating a home computer market.
The increasing sales of the Apple II computers allowed the company to grow exponentially. With the introduction of the Apple Disk II in 1978, a user-friendly floppy drive that proved to be the most inexpensive at the time, the sales further increased. In 1980, Apple Computer reached more than a thousand employees and sales were made abroad, achieving more than a million sales in the 1980's.
Apple III A Business Machine
The Apple III was designed for business environment. Released in May 1980, the machine was a relatively conservative design for computers of the time. However, Jobs did not want the computer to have a fan, thinking it was better for the heat generated by the electronics to be dissipated through the chassis of the machine. Unfortunately, the physical design was not made to run without a fan and the computers were overheating, necessitating recalls. The problem was addressed by 1983 but the damage to the company was done.
In December 1980, the company launched the Initial Public Offering of its stock to the investing public. When Apple went public, it generated more capital than any IPO since Ford Motor Company (NYSE:F) in 1956 and instantly created more millionaires than any company in history. Jobs became Chairman of Apple Computer in March 1981 while IBM released its first PC the very same year. A rivalry was born.
Macintosh "1984" Computer
The Macintosh 128k was announced to the press in October 1983 but the bad marketing led the company to raise the price for its new computer. It came bundled with two applications designed to show off its interface: MacWrite and MacPaint. Because the machine was entirely designed around the GUI, existing text-mode and command-driven applications had to be redesigned and the programming code rewritten, software developers shied away. Despite initial marketing difficulties, the Macintosh brand was eventually a success for Apple.
Jobs Leaves Apple
In early 1985, Jobs and Sculley, the CEO of the company recruited by Jobs himself a few years ago, set the tone with major arguments regarding the way Apple was going. Sculley didn't understand Jobs' great vision while the latter believed that Sculley knew nothing about the computer industry, preferring to rely on existing products to ensure the financial stability. In May 1985, Jobs tried to make a play for control of the company. In a struggle for power between the two, the board took a vote and sided unanimously with Sculley. Jobs resigned after he was stripped of all duties. Jobs sold all but one of his 6.5 million shares in the company for $70 million then acquired the visual effects house, Pixar for $5M. Furthermore, he founded a new computer company, NeXT Incorporate to compete against Apple.
The Mac II
In 1987, Apple introduced the Mac II. Built with expandability in mind, the Mac II made the Macintosh line a relatively-affordable powerful family of computers. By 1988, over one million Macintosh computers had been sold with 70% of sales to corporations. Apple was reorganized in August 1988 into four operating divisions: Apple USA, Apple Europe, Apple Pacific, and Apple Products. The company grew rapidly: income for 1988 totaled $400 million on sales of $4.07 billion. Apple had 5,500 employees in 1986 and over 14,600 by the early 1990s.
The Early 90's
By 1990 the market was saturated with PC-clones of every conceivable configuration, and Apple was the only company selling Macs. Microsoft captured nearly 85% of the market and emerged as the winner in the PC platform wars. Today, Microsoft's dominance is even more apparent as PC clones currently occupy 92% of the market share.
The response back then to the PC threat was a profusion of new Macintosh lines including Quadra, Centris, and Performa. Unfortunately, these new lines were marketed poorly. In 1993, Apple released the Newton, an early PDA (personal digital assistant).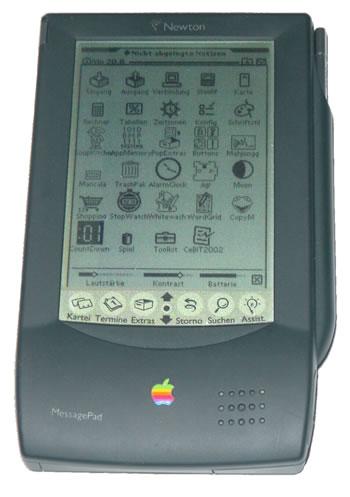 Apple defined and launched the PDA category and was a forerunner and inspiration of devices such as the Palm Pilot and Pocket PC. In June 1993, the company endured failures throughout much of the decade, placing the company in constant turmoil. Sculley was relieved from its CEO position, putting Spindler in its place. Sculley resigned soon afterwards.
Spindler oversaw the introduction of the Power Macintosh line in 1994, the computers were highly sought after, the company grossly underestimated demand. Furthermore, after overestimating demand for the earlier release of its PowerBook laptops, these poorly planned events led the company in jeopardy. By 1995, Apple had $1 billion worth of unfilled orders and investors were upset of this mistake, failing to make profit at all. In a two-day period, Apple's stock value dropped 15%.
The Return Of The Prodigal Son
Although the company announced an upsetting $740 million loss for Q1 1996, the company brought that loss down to $33 million for Q2, beating all estimates. In Q3, Apple profited nearly $30 million, stunning the financial experts who had predicted a loss. However, Q4 resulted in a staggering loss.
In December 1996, Apple purchased Steve Jobs' company, NeXT as well as its NeXTstep operating system. The move brought back Jobs to Apple's management while NeXT technology would become the foundation of the Mac OS X operating system. In November 1997, Apple introduced the Apple Store, its online retail store. However, the company was so badly managed that several problems were jeopardizing its future despite the efforts to regain the loss in the market.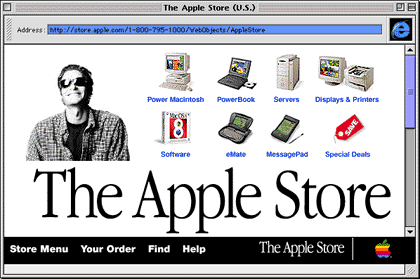 Source: Apple Insider
As soon as Jobs got back some power in the management of Apple, he discontinued the licensing agreement that spawned Apple clones as well as eliminating 15 of the company's 19 products with the withdrawing involvement in peripherals. Its idea behind the move was to get back to the basic root of Apple's success: focusing exclusively on desktop and portable computers for professional and personal use.
Annual sales, which totaled $11.5 billion in 1995, stood at $5.9 billion in 1998, from which the company recorded a profit of $309 million. In 1999, sales grew by 3.2% but the newfound health of the company was evident in a 94% gain in net income, as Apple's profits swelled to $601 million. Further, Apples' stock mustered a remarkable rebound, climbing 140% to $99 per share in 1999.
The iMac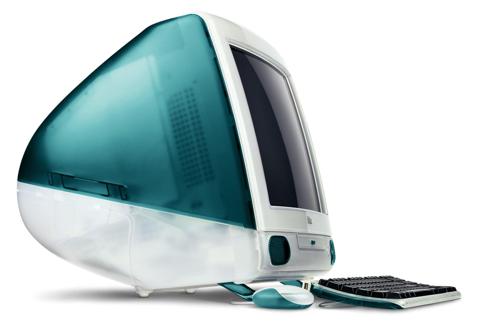 In 1998, Jobs designed in ten months after its project inception, the iMac, a sleek and colorful computer that embodied Apple's skill in design and functionality. This was an incredible success. The innovative genius of Jobs allowed the company to envision a profitable future entering into the 2000's. In 1999, Apple introduced the Power Mac G4 which utilized the PowerPC 7400 dramatically increasing the speed over its predecessor, the PPC 750. The iBook, its first consumer-oriented laptop, was also the first Macintosh to support the use of wireless LAN based on the 802.11b standard.
A New CEO To Conquer The Computer Market
Jobs announced in January 2000 that he would become the permanent CEO of Apple. In 2001, Apple introduced its Mac OS X. In May 2001, after much speculation, the company announced the opening of a line of Apple retail stores, to be located throughout the major U.S. computer buying markets.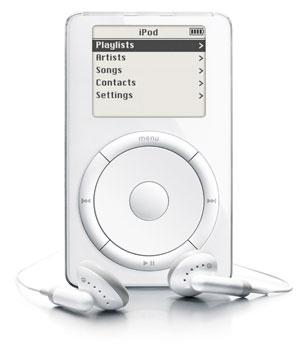 In October 2001, Apple introduced its first iPod portable digital audio player. The iPod started as a 5 gigabyte player capable of storing around 1000 songs. The iPod also had impressive industrial design, something which had been distinctly missing from other hard disk players in the marketplace.
In 2004, the company opened its renowned iTunes store, selling individual songs through the iTune App for 99 cents each. A few updates were done during the year, featuring a new iMac based on the G5 processor, the 4th generation of its iPod as well as the unveiling of the video iPod. The iPod boosted Apple's earnings. In the quarter that ended in March 2005, Apple earned $290 million or $0.34 a share, on sales of $3.24 billion.
The popular MacBook Pro line was introduced in 2006 and offered a line of portable computers to consumers. In 2007, Apple Computer shortened its name to Apple Inc. Although the company was already a leader in technology, it revolutionized its industry by the release of the iPhone in 2007, thereby competing in the mobile phone business.
The innovation brought the company impressive gains and opened up a whole new world for users. The iPhone was the first Apple-branded consumer device to run on OS X. The sleek interface with a single button that featured a touch screen and a virtual keyboard was a revolution at the time. Besides its iPhone, the company unveiled the popular iPod Touch and Apple TV.
The MacBook Air was released in 2008. 2009 brought some problems for the company when Jobs had to take a leave of absence due to health reasons. After a liver transplant, he returned to work the same year. The iPad was released in April 2010, revolutionizing once again the industry. In May 2010, the Apple's stock market value overtook Microsoft's (NASDAQ:MSFT).
Jobs Leaving A Legacy Of Its Own
In 2011, the announcement was made that Jobs would take an additional medical leave of absence. The iPad 2 and iPhone 4 Pro were also introduced that year, which offered new innovative features and a more streamlined and sleek stylish design. For Q1 2012, Apple posted record quarterly revenue of $46.33 billion and record quarterly net profit of $13.06 billion or $13.87 per share according to its quarter release.
The company sold 37.04 million iPhones, 15.43 million iPads, 5.2 million Macs, and 15.4 million iPods in that quarter. However, the company has historically experienced higher net sales in its first fiscal quarter compared to other quarters due in part to holiday seasonal demand.
The San Francisco Examiner reported last March that Jobs had prepared the designs for the next two phones before his death of cancer in October 2011, just a day after the iPhone 4S was unveiled. A passage in Jobs' biography includes him testing out the Siri voice-control function that was introduced in the iPhone that October.
For the end of year 2012, Apple posted Q4 revenue of $36.0 billion and net profit of $8.2 billion or $8.67 per share. Sales for the quarter were 26.9 million iPhones, 14.0 million iPads, 4.9 million Macs and 5.3 million iPods. Total annual revenue was $156.5 billion, up 45% from 2011 and reported net profit of $41.73 billion or $44.15 per share, a 61% increase. Sales for the entire year (with differential from 2011 in parentheses) totaled 125 million iPhones (+73%), 58.3 million iPads (+80%), 18.2 million Macs (+9%) and 35.2 million iPods (-17%).
Apple posted for Q1 2013, record quarterly revenue of $54.5 billion and record quarterly net profit of $13.1 billion or $13.81 per share. Sales were great with record of 47.8 million iPhones, sold a record 22.9 million iPads but saw a decrease in sales with 4.1 million Macs and 12.7 million iPods.
The Undeniable Truth About Apple's Success
These outstanding recent financial results are the cause-and-effect relationship with Jobs impressive talent for innovation. However, since its death, besides updates, nothing new came from the prestigious company. In an interview just before returning to Apple in 1996 when he was Chairman, Chief Executive Officer and co-founder of Pixar, Jobs explained why Apple was on the brink of bankruptcy, at PBS Wall $treet Week program with Louis Rukeyser. Jobs is asked about what went wrong at Apple after he left the company:
You know I haven't been there in a long time. My perception may not be complete. But from the way I see it, Apple was a company that was based on innovation. When I left Apple ten years ago, we were ten years ahead of anybody else. It took Microsoft ten years to copy Windows.
Jobs continues:
The problem was that Apple stood still. Even though it invested cumulatively billions in R&D, the output has not been there. People have caught up with it, and its differentiation has eroded, in particular with respect to Microsoft.
Jobs couldn't be more right. The accomplishments of the years following that assumption have been a tremendous statement of truth at the time. Jobs, who quit to get back to Apple, has seen The Walt Disney Company (NYSE:DIS) buying Pixar for $7.4 billion in stocks back in 2006, which made Jobs the largest shareholder in the company and gave him a spot on the Disney board.
Record Sales Won't Save Apple From Its Doom
Let's now see the reasons from which I believe Apple is doomed for failure:
As we have seen earlier, Apple is accumulating record sales for its products. However, these records are attributable to Jobs efforts. Tim Cook, the current CEO, is certainly accomplished and no one is doubting his management ability. But Cook just doesn't have the presence that Jobs commanded, making Apple so special. Jobs was a master at keeping its audience on the edge of their seats, captivated in interest by the amazing genius of the product that was designed, its innovative features as well as its unmatched combination of simplicity and style. Apple proved so far that it cannot replace Jobs' magical presence that made Apple so attractive.
Nothing new is coming from its pipeline. The iPhone5S and the iPad Mini aren't new products. Therefore, no excitement will come out from these releases for Apple's fanatics. These updated devices are only new versions of already well-known products.
Thirst for new engineering features has driven its technical audience in the past. However, for the common man, without a captivating feature that will sell the product by itself, it will not splash the world like it did in the past, mitigating its success.
According to Apple's 2012 annual report, total research and development expenses were $3.4 billion, $2.4 billion and $1.8 billion in 2012, 2011, and 2010, respectively. Despite a 41.7% increase for 2012, no new products are emerging from the company. Jobs' team is failing despite massive investments. Like Jobs said it himself upon its return to Apple, the output has not been there. The company just can't generate Jobs' creativity and genius by injecting money in R&D.
The App Store fiasco. There are so many app store bans that there's an entire website dedicated to tracking them. Furthermore, Apple requires that all digital content be sold through the built-in iTunes-based in-app purchasing mechanism. If an app accepts other payment mechanisms for digital content, it will be rejected. Moreover, you can't download popular Google (NASDAQ:GOOG) related apps because Apple is in a huff with its rival's Android system smartphone.
The annoying iTunes. The bigger your iTunes library, the more swearing you'll do at iTunes especially if you are using an external device to put your songs, which cause confusion in the software. Therefore, building a library is challenging for the common user.
Apple is instrumental in controlling its prices. Its products sell in so many places without any difference in price. The price you pay is the price set by Apple. You will not see a discounted price on any of its products. At least, customers are expecting to pay the full price every time, everywhere.
Cheaper internal parts. Mac computers work great but the reliability is declining. Subcontractors' supplies are not top notch anymore, then cheaper components keep the profit margin high.
Vertical integration system. Apple has made a magnificent job to lock-in its customers. The iPods work only with iTunes while the software can't be used by any other MP3 players. The iPad uses only Apple apps, running on its own O.S. and even with its own processor. No universal compatibility with other products have created a closed network on its own.
Poor service without AppleCare protection plan. If you want to replace the glass of your brand-new iPod because it slipped from your pocket to the carpet floor, no Apple store will touch it unless you pay its 'per incident' support. However, many phone stores will gladly replace the brittle glass in an hour or so for less.
Bottom Line
The insistence on selling fully integrated hardware and software devices instead of focusing on low-cost, widely distributed software has hurt Apple in the past and still hurts the company today. Thus, its scrutiny for being an absolute domineering control freak on secretly undermining its competitors is well documented (see the Google Voice incident). It's computer rival, Microsoft understood that hardware without software is worth nothing since only software adds intelligence to a device. Meanwhile, its major competitor in the smartphone market is spraying low-cost software across dozens of hardware manufacturers, driving its Android system for platform ubiquity, a system that took already huge amounts of market share.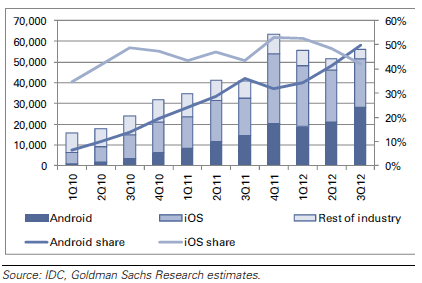 As if that wasn't enough, Microsoft, Amazon (NASDAQ:AMZN), Samsung (OTC:SSNGY) and Google are all selling competing tablets to Apple's iPad, at cheaper prices.
Back in its old days, the Mac bared no resemblance to the PC under the hood at all. However, PC clones were in constant technological advancement with the components: motherboards, graphics cards, sound cards, CPUs, RAM memory and hard drives were constantly advancing. The competition pushed the prices down several times a year while Apple was too stubborn to adapt its products (and its prices) to the rising competition. When you look closely at it, a Mac is nothing more than a high-end PC these days.
What would makes a customer switch its smartphone
According to Goldman Sachs' research report released in December 2012, it is worth noting that 86% of respondents indicating familiarity with their device would be a top three concern in repurchase consideration, whereas 68% are saying that the price would be a factor in switching to another platform. Above all, the price has been, currently is and will always be a strong factor for consumers over anything else. The reason why Apple didn't learn from its overpriced Mac computers back in the mid-80s is a great deal of concern.
On a different note, Microsoft understood that the compatibility software it created over the years not only served them well to claim its supremacy in the computer market but helped build its future beyond that market. Lots of devices other than PC's, phones and tablets are powered with some kind of software: game consoles, Zune MP3 players, Bluetooth keyboards, digital media keyboards, fingerprint readers, cordless phone systems, MyFord Touch systems, Pixel Sense boards, Actimates toys, wireless adapters and more.
Pretty much everything can be powered with some kind of electronics and will be able to access the Internet through an IP and a wireless connection. These devices are revolutionizing our everyday lives. Who could tell a few years ago that a TV or a Blu-ray player would wirelessly access Internet, allowing someone to program his favorite shows while at the office? Or allowing automation of his home lights remotely with a cell phone?
It is only the beginning and only those who have the vision to fill the need and make the people's life easier by innovation will survive in a challenging world. If Apple wants to sustain its stocks' value, it will need to adapt itself to the market needs. The stock price achieved an all-time high of $703.99 on September 19, 2012. However, the stock's value dropped by 35.7% in only a year and a half, closing at $452.97 on May 10, 2013.
Source: barchart.com
If Apple cannot adapt to that reality quickly by offering the competitive market, cheaper devices and fix the compatibility issue of its product lines, it appears that the company will lose its substantial market share once again. Therefore, investors should expect a 25-30% drop of the stock's value in the next two years if the trend persists. Shorting the stock seems to be the best option, whereas the stock is not as sturdy as it used to be. This time around, Steve Jobs won't be there to keep the boat afloat.
Disclosure: I am long INTC. I wrote this article myself, and it expresses my own opinions. I am not receiving compensation for it (other than from Seeking Alpha). I have no business relationship with any company whose stock is mentioned in this article.