Ford (NYSE:F) is one of the most widely covered stocks in the USA. The company is popular for multiple reasons, including representing the modern American industry, having a great comeback story and being run by one of the most charismatic figures in corporate America. Yet, when people cover the company, they always seem to misunderstand one major thing, which is Ford's debt. Many people simply don't get it because they don't understand Ford's business model. Sadly, this includes many of the people who cover Ford on a full-time basis.
It's not uncommon to see articles or research reports claiming that Ford's debt is as large as $107 billion. In fact, when we look at Ford's balance sheet, that's the number we see. Still, it is incorrect to report that Ford owes $107 billion and include this in any kind of fundamental analysis. I will explain why this is the case.
Ford has 2 major business units (actually it has many different units depending on how you cut the data, but for this article's purposes, we will take two): Ford Automotive and Ford Credit. Ford Automotive is the business unit that builds, distributes, markets and sells cars. This is the industrial side of Ford and the only side known to many investors. On the other hand, Ford Credit is the financial company of Ford which borrows from banks to extend loans to consumers that want to buy Ford's cars. In fact, this has been a very profitable business unit for the company for the last decade. The money owed by Ford Credit is actually the money owed by consumers that bought (or leased) cars through Ford.
When we look at Ford's balance sheet, we see that $92 billion of Ford's debt actually belongs to Ford Credit; whereas, Ford Automotive's debt is as little as $15 billion. Moreover, Ford Automotive's $24 billion of cash covers all of this debt, and leaves the company with a net cash position of $9 billion.
In 2012, Ford Credit's operating profit was $1.7 billion, which is comparable to many large banks. For 2013, the company expects to post similar results for Ford credit which continues to be a cash cow for the company. Ford credit's risk is very small because the credit is always backed by a car, which means that if the buyer of the car fails to pay his or her car loan, the bank will take the car, sell it and recover most of its money. In fact, many car dealers sell a special kind of insurance which covers the bank's loss in case the buyer misses a payment and the car has to be sold. The insurance will cover the difference between the car's sale price and what the bank is owed as a result of the transaction.
Many times, the debt owed by Ford Credit is actually owed to Ford Automotive, which means Ford owes the money to itself. Here is a statement from the company's annual report:
Most of the vehicles sold by us to our dealers and distributors are financed at wholesale by Ford Credit. Upon Ford Credit originating the wholesale receivable related to a dealer's purchase of a vehicle, Ford Credit pays cash to the relevant legal entity in our Automotive sector in payment of the dealer's obligation for the purchase price of the vehicle. The dealer then pays the wholesale finance receivable to Ford Credit when it sells the vehicle to a retail customer.
Ford Credit's loan write off rate is far below 1% and the company's credit-loss allowance is rarely depleted. Since the recession in 2009, Ford's credit situation has been getting better and better.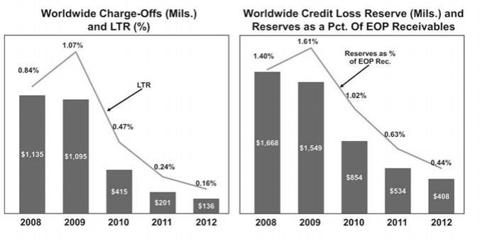 Click to enlargeAs we can see, Ford Credit's debt provides very little risk to Ford. Rather, the debt is one of the main drivers of profit for the company. When investors are analyzing Ford, they should stop mentioning Ford Credit's debt unless they actually know what that debt refers to. Unfortunately, many people will simply look at the balance sheet and forget to study anything beyond the surface.
Ford is a great company, and I can say that this is one of my investments I feel strongly about, even though I understand that investors shouldn't have "feelings towards" their investments in order to be able to judge them objectively. When I look at Ford objectively, I see a company with a forward P/E ratio of 6.5 excluding net cash. I also see a company run by one of the best CEOs the industry has ever seen. Ford is far from sell; in fact, in a market full of overpriced companies, Ford is one of the best investment opportunities right now. At the moment, the only thing holding Ford back is Europe. Once the European economy gets on track or Ford is able to cut its production in the Continent in a way that matches the decreased demand, things will get even hotter for the company. I expect Ford to buy back shares and increase its dividend payments once the company deals with its European problem.
Disclosure: I am long F. I wrote this article myself, and it expresses my own opinions. I am not receiving compensation for it (other than from Seeking Alpha). I have no business relationship with any company whose stock is mentioned in this article.