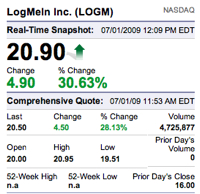 Earlier this week, John Fitzgibbon, founder of IPOScoop.com, said that LogMeIn was an IPO "candidate that should blow the socks off people."
Looks like he was right.
LogMeIn became the fourth venture-backed IPO of 2009 this morning, hitting the markets with an offering that raised $107 million for the remote-services technology provider. Priced at $16 each, the high end of the stock's IPO price range, LogMeIn (NASDAQ:LOGM) shares spiked more than 30 percent to $20.90 shortly after the company made its public debut.
Great news for LogMeIn, which filed to go public in January 2008, only to see its prospects for doing so trashed by the econalypse. Great news as well for venture-backed companies hoping to go public. "The IPO window has cracked open a bit,'' Emily Mendell, vice president of strategic affairs for the National Venture Capital Association told the Boston Globe. "I think the market has become slightly more stable.''
It would certainly appear that way. Shares of SolarWinds (NYSE:SWI), a network-management software outfit, are up 24 percent since their debut, and online restaurant-reservation service OpenTable's (NASDAQ:OPEN) shares have soared 52 percent since they began trading in May.
Clearly, we're seeing something of an awakening in the moribund IPO market, although whether it will continue is anyone's guess. "I think this is a temporary market window," David Liu, a managing director at Jefferies & Co., told Forbes. "The economy is still screwed up….We're telling our clients, if you can get on file and do something quickly, go ahead and do it now so you're not caught flat-footed."