AT&T (NYSE:T) has been distributing dividends consistently for the past 29 years. At the same time, it is trading at a fair value compared to its competitors. It released its Q1 earnings on April 23. Going forward, what should investors have in mind while buying AT&T? Is the stock suitable for an income investor or is it more of a value stock at a price of $37? In this article, I have tried to answer this question from a fundamental perspective analyzing the present and past performance.
Analysis on AT&T's value
Telecom companies carry huge debt and generally valued by the EV/EBITDA ratio as it does not factor in the depreciation and amortization expenses. For a proper valuation of telecom companies, this EV/EBITDA ratio is more accurate than the P/E and P/B ratio. AT&T has an EV/EBITDA of 9.52 which is higher than most of its competitors. This ratio has been increasing over the years as suggested from the graph below.Verizon (NYSE:VZ) has a ratio of 6.19 and Sprint (NYSE:S) 5.5. If I consider other metrics used for valuation, AT&T is trading 28 times its trailing 12 months earnings and it has a P/B ratio of 2.4 which is much higher than the industry average. All these figures suggest that the stock is trading at a fair value, in fact, it is slightly getting more expensive than most of its peers. Is there any reason for this? AT&T has been paying huge debts with the free cash flows it generates every year. It repaid $10 billion of debt in 2009 and 2010. AT&T generally lags behind Verizon in terms of growth and profitability. It also carries a higher leverage. These might be the reasons behind the high valuation of the stock.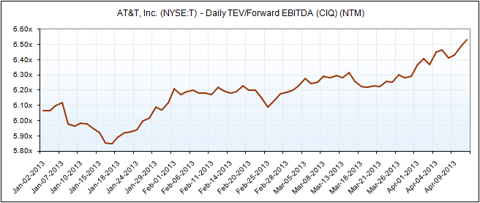 Source: Stockgamer.
Analysis on AT&T's dividend yield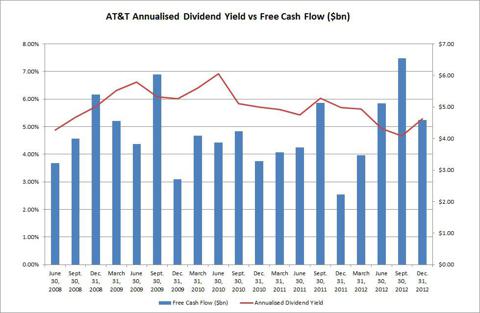 If I look at the above graph of AT&T's annualized dividend yield versus the free cash flow, historically the yield has increased whenever there is an increase in cash flow. However, in the September quarter of 2012, cash flow of AT&T increased from $5 billion to $6.5 billion, an increase of around 30%. But the dividend yield did not rise in par with the other quarters. In fact, it reduced by 1%. Why did this happen? What did AT&T do with the cash if it did not distribute to the shareholders? First of all, let us see where the extra cash came from. AT&T bought back $3.8 billion in stocks in Q3 2012 and it repurchased 101 million shares. This means there was more return for the shareholders during that period. Apart from this case, AT&T has been increasing dividend on a consistent basis. The dividend yield of 4.83% is highest in the telecom industry ahead of Verizon and Sprint. However, the below chart indicates a trend in the yield reduction over the years. That is because the stock price of AT&T has been increasing from July 2010 after the financial crisis. However, at present the dividend yield is still quite high considering interest rates at near-zero level.
With a market cap of $197 billion, the operating cash flow of AT&T is $39 billion. That is a huge amount for a company paying consistent dividends. Now AT&T has to choose between whether to utilize its cash to increase the dividends or paying off its gradually increasing debt. Historically, AT&T has been increasing dividend, even at the expense of EPS growth. From 2007 to 2012, the EPS declined by 36% while the dividends rose. With EPS sliding downward and dividends upward, the situation might prove to be unsustainable.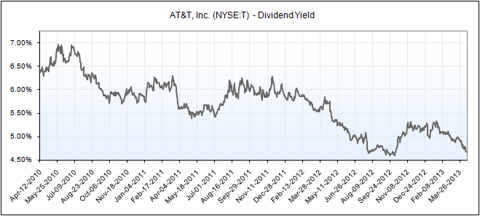 Source: dividend.com.
What should investors actually look for in telecom stocks?
Telecommunication stocks are one of the best dividend yielding ones and are very popular among income investors. That is because the telecom market is at a mature stage in the US and revenues are not connected to macroeconomic conditions. The stocks are not that sensitive to the market index as compared to real estate and financial stocks. This can be verified from the low beta of the industry averaging at 0.5. So the only gains investors should look for in the telecom sector is income from dividend gains and not stock appreciation.
Q1 results suggest AT&T has reached its fair value
In the quarterly results declared by AT&T on April 23, the operating revenue was down by 1.5% to $31.36 billion when compared to the same quarter last year. This was due to the underperformance of 1 business unit which is the advertising solution business unit. On the back of these earnings, AT&T was down 6%. One of the disappointing fact from the valuation point of view is its D/E ratio which has increased from 0.60 to 0.73. That would mean again a significant amount of cash which was allotted for investors would be used in paying off debt. This makes me apprehensive whether the dividend paying ability of AT&T is sustainable in the long run. Coming to valuation, from a fundamental approach, I think AT&T has reached its fair value and if it does not find any significant growth opportunities, it will start to trade at a premium.
Way forward for AT&T and investors
As the telecom market in the US has become almost saturated, the key to sustainability is to monetize the existing subscribers rather than adding new ones. For this, new channels like value added services, increased data usage must be focused on. In this aspect, AT&T has been performing well. Although the number of net postpaid subscriber additions decreased, the wireless data revenues increased 21% showing AT&T is diversifying its revenue stream. Also the operating margin for the wireless segment was 28% compared to 27.8% a year ago. Some of the popular phones like Galaxy SIV are coming first on AT&T network. From these things, I believe AT&T is still growing. Right now, it is trading at a fair value and its dividend growth looks unsustainable due to high debt. But if it is able to generate revenue from these new sources, there will be immense growth as the market size is huge. At the moment, I suggest investors should hold the stock for a few more months to get a clearer picture.
Disclosure: I have no positions in any stocks mentioned, and no plans to initiate any positions within the next 72 hours. I wrote this article myself, and it expresses my own opinions. I am not receiving compensation for it (other than from Seeking Alpha). I have no business relationship with any company whose stock is mentioned in this article.