I have never been a fan of Groupon's (NASDAQ:GRPN) business model. First of all, I think that it is unsustainable to keep about half the money the customer pays for the coupon. But the main problem is that there is a huge trade off between the welfare of Groupon's users and its retailers. This was brilliantly proved in a working paper by Harvard Business School Professor Benjamin G. Edelman: "To Groupon or Not to Groupon".
Basically, Groupon affects its retailers in 2 ways. First, it has the ability of sending users to merchants en masse, which is both a curse and a blessing. As Prof. Edelman mentioned in an interview last year: "The day after a Groupon is released, hundreds of buyers tend to swamp a small business unprepared for the rush. That barrage of customers can disrupt service to full-price customers, who may end up waiting for service". Second, nobody likes price asymmetry, specially loyal customers. Full-price loyal customers may become unhappy after they realize others are getting large discounts.
This business model could have been improved, but the company's management team, lead by ex CEO Andrew Mason, only had eyes for aggressive growth. Instead of improving its business model, Groupon became obsessed with growing as fast as it possibly could. As a result, Groupon's stock performance has been very disappointing since its IPO in November 2011. What can you expect from an unprofitable company with a weak business model? As George Roberts from Open View Venture Partners puts it: "New customer acquisition is critical to taking a business from the startup phase and growing it into a big, publicly traded corporation. But that big corporation you become will simply be a house of cards if you've failed to pair short-term growth initiatives with long-term strategic vision".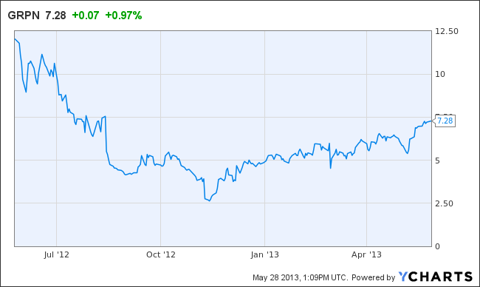 Groupon, therefore, may look like nothing else but a problem child. However, there is also plenty of room for hope. I cannot deny the fundamental problems the firm faces. But to my way of thinking, Groupon is problematic, yet promising.
First of all, we cannot deny its ability to bring customers to almost any merchant that dares to try the service. Groupon has 41.7 million (18.2 million in North America and 23.5 million abroad) active customers. All of them have purchased a Groupon within the last 12 months. Furthermore, Groupon's user base is growing at a respectable 13% y/y growth rate. Alexa also shows that Groupon's user engagement (as measured by the estimated daily time on site (mm:ss) for groupon.com) could be increasing: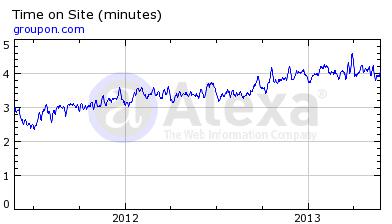 Notice also that despite having a somewhat flawed business model, Groupon is still growing its revenue and generting positive operating income. According to the latest earnings call: gross margin dropped, but GAAP operating income is about $21.2 million, or $51.2 million excluding stock compensation.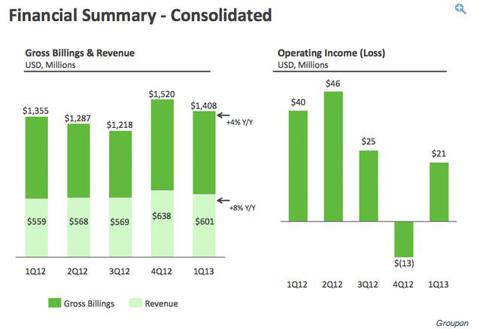 The latest earnings call improved Groupon's upward momentum, as investors were expecting worse results. Curiously, Jana Partners, which also owns a significant number of Zynga shares, disclosed 21.9 million Groupon shares this month. These bullish positions have helped to stabilize the stock price. Not too long ago, back in February when Mason was still the CEO, stock was trading at $4.5 a share. We are talking about a 24% return in the past 3 months!
This amazing rally shows that Groupon can live up to investors' expectations. It needs to shift the focus: from pursuing aggressive revenue growth to improving the business model. Installing mechanisms that reduce the welfare gap between users and retailers could be a great way to start. This is not impossible. For example, Restaurant.com sends customers on an ongoing basis rather than "all at once", and by doing so they avoid sending hundreds of buyers to a small business unprepared for the rush.
It is too early to offer a long term investment conclusion. For the time being, I believe that Groupon's upward momentum will continue. But in the long run, if they manage to shift their focus and attract not only users hungry to get value for money, but also those thousands of local merchants (from small restaurant owners to travel agents) who are not using the Internet to promote their services yet, it could be wonderful.
Variant View
The following risks could cause Groupon to be a sell:
-- Low barriers to entry. Deploying a discounts site is relatively easy, technologically speaking.
-- Getting new users is not a problem. The problem is getting new merchants.
-- Merchants believe that the main value lies in creating new, potentially loyal customers. Having "too many customers for a couple of days" is not a desirable outcome.
-- "Horror stories", for example this one from a cafe owner in Portland who lost $8000 using Groupon, are spreading fast. This is terrible for Groupon's marketing strategy.
-- Low transparency: Some businesses have reported getting better splits with Groupon.
References
The latest earnings call official announcement can be found here. Alexa Analytics was used to obtain the estimated time on site metric. The Financial Summary image was obtained from this Business Insider article.
Final Remarks
Price target: $10.00 / from N.A.
Rating: Neutral / from N.A.
Investment Horizon: 1 year
Uncertainty: High
Disclosure: I have no positions in any stocks mentioned, and no plans to initiate any positions within the next 72 hours. I wrote this article myself, and it expresses my own opinions. I am not receiving compensation for it (other than from Seeking Alpha). I have no business relationship with any company whose stock is mentioned in this article.